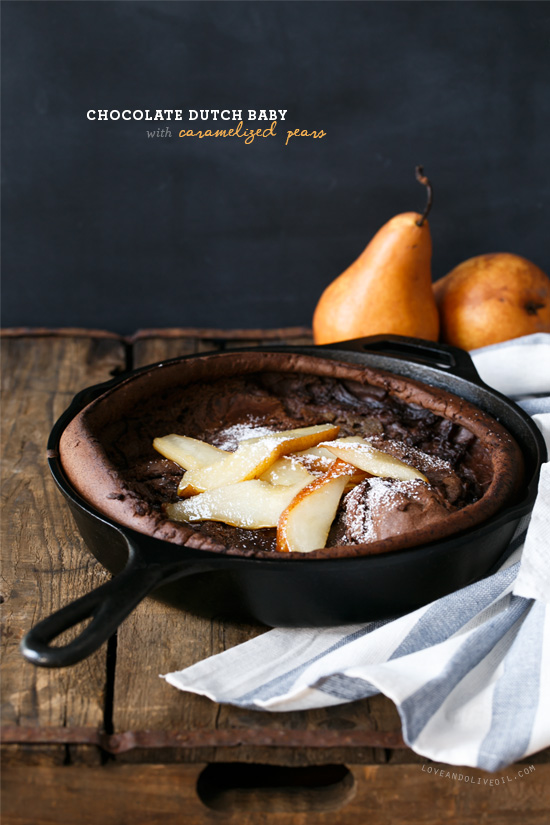 I am a big proponent of the lazy weekend brunch.
Unfortunately, it seems like these days lazy weekends are few and far between. More often than not we're not playing catch up and cramming our weekends full of errands and photoshoots and work that didn't get done during the week. Taylor trying to make use of every minute of his time to finish his latest project, me baking huge messes in the kitchen, rushing to finish what I'm doing before the sun goes down and it's too dark to photograph.
It's like weekends are full of expectations – things you want to get done that you don't have time to do during the week. They are days of second chances, first chances, even, for projects and passions for which day-to-day work doesn't leave time. But more often than not, those projects are left uncompleted, those passions left unfulfilled, and instead you are left feeling disappointed with yourself and your lack of motivation.
Why is it so hard for us to just slow down? To take these two days that have officially designated as non-working days and actually not work? And when we do finally take an entire day just to sit and get caught up on the latest season of that show (you know the one), why can't we simply enjoy the downtime without feeling like we wasted the day?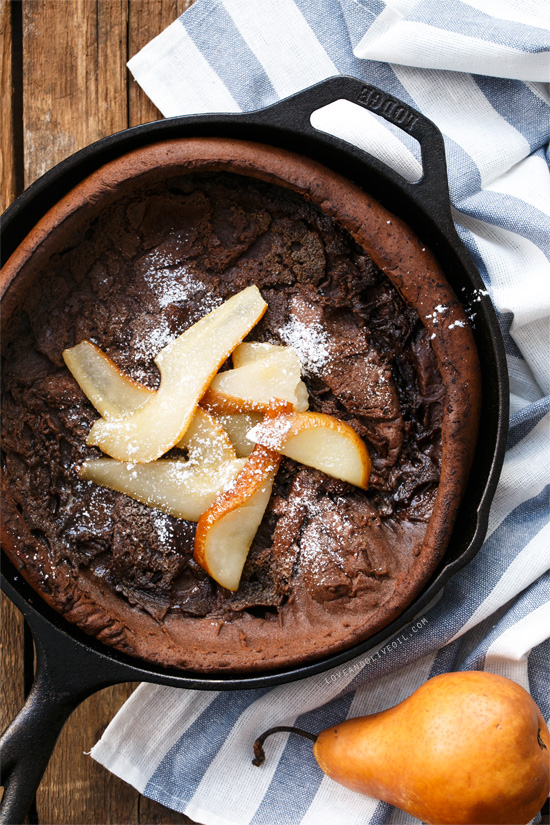 I think there's a balance out there somewhere. A weekend that's part productive and part restorative. Part work and part play. Ok, maybe more play than work, but done in such a way that you don't feel like it was time wasted.
I'm still struggling to find that balance, but I think the first step in finding it is learning to appreciate the lazy weekend brunch. I mean, we sure talk a lot about breakfast for dinner, and why we love it because it we don't always have the time to make a big breakfast. But why can't we slow down enough to have a nice breakfast—for breakfast—once in a while?
A recipe like this one in surely a step in the right direction.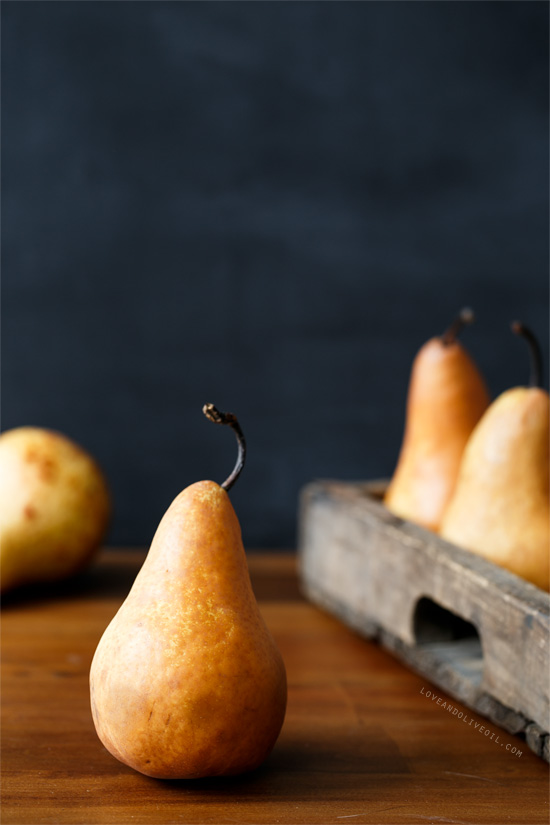 This is a chocolate variation of one of my favorite brunch dishes: the dutch baby (also called a German pancake). And in an effort not to waste the beautiful box of Bosc pears that arrived on my doorstep a few weeks ago, warm caramelized pear slices spooned over top.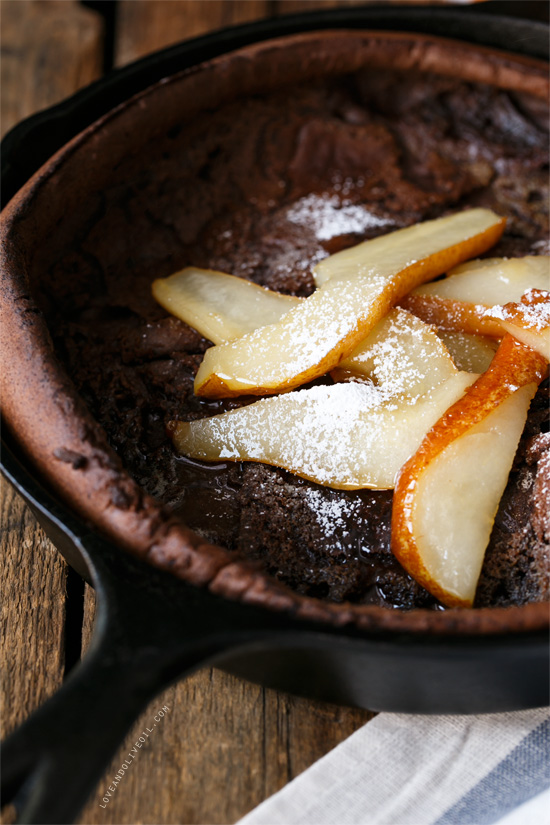 The chocolate does change the character of the pancake just a bit; it's not quite as puffy as its blonde counterpart, and it falls much quicker once it's removed from the oven. But the result is just as tempting: crispy puffed edges and a tender eggy center. Somewhere in between an omelet, a flapjack, and a popover, a dutch baby is, for lack of a better term, perfect in its own right. Health food this is not. But in my quest for balance, a bit of self-indulgence is definitely required. Perhaps acknowledging that is indeed my first step towards a more fulfilling weekend.
Chocolate Dutch Baby with Caramelized Pears
Ingredients:
3/4 cup milk
2/3 cup all-purpose flour
4 large eggs
3 tablespoons cocoa powder
2 tablespoons granulated sugar
1/2 teaspoon vanilla extract
1/4 teaspoon salt
1/4 cup (1/2 stick) unsalted butter, cut into cubes
For Caramelized Pears:
1 Bosc pear, halved, cored, and sliced
1 tablespoon unsalted butter
2 tablespoons brown sugar
1/2 teaspoon lemon juice
Directions:
Preheat oven to 450 degrees F. Place a 10-inch cast iron skillet in the oven.
In a blender, combine milk, flour, eggs, cocoa, salt, and vanilla and blend until smooth.
Add butter cubes to hot skillet; return to oven until butter is melted and sizzling. Carefully pour batter into hot skillet, then bake for 20 to 25 minutes or until puffed and darkened on the edges.
While pancake is cooking, prepare caramelized pears. Melt butter in a large skillet over medium-high heat. Add pears and sprinkle with brown sugar. Cook for 2-3 minutes then flip, until softened and golden brown. Sprinkle with lemon juice and toss to coat.
Cut pancake into wedges and top with pears. Drizzle with leftover caramel sauce and dust with powdered sugar. Pancake will fall quite quickly after being removed from the oven, so you want to  be sure to cut and and serve as quickly as possible.
Did you make this recipe?
Let us know what you think!
Leave a Comment below or share a photo and tag me on Instagram with the hashtag #loveandoliveoil.