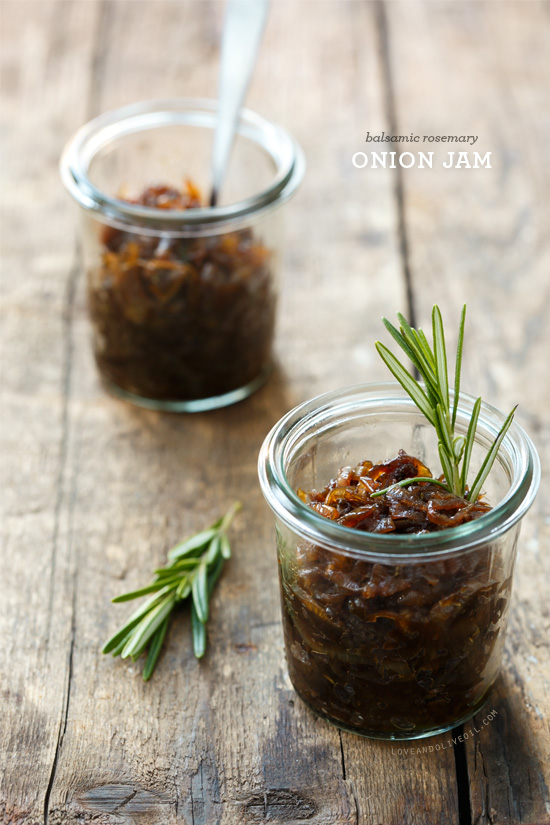 This is a big one folks.
Perhaps the biggest one yet.
In collaboration with Anolon® and their Make It Yours campaign this holiday season, I'm so excited to share this recipe with you today!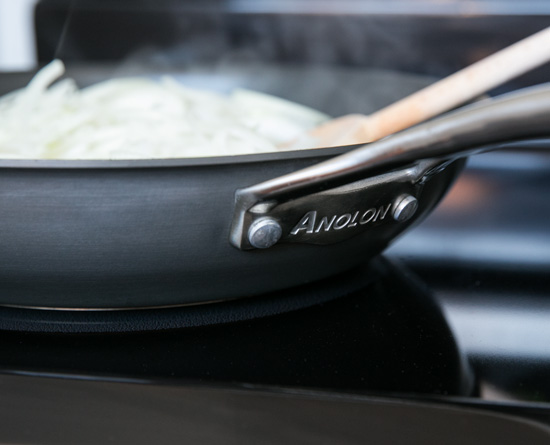 But before you get distracted by the prospect of prizes galore, let's talk onions.
Or, more specifically, onion jam.
It's unlike any jam you've had before. Rich and savory, with a hint of sweetness and verdant rosemary, this jam would make an excellent side on your holiday table. Serve it with biscuits or toast; spread it on your turkey, swirl in in your mashed potatoes. It's a versatile spread that's part condiment, part sauce, and entirely delicious.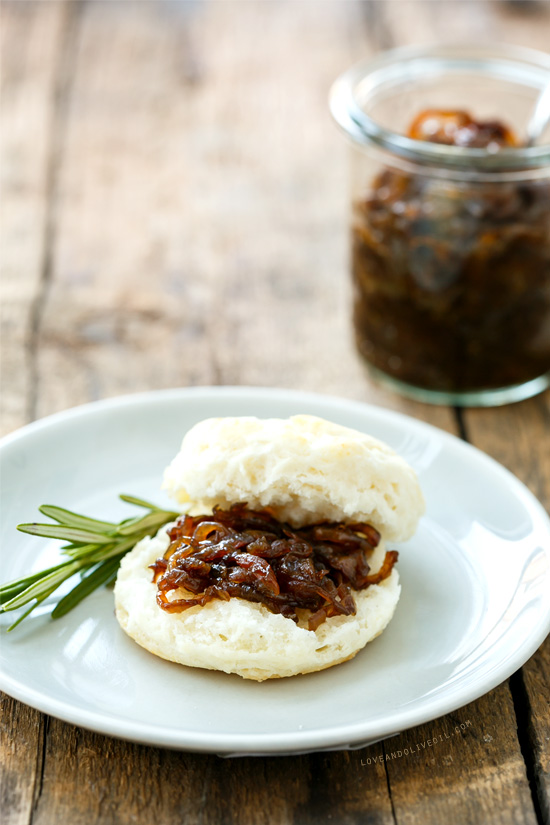 You know what's amazing? Goat cheese biscuits with onion jam, that's what. *Drops mic*

What starts as almost 10 cups of sliced onions cooks down to a sweet, sticky jam. It may seem like a measly amount for all that time and effort, but that's before you taste just how much flavor is packed into each bite.
Balsamic Rosemary Onion Jam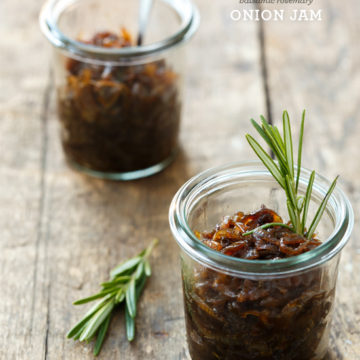 Ingredients:
2 tablespoons olive oil
4 large onions, thinly sliced (about 10 cups sliced)
3 tablespoons balsamic vinegar
2 tablespoons brown sugar
1 1/2 teaspoons finely chopped fresh rosemary or 1/2 teaspoon dried rosemary
1/4 teaspoon kosher salt
1/4 teaspoon freshly ground black pepper
Directions:
Preheat oil in a large skillet over medium heat. Add onions. Cook, stirring occasionally, until onions are soft, translucent, and just beginning to brown, about 20 minutes. Stir in balsamic vinegar, brown sugar, rosemary, and salt and pepper. Continue to cook, stirring occasionally, until liquid is evaporated and onions are dark brown and reduced to 3/4 cup, about 40 minutes more. Remove from heat and let cool. Store in a glass jar or airtight container in the refrigerator for up to 1 week.
Did you make this recipe?
Let us know what you think!
Leave a Comment below or share a photo and tag me on Instagram with the hashtag #loveandoliveoil.
The fine print: Sponsored by Anolon®. As always, all opinions written are purely our own. We're incredibly grateful for opportunities like these that allow us to continue sharing delicious recipes with you, so thank you for supporting us and the brands we love.