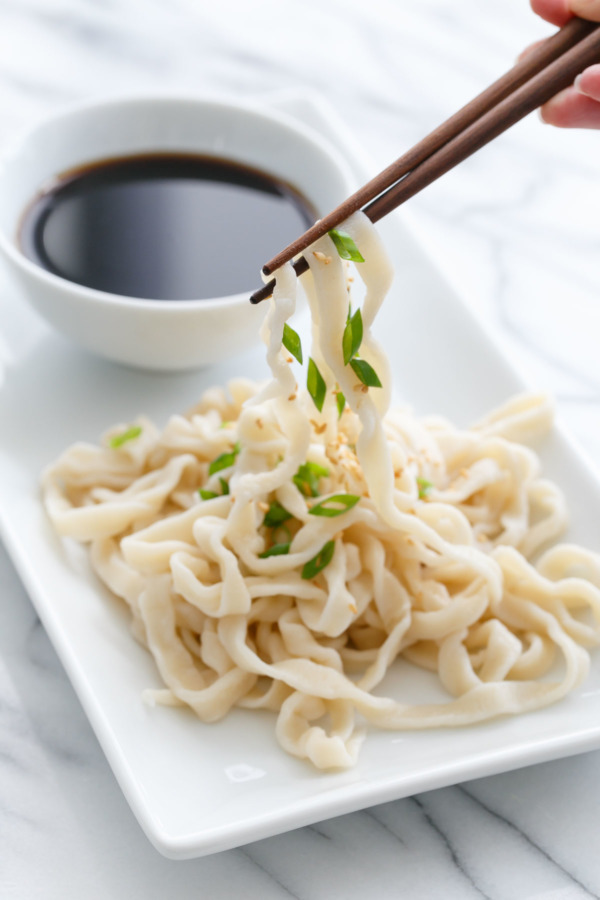 Funny how 12 days in Japan can change your entire culinary outlook, which you've probably noticed from the shift in recipes I've been posting lately. What can I say, I get inspired by my culinary travels.
For example, before this trip, my ultimate comfort food was pasta with butter and parmesan.
Now? Well, you're looking at it.
Cold udon noodles served with Mentsuyu, a flavorful soup base used as a dipping sauce for noodles. It's made from soy sauce, mirin, sugar, and steeped with bonito (dried fish flakes) and kombu (dried kelp), which give it an incredible richness and umami. You can buy pre-made mentsuyu concentrate, or make your own with a few specialty ingredients that you can easily find at an Asian market or online.
After enjoying some amazing fresh udon noodles in Japan, like, seriously mind blowing, we set out to make our own udon noodles at home. Turns out, it's really quite easy!
Udon noodles are distinctive in their thickness, their bounce and their chew. Traditional Japanese udon is actually kneaded by foot. That's right, not by hand, by foot. Trust me on this one: I made multiple batches using just the stand mixer and by hand, and none turned out as well as the one I kneaded with my feet. There's a reason the Japanese have been doing it this way for centuries.
Simply put the dough in a plastic bag, wrap it in a clean kitchen towel and smush it with your feet until it's flat. Open up the bag, fold it up into a ball again, and repeat 3-4 times until you have a dough that's as smooth as your earlobe.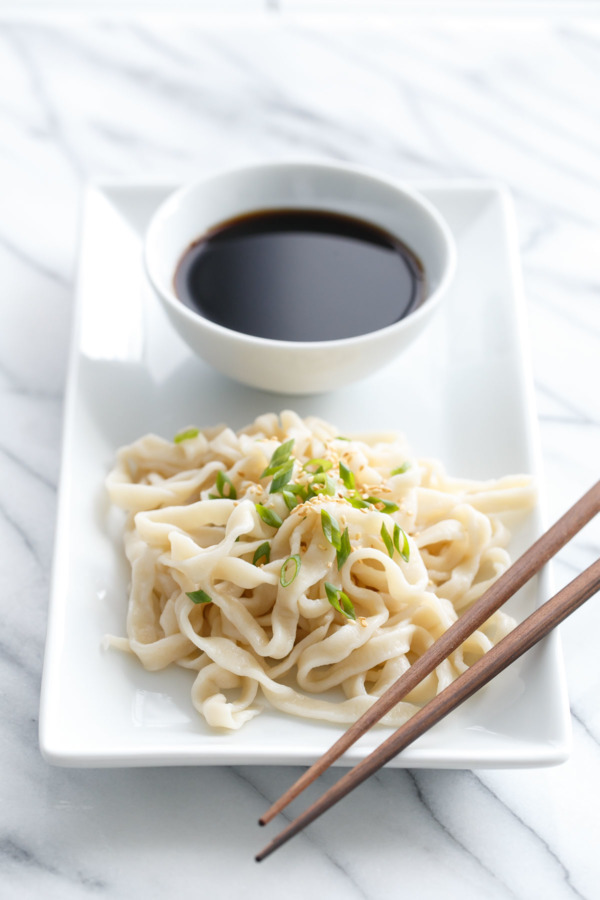 If you want to make homemade udon noodles, you just need flour, salt, water, and a little tapioca starch for good measure (though I've seen plenty of recipes without this last ingredient, but I found noodles made with it to be smoother and bouncier overall). I also used 00 pizza flour for my noodles, which is slightly higher in gluten and more finely ground than standard AP flour and better approximates the flour that Japanese cooks would use. If you can't find 00 flour, you can use a mix of bread and AP flour instead, though your dough won't be quite as smooth.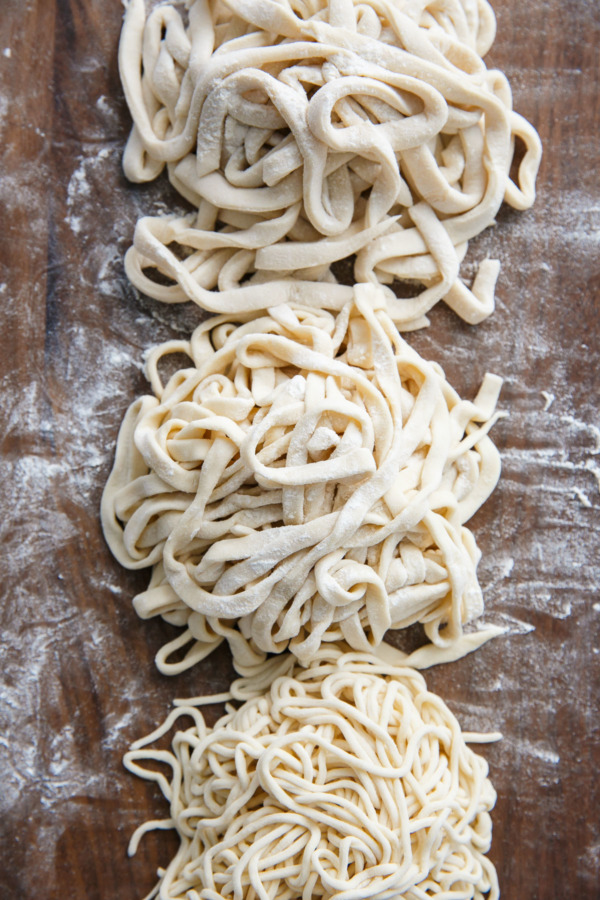 While udon noodles are traditionally hand rolled, we sped up the process a bit using the KitchenAid® Pasta Roller & Cutter attachment. For thicker noodles, you can roll them out to thickness 1 and then cut by hand. Or, if you prefer thinner noodles, roll to thickness 2 or 3 and then use the fettuccine or spaghetti cutters to quickly cut them into perfectly even noodles. They do swell quite a bit when they cook, so even the spaghetti size noodles are delightfully thick and chewy once cooked.
Get our recipe for homemade udon noodles (plus step-by-step photos) on the KitchenAid blog now!
This recipe was created in partnership with KitchenAid®. All opinions are my own. Be sure to share your take on this recipes on Instagram using #MadeWithKitchenAid for a chance to be featured on the @KitchenAidUSA account!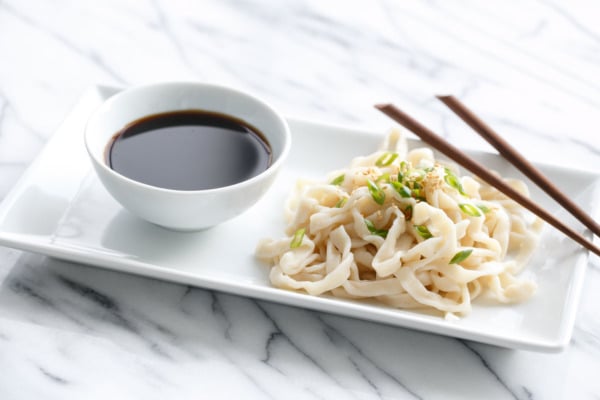 Homemade Udon Noodles with Mentsuyu Dipping Soup
Serve your homemade udon noodles cold with mentsuyu dipping soup: a flavorful broth made from bonito flakes, sake, soy sauce, mirin, and sugar.
Ingredients:
1 batch homemade udon noodles or 1 package fresh or frozen noodles
1 cup mirin
1 cup soy sauce
1/2 cup sake
1 2-inch piece kombu (dried kelp)
1 cup dried bonito flakes
sesame seeds and thinly sliced green onion, for garnish.
Directions:
In a medium saucepan, add sake and bring it to a boil over medium high heat for a few seconds to evaporate some of the alcohol.
Reduce heat to low; add mirin and soy sauce, followed by kombu and bonito flakes. Cook for 5 minutes to allow the flavors to absorb.
Turn off the heat and set aside until cool down. Strain through a fine mesh sieve to remove solids.
Cook noodles according to package instructions (or, for homemade noodles, cook for 3 to 5 minutes until noodles float to the surface. Rinse under cool water.
Spoon soup base into serving bowls. Serve alongside cold noodles for dipping. Sprinkle with sesame seeds and thinly sliced green onion, if desired. Extra soup base will keep, refrigerated in an airtight container, for up to 3 days.
Did you make this recipe?
Let us know what you think!
Leave a Comment below or share a photo and tag me on Instagram with the hashtag #loveandoliveoil.