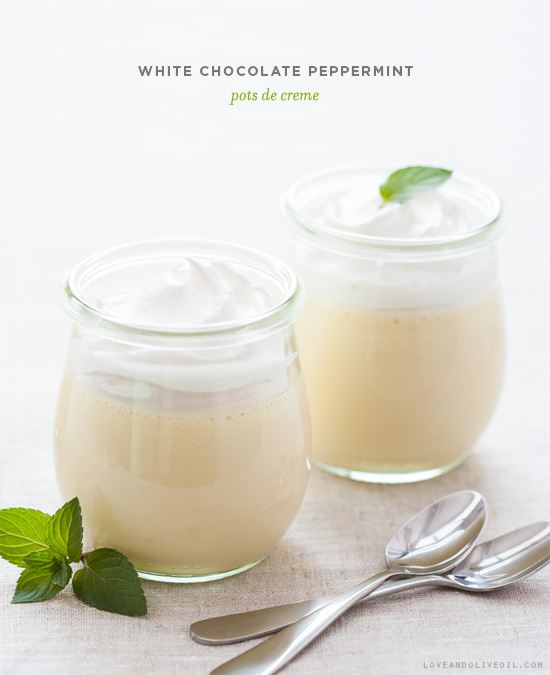 If you're entertaining this holiday season, the last thing you want is some fussy, complicated dessert. At the same time, you want something that will impress your guests; something that will seem like it took you more time than it really did.
These white chocolate peppermint pots de créme are just the thing, luxurious and creamy, with a white-chocolate custard base and festive notes of peppermint. Add some freshly whipped cream on top and you're ready to party.
Traditionally, pots de créme are baked in a "bain-marie," or water bath. I prefer to skip that step, using gelatin to set the custards instead. So technically, they are not true pots de créme (the purists here will have to forgive me), but once you see how easy and delicious they are you'll forget all about that technicality.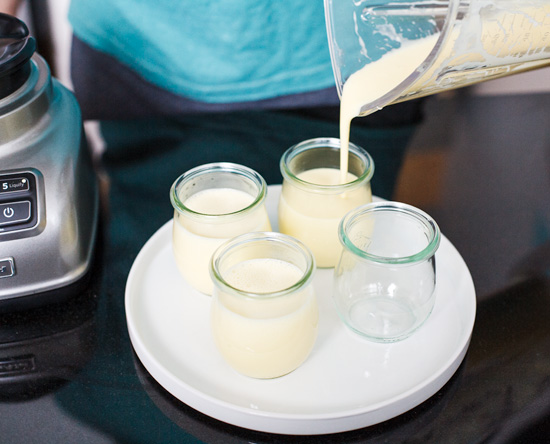 The KitchenAid® 5-Speed Diamond Blender makes this dessert a breeze: quickly melting and liquifying the custard mixture with the white chocolate into a silky smooth cream. Then simply pour into serving vessels and chill until set. No baking, no messy water bath, no fuss.
Visit the KitchenAid® Kitchenthusiast™ blog for the more »

White Chocolate Peppermint Pots de Creme
Avoiding the oven and using a blender to whip up a decadent dessert with a fraction of the effort. Lightly sweetened with white chocolate and with a subtle hint of peppermint, this easy pots de crème recipe is sure to become a fast favorite.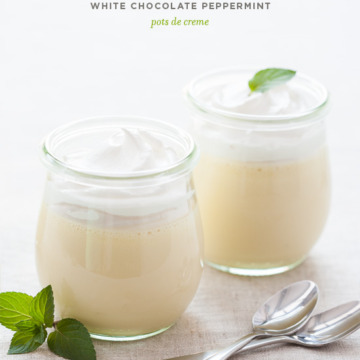 Ingredients:
1 teaspoon unflavored gelatin
1 3/4 cups heavy cream
4 large egg yolks
6 ounces (1 cup) good quality white chocolate chips or chopped white chocolate*
3/4 teaspoon peppermint extract
fresh whipped cream, for topping
Directions:
Sprinkle gelatin over 2 tablespoons of cold water in a small dish. Let sit for 5 minutes to soften.
In a saucepan, heat cream over medium heat until it starts to steam, stirring occasionally. Do not let it boil.
In a bowl, whisk together egg yolks. Using a large spoon or ladle, slowly drizzle about 1/3 of the warm cream into the egg yolks, whisking vigorously the entire time. The goal is to incorporate the hot cream gradually so the egg yolks are tempered rather than cooked. When about 1/3 of the cream has been incorporated and the mixture is warm to the touch, pour mixture back into saucepan with the rest of the cream. Stir over medium-low heat, scraping the bottom and sides of the pan as you go, for about 5 to 7 minutes, or until mixture thickens and coats the back of a spoon. It should measure approximately 170 to 175ºF.
Place white chocolate chips in the canister of a blender. Pulse two or three times to break chips into fine pieces. Pour hot cream mixture over top of chips and let sit for 30 seconds. Blend on medium-low speed until white chocolate is melted and mixture is smooth, scraping down the sides and corners of the blender as necessary. Add softened gelatin and peppermint extract and blend for 2 to 3 seconds more to incorporate.
Divide evenly among ramekins or jars and refrigerate until set, at least 4 hours or overnight.
Just before serving, top with freshly whipped cream, if desired.
* When purchasing white chocolate, the higher quality, the better. Cocoa butter should be listed as one of the first ingredients. If you see no cocoa butter at all (as is the case with most name-brand white baking chips, unfortunately) move on to another brand.
Did you make this recipe?
Let us know what you think!
Leave a Comment below or share a photo and tag me on Instagram with the hashtag #loveandoliveoil.
Sponsored by KitchenAid®, Inc. As always, all opinions written are purely my own.