This recipe was created in partnership with Kitchen Basics by McCormick® with your busy schedule in mind. Thanks for supporting us and the brands we love!
Soup's on!
Soup season, that is.
And yet, we're still not quite ready to let go of summer.
Which is why this soup is so perfect, with a hint of tangy lemon that invokes feelings of a tall glass of lemonade by the poolside, while at the same time warming the heart and stomach from the inside out (like any good chicken noodle soup should do).
We've been working on expanding our repertoire of quick and easy weeknight meals, because, let's be honest, that complicated four-part recipe might be super impressive when you have dinner guests, but who has time for that during the week? I know I certainly don't.
That's why this recipe, made with Kitchen Basics' brand new Organic Chicken Stock is simply perfection. It's flavorful, hearty, and filling, and not to bad for you to boot. But the best part of this recipe? It comes together in under 45 minutes (less if you've got mad knife skills) and only uses one pot.
We've essentially taken a classic chicken noodle soup and made it a bit more interesting without losing the essence of what we all love most about chicken soup, namely the comfort and simplicity. A few simple swaps, like fennel instead of celery (one of my favorite tricks because, sorry, I just don't like celery), and orzo instead of egg noodles, gives this a little something special. A glug or two of white wine for good measure, plus a splash of lemon juice at the end for a hint of acid and tang, but not so much that you feel like you're sipping a bowl of chicken lemonade (ew).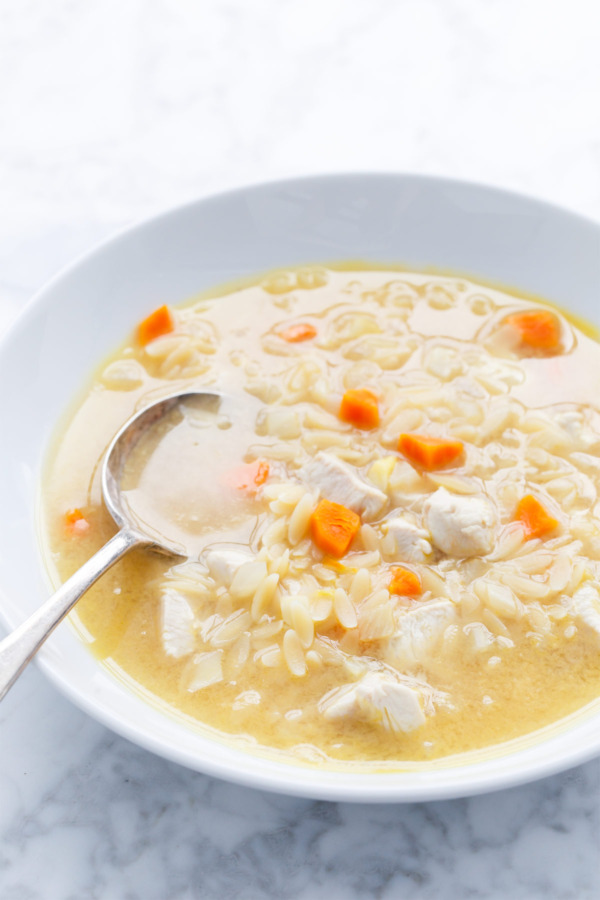 When working with a recipe such as this one with limited ingredients, it is so (SO) important to start with a good chicken broth, because that's where the majority of the flavor is coming from. I was so excited to hear that Kitchen Basics (which has long been my go-to for pre-made stocks) now offers an organic line, including organic chicken, vegetable and beef stocks. They are really as close as you can get to homemade stock, in terms of flavor and richness (and now, organic!) without actually home-making it.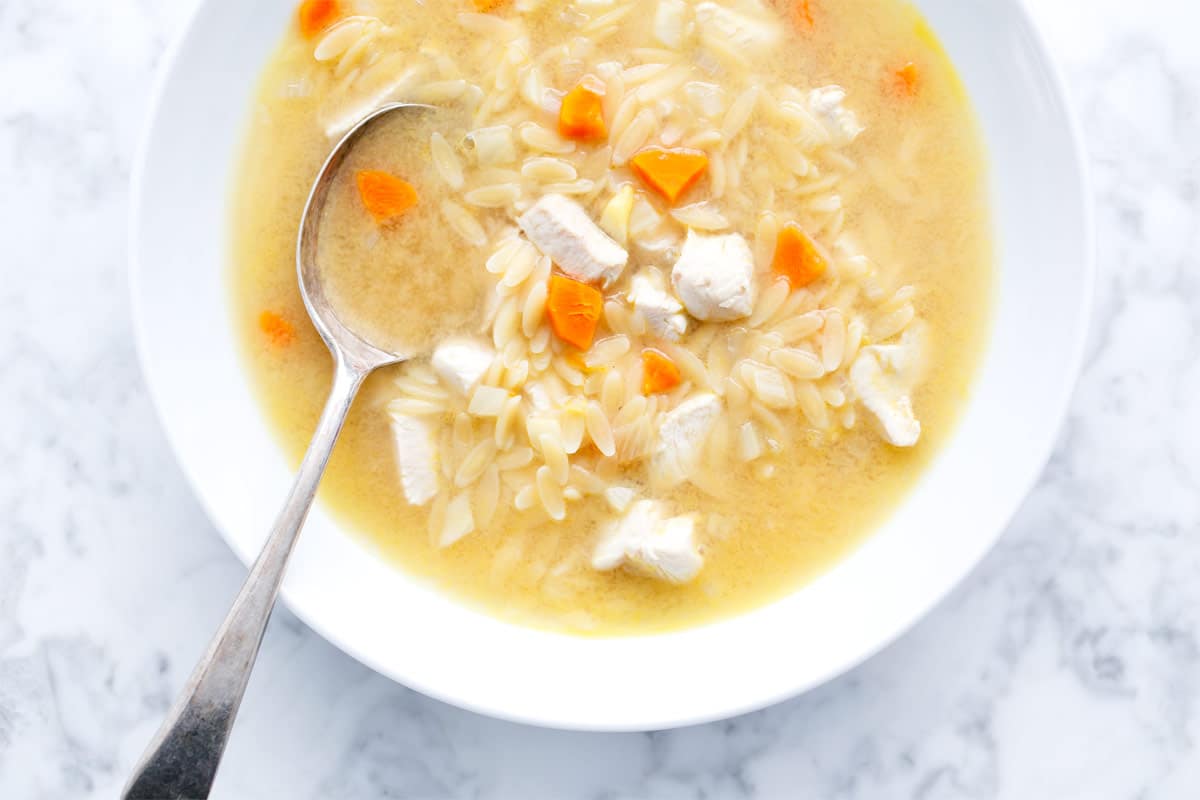 One-Pot Lemon Chicken & Orzo Soup
This easy one-pot soup recipe will quickly become a weeknight favorite; it comes together in under 45 minutes and the result is flavorful, tangy, and satisfying.
Ingredients:
2 tablespoons olive oil
1/2 large onion, chopped (2/3 cup chopped)
1 medium carrot, chopped (1/2 cup chopped)
1/2 large fennel bulb, cored and chopped (1 cup chopped)
1/3 cup white wine
1 bay leaf
8 ounces (1 1/4 cups) orzo
1 pound (2 large) boneless skinless chicken breasts, cut into bite-sized cubes
1/4 cup freshly squeeze lemon juice (from 2-3 lemons)
1/2 teaspoon kosher salt (or to taste)
black pepper (to taste)
Directions:
Heat olive oil in a large saucepan set over medium high heat until shimmery. Add onion, carrot, and fennel and saute, stirring occasionally, until softened and translucent and starting to brown, about 7 to 8 minutes. Season with a pinch of salt and pepper.
Add white wine and simmer for 1 to 2 minutes or until liquid is mostly absorbed.
Add chicken broth and bay leaf and bring to a boil.
Add orzo and cook for 5 minutes, then add cubed chicken and cook for about 5 minutes more or until orzo is al dente and chicken is cooked through. Add lemon juice and season to taste with salt and pepper. Ladle into bowls and serve warm.
Did you make this recipe?
Let us know what you think!
Leave a Comment below or share a photo and tag me on Instagram with the hashtag #loveandoliveoil.
Disclosure: This recipe was created in partnership with McCormick®. As always, all opinions written are purely our own. We're incredibly grateful for opportunities like these that allow us to continue sharing delicious recipes with you, so thank you for supporting us and the brands we love.