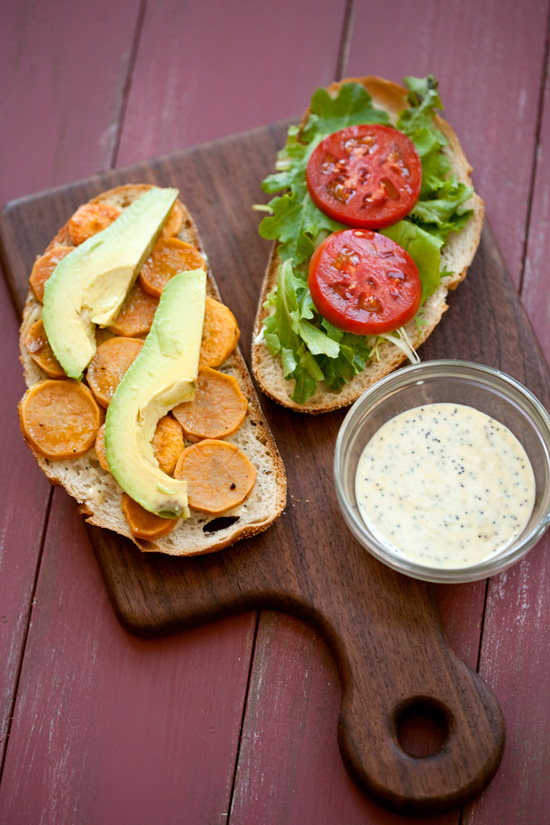 The hardest part about Thanksgiving for me is remembering that we still have to eat in the days leading up to the big event. In our frenzied meal-planning we often times forget about the rest of the week, and are left scrounging the cabinets for something to eat. Which usually ends up being popcorn and waffles or some other unlikely combination.
That's where meals like this come in. Quick. Simple. Healthy. Perfect to whip up while your cranberry sauce is simmering or your pie crust is chilling. And much more filling than waffles.
While it may sound like an unusual combination, sweet potato and avocado together make for one heck of a sandwich. But the real proof that this recipe is a keeper is that I've posted it before. A Love & Olive Oil classic, if you will, and I figured that since most of you weren't around way back in March of 2007 (yes, that's like ancient times in blog-years), you'd appreciate the resurrection.
And you know what? It'd make a pretty good after-Thanksgiving meal too… throw on some turkey and maybe use up those leftover sweet potatoes too.
Hope everyone has a delightful (and delicious) Thanksgiving holiday!
Sweet Potato and Avocado Sandwiches with Poppy Seed Spread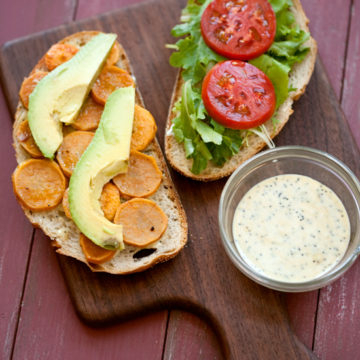 Ingredients:
1 sweet potato, peeled and cut into 1/2-inch-thick slices
2 tablespoons olive oil
1 tablespoon honey
For Spread:
1 tablespoon honey mustard (or 2 teaspoons dijon mustard plus 2 teaspoons honey)
2 tablespoons mayonnaise
1 teaspoon red wine vinegar
1/4 tsp poppy seeds
To Assemble:
4 slices whole wheat bread
4 red onion slices, cut 1/8-inch thick (optional)
1/2 avocado cut into 1/4-inch-thick slices
4 tomato slices, cut 1/4-inch thick
1/2 cup baby lettuce or herb salad mix
Directions:
Toss sweet potato slices in a few tablespoons each of olive oil and honey. Season with salt and pepper to taste. Cook slices in a 350 degree oven until tender, about 15 minutes, flipping slices half way through.
To prepare spread, whisk together honey mustard, mayonnaise, vinegar, and poppy seeds in a small bowl.
To assemble, spread half the poppy seed mixture on 2 of the bread slices, then place half of the onion, avocado, and tomato slices on top of each slice; sprinkle lightly with salt and pepper. Add a layer of sweet potato slices and lettuce. Top with remaining bread. Cut in half, securing with a toothpick.
Did you make this recipe?
Let us know what you think!
Leave a Comment below or share a photo and tag me on Instagram with the hashtag #loveandoliveoil.