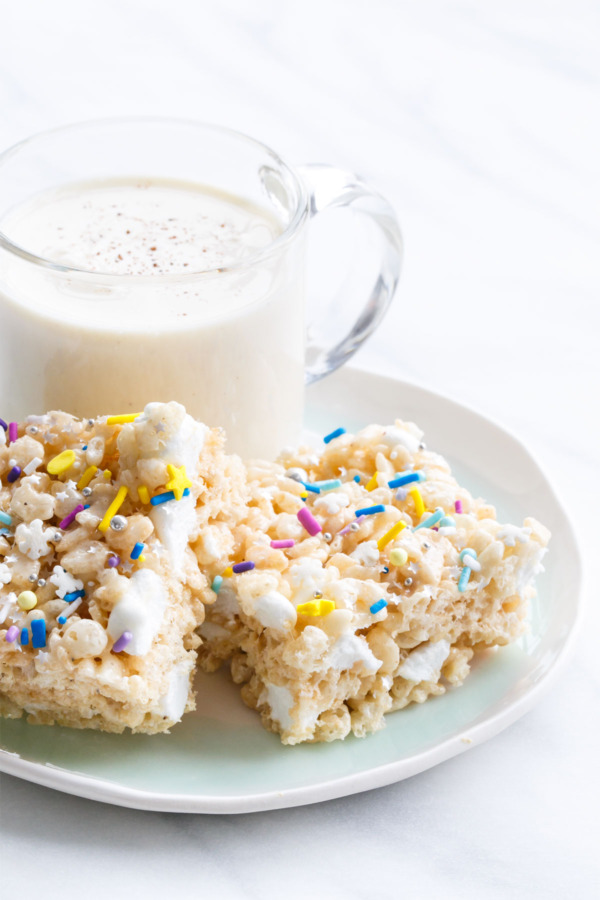 I'll let you in on a little secret:
There isn't actually any eggnog in these treats.
Because that wouldn't work (no one likes a soggy rice krispie treat).
Rather, two simple ingredients create the illusion of eggnog:
Nutmeg and rum extract.
Because, when you really think about it, eggnog itself doesn't really have a flavor, it's the addition of the nutmeg and the rum that give it its distinctive flavor. You could really add nutmeg and rum to any sweet, creamy base and it'd taste like eggnog.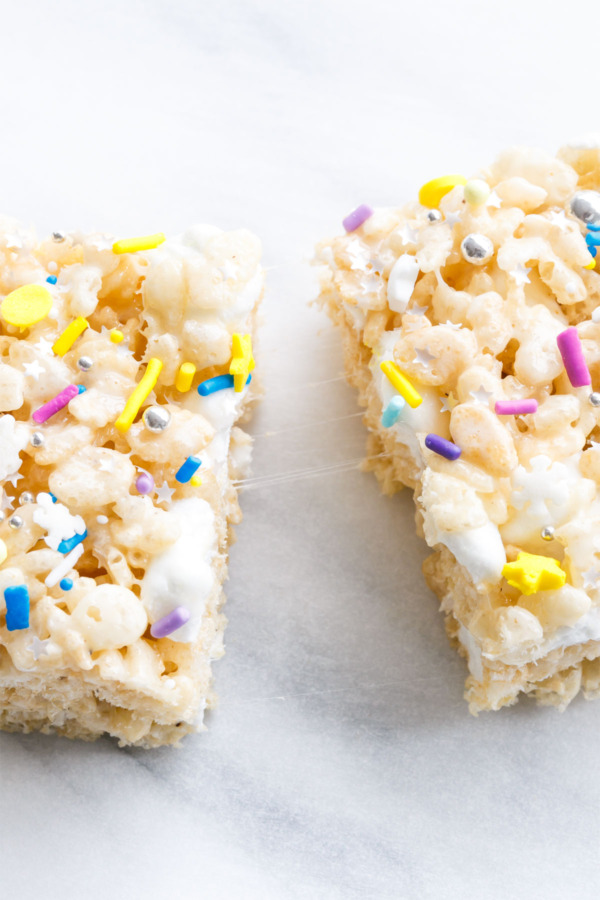 Don't believe me? Make a batch of these treats and try one for yourself. Or, better yet, bring a batch to your next holiday gathering and watch people's reactions as they dig in.
"OMG these taste just like eggnog!"
"How did you DO it? It's like magic!"
"Seriously? Seriously?"
*grabs 3 more treats and beelines for the door*
Trust me, you will be the most popular person at the party when you lay down a platter of these babies (even moreso if you bring both these and the gingerbread rice krispie treats too)… talk about a Christmas miracle.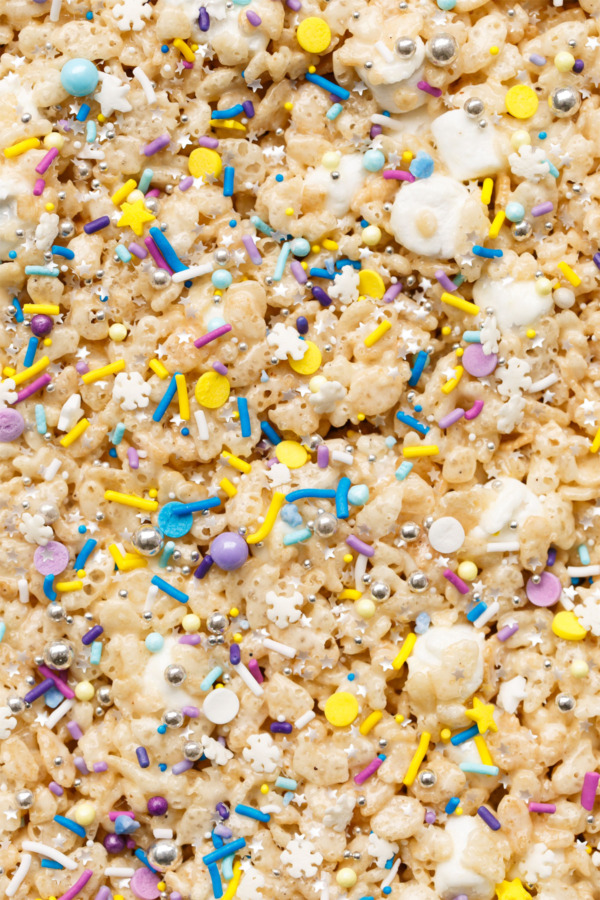 Also, because I know you're wondering about these killer sprinkles… they are from Sweetapolita (use code LOVEANDOLIVEOIL15 to get 15% off your order!) I'm seriously obsessed, I want to put sprinkles on everything now.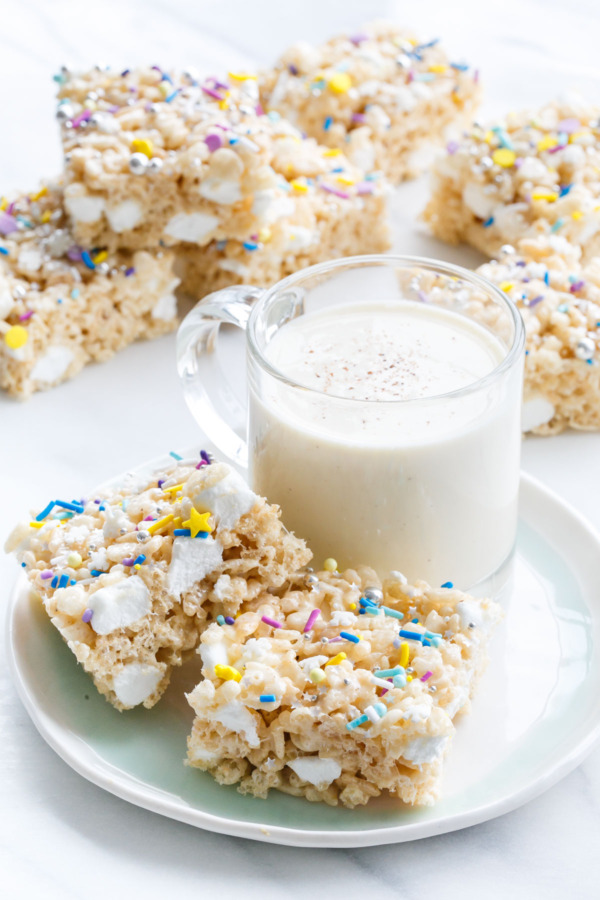 For anyone curious… yes, you can make plain old rice krispies treats with this recipe, just leave out the nutmeg and replace the rum extract with vanilla. It's my go-to recipe that results in perfectly soft and chewy rice krispie treats. I personally think the addition of the whole mini marshmallows is the secret: they provide an extra bit of chewy texture that brings the treat full circle.
Happy holidays, everyone! Hope your Christmas is extra sweet. :)
Eggnog Rice Krispie Treats
Soft and gooey rice krispie treats flavored with nutmeg and rum extract: tastes just like eggnog!
Ingredients:
5 tablespoons unsalted butter
1/2 teaspoon fine sea salt
1/2 teaspoon rum extract
1/4 teaspoon ground nutmeg
8 cups (16 oz) mini marshmallows, divided
7 cups rice krispies cereal
Directions:
Lightly butter the bottom and sides of a 13-by-9-inch square baking pan (halve this recipe for an 8-by-8-inch pan). Line bottom and long sides with a strip of aluminum foil; lightly butter foil.
In a large saucepan, melt butter over medium-high heat. Add 6 cups of mini marshmallows and stir until melted and smooth. Remove from heat and stir in salt, rum extract, and nutmeg. Fold in rice krispies until evenly coated (be somewhat gentle with them so they don't crush). Fold in remaining 2 cups marshmallows.
Spread into prepared pan, pressing into an even layer. If it helps, lightly butter your hands or the spatula and use that to press the mixture into the pan without sticking. If you want to top the bars with sprinkles, do so while they are still slightly warm and sticky.
Let cool completely before slicing into bars. Treats are best enjoyed the day they are made, but will keep for up to 3 days in an airtight container.
Did you make this recipe?
Let us know what you think!
Leave a Comment below or share a photo and tag me on Instagram with the hashtag #loveandoliveoil.