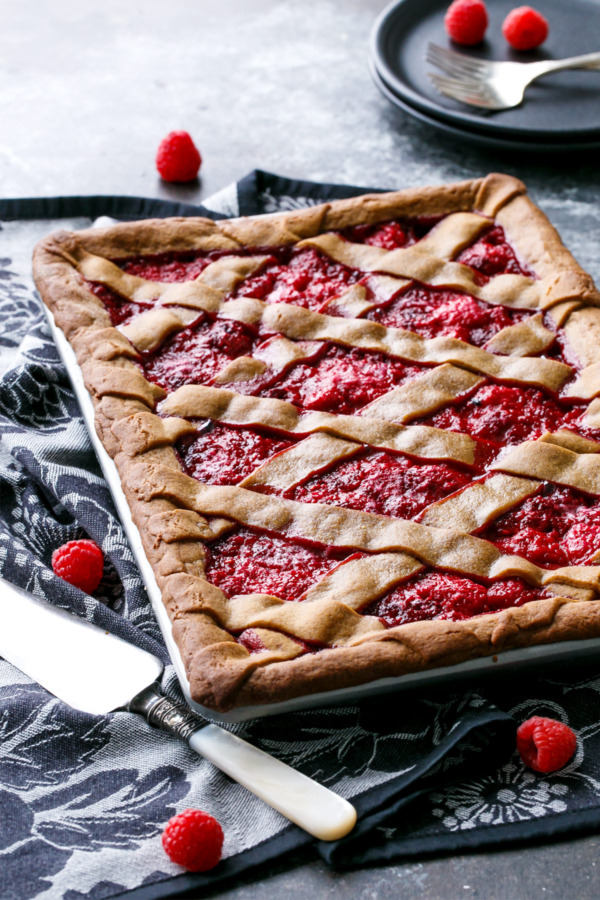 This recipe was created in partnership with McCormick®, whose products take our holiday baking to flavorful new heights. Thanks for supporting us and the brands we love!
For a new twist on a holiday classic, why not give this raspberry gingerbread slab pie a try? It's part gingerbread cookie, part tart raspberry pie, and entirely delicious.
I've had this recipe idea on my 'ideas' list for almost a year now. I don't know what originally inspired it, but I kept putting it off because, really, who wants gingerbread in April? But now that gingerbread season is wholly and fully upon us, it was time to turn this inkling of an idea into a delicious reality.
Easier said than done, right?
It took a few tries, $28 in raspberries, and a surprising amount of gingerbread dough stuck to the floor. I'll be honest that the first time I made this recipe I wasn't expecting it to work. At all. I mean, simply taking a generic gingerbread cookie recipe and using it as a pie crust? That sounds like a disaster waiting to happen.
I was shocked, really, when I sliced into the final product only to discover that the cookie was perfectly baked, not soggy in the least, underneath a perfectly set fruit filling. No ooze, no sogginess, no overflow. It was nearly perfect.
Unfortunately, nearly perfect isn't good enough for me, and, even more unfortunate, the second time was more the disaster that I was expecting the first time (funny how that happens). So I ended up making a third pie, employing all the tricks in my book to remedy the soggy crust. The result is (as a third attempt should be) simply charming.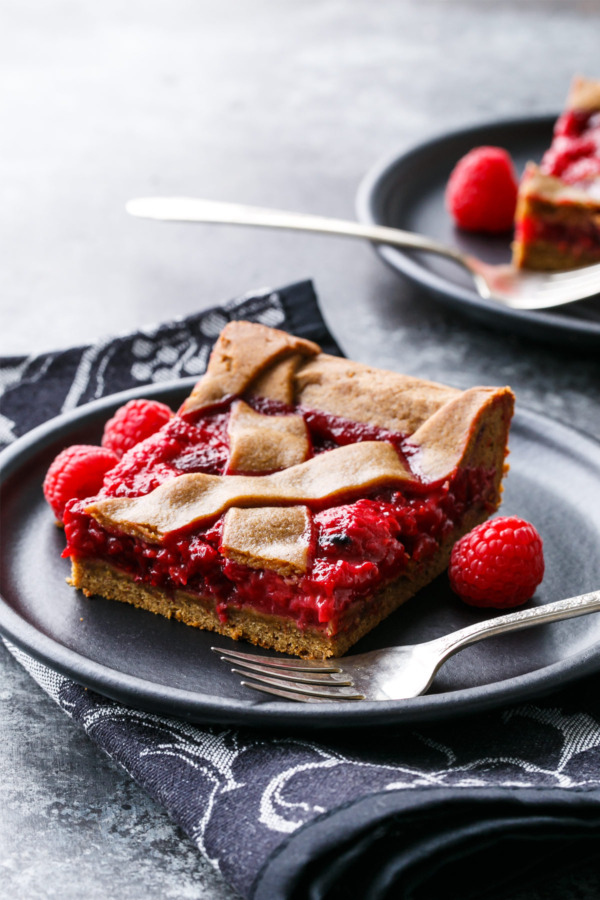 A slab pie is a pie baked in a sheet pan instead of a traditional pie pan. It's a great way to make pie for a crowd with the same amount of effort.
Here I used a quarter sheet pan which is approximately 9.5-by-13 inches in size. Because of the nature of the gingerbread cookie crust, I would not recommend doubling this for a half sheet pan; not only would the piece of gingerbread dough be almost impossible to transfer to the pan, the edges of the crust would likely burn before the center of the pie was done.
This recipe can also be made in a 9-inch pie pan. You may have leftover crust and filling, but the cook time should be about the same.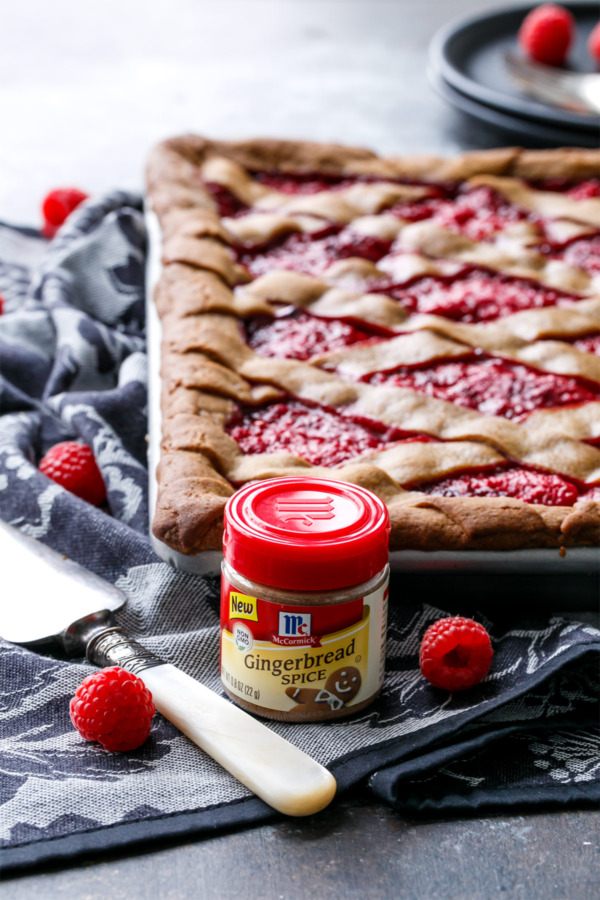 The gingerbread crust is made using McCormick's new Gingerbread spice blend. I'll admit, being able to scoop out a few tablespoons of a single spice is a heck of a lot easier than measuring out teaspoonfuls of 3, 4, or 5 different ones, knowing that the flavor will be perfectly balanced in the end.
I used more gingerbread spice here than I might in a plain cookie, a whole 2 tablespoons worth, as I wanted it the crust to be able to stand up to the tart raspberry flavor.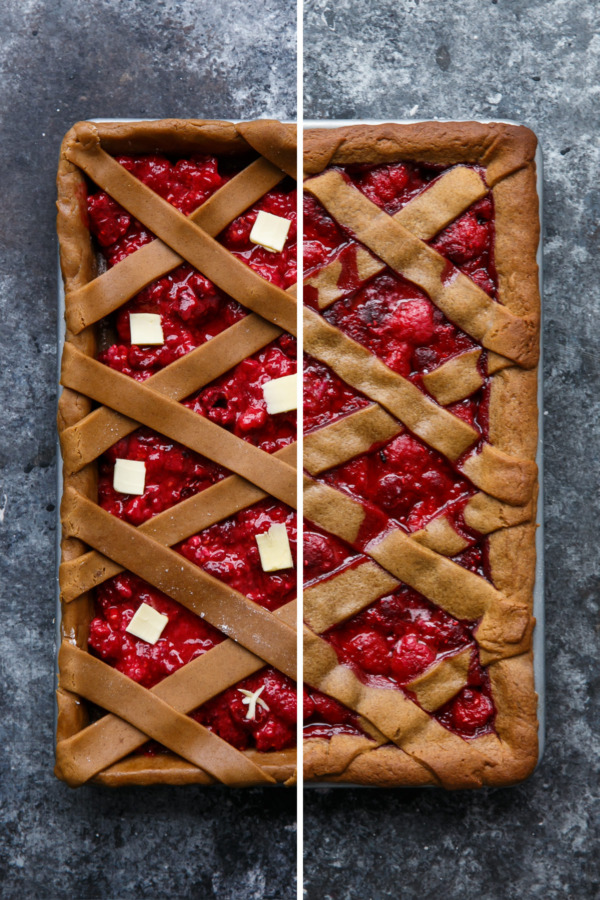 Don't waste too much time trying to pretty-up the edges. The dough will spread when baked, flatting out any fancy crimping or other decorative edges. Or maybe that's just my excuse for leaving the edges plain since I am physically incapable of crimping a pie crust.
Embrace the rustic nature of this pie and let its true beauty shine through.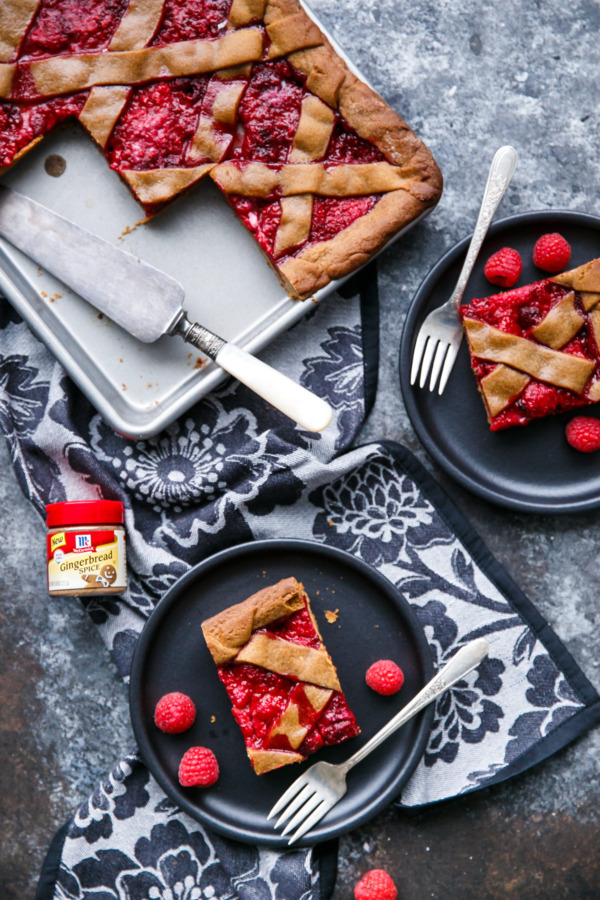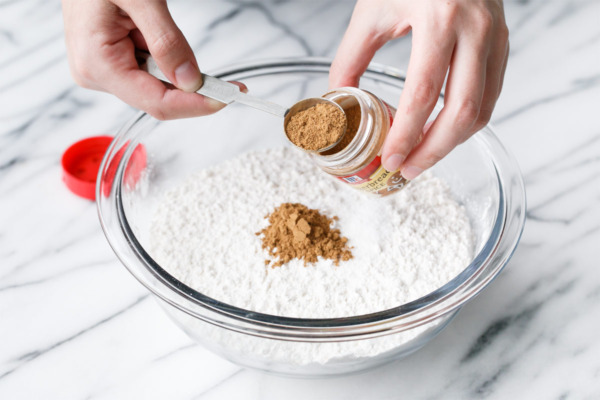 Fresh raspberries or frozen? Either works, though I decided to use a mix of both, 12 ounces of fresh raspberries and 12 ounces frozen. Toss them all together with a bit of flour, then sugar and cornstarch and a pinch of salt. Sprinkled with a touch of lemon juice and vanilla and that's it. Easy as, well, pie.


A few tricks to ensure the cookie crust stays cookie-like and not soggy:
– Sprinkle the bottom of the crust with flour and sugar. This provides a protective layer of sorts to prevent the filling from soaking in.
– Bake it on a hot cookie sheet or even a pizza stone. Preheat the larger cookie sheet with the oven, so when you place the smaller cookie sheet with the pie in it on top, the direct heat will help the bottom to fully cook through.
– Bake it right. You're looking for the moment when the filling starts bubbling, but before the edges of the crust get too browned. It's a fine line between underdone filling and overdone crust, so just watch carefully. The second you see a visible bubble burst in the filling, it's done.
– Let it cool completely. Cutting into the pie before it is completely cooled will result in unsightly ooze. Instead, let the pie cool at room temperature for at least an hour (2 is better) before slicing it.
– Eat it. Unfortunately this is not the recipe to make ahead of time, as it doesn't store well. It is best enjoyed the same day it is made. While it will technically keep at room temperature for 2 days, the lattice tends to get a bit soggy the longer it sits. If you absolutely have to bake it ahead of time, I'd recommend skipping the lattice entirely and instead using the extra dough to bake a few plain gingerbread cookies, which you can then add to the pie right before serving.
The filling is refreshingly tart, the crust soft in the center and crunchy at the edges, all spiced and sultry and molassesy; the combination of fruit and spice will put your tastebuds in a state of bliss.
All that's missing is a big scoop of vanilla ice cream.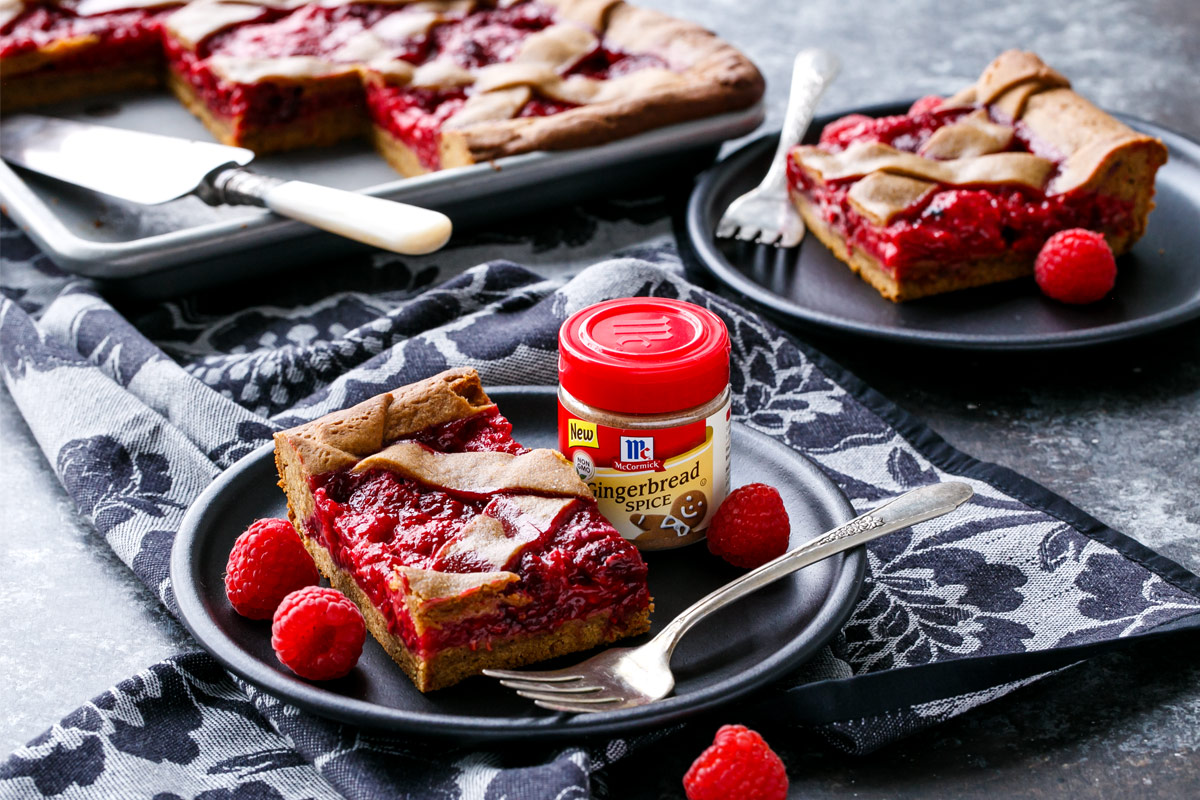 Gingerbread Slab Pie
Fit for a holiday crowd: this unique slab pie features a tart raspberry filling and a spiced gingerbread cookie crust.
Ingredients:
For Crust:
4 cups (17 ounces) all-purpose flour
2 tablespoons McCormick® Gingerbread Spice
1/2 teaspoon kosher salt
1/4 teaspoon baking soda
6 tablespoons unsalted butter, room temperature
4 tablespoons unflavored vegetable shortening, room temperature
3/4 cup packed brown sugar
1/2 cup unsulphured molasses
1 large egg
1 large egg yolk
1 teaspoon McCormick® Pure Vanilla Extract
For Filling:
24 ounces (6 cups) whole raspberries (you can use either fresh or frozen or a combination of both. Do not thaw if frozen.)
3 tablespoons all-purpose flour
1/2 cup granulated sugar
2 tablespoons cornstarch
pinch salt
1 teaspoon lemon juice
1 teaspoon McCormick® Pure Vanilla Extract
1 tablespoon unsalted butter, cut into bits
Directions:
In a bowl, whisk together flour, gingerbread spice, salt, and baking soda; set aside.
In a large mixing bowl or the bowl of a stand mixer, beat butter and shortening together until smooth. Add sugar and beat 1 to 2 minutes or until fluffy. Beat in molasses. Scrape down the sides of the bowl, then add egg, egg yolk, and vanilla and mix until smooth.
Add half of dry ingredients and mix on low speed until just incorporated, scraping down the sides of the bowl as needed. Add remaining dry ingredients in two additions until no streaks of flour remain. The dough should be thick and just slightly sticky.
Gather dough into a ball and wrap tightly in plastic wrap; chill for at least 1 hour or overnight.
Cut dough into quarters; wrap and place one quarter back in the fridge (you'll use this for the lattice top of the pie).
Roll remaining dough on a lightly floured surface into a rectangle approximately 12-by-18-inch in size and 3/8-inch thick (rectangle should be about 1 1/2″ larger than your quarter sheet pan on all sides.) Transfer to a quarter sheet pan. TIP: Roll out dough on a piece of waxed paper, which is 12-inches wide. Lightly flour the waxed paper when you start, but towards the end you want the dough to stick to the paper ever so slightly. Then you should be able to flip the entire piece over into the sheet pan (an extra set of hands might be helpful here) without it falling off or breaking. Peel back the waxed paper and ease the dough into the sheet pan. Don't worry if it breaks, this dough is much more forgiving than traditional pie crust, just press it back together or patch it with a scrap of dough.
Trim edges of dough to a 1/2-inch overhang. Tuck edges under, building up a thicker border (the thicker edge is needed so it doesn't overcook in the oven). Dust bottom of crust with a light layer of flour, then sprinkle with 1 teaspoon of granulated sugar (this will help keep the crust from getting soggy as it bakes). Chill crust for at least 30 minutes or freeze for 15 until it is firm to the touch.
Preheat oven to 350 degrees F; place a full sheet pan in the oven to preheat as well.
To prepare filling, toss raspberries with flour. If using frozen raspberries, do not thaw them first. For fresh raspberries, toss them very gently to keep the berries mostly whole.
Whisk sugar together with cornstarch and salt, then pour over berries and toss to coat. Sprinkle with lemon juice and vanilla and fold until evenly distributed.
Pour berry mixture into chilled crust. Top with bits of butter, then return pie to fridge while you prepare the lattice.
Roll out reserved quarter of dough into a 10-by-10-inch rectangle. Cut into 10 even strips. Remove pie from fridge, and then arrange strips on top of pie in a lattice formation. Trim excess, and press lightly to adhere edges.
Place pie on hot sheet pan in oven and bake for 35 to 40 minutes or until filling is just starting to bubble and edges are beginning to darken. Remove from oven and let cool on a wire baking rack until completely cooled, about 1 hour. Cut into slices and serve at room temperature.
Pie will keep, lightly covered at room temperature, for up to 2 days, however it is best enjoyed the same day it is made (the lattice pieces tend to get a bit soggy the longer they sit). If you plan to make this pie ahead of time, I recommend forgoing the lattice. Instead, use the excess dough to bake a few gingerbread cut-out cookies, and arrange those on top of the pie just before serving.
Did you make this recipe?
Let us know what you think!
Leave a Comment below or share a photo and tag me on Instagram with the hashtag #loveandoliveoil.
Disclosure: This recipe was created in partnership with McCormick®/McCormick Gourmet™. As always, all opinions written are purely our own. We're incredibly grateful for opportunities like these that allow us to continue sharing delicious recipes with you, so thank you for supporting us and the brands we love.