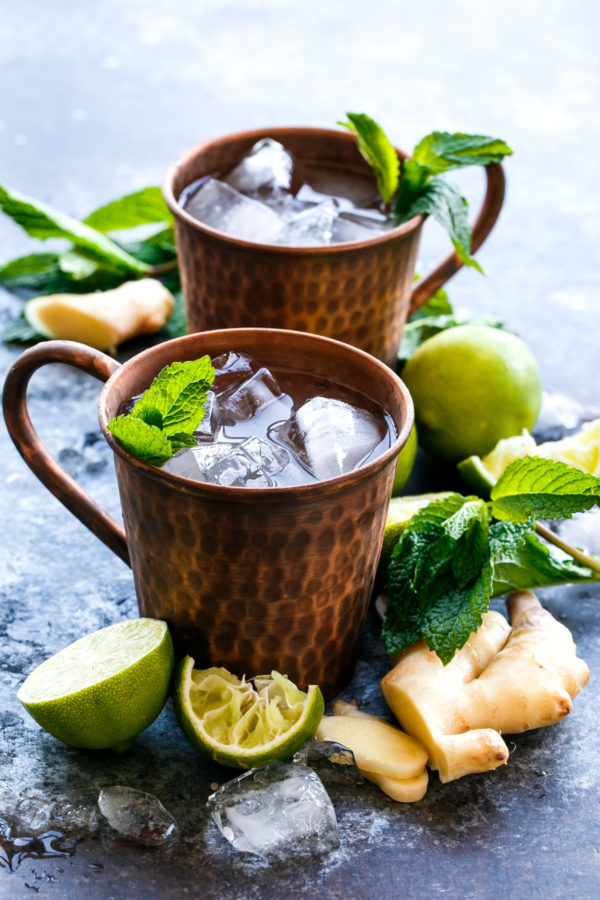 My experiments in baby ginger continue… it turns out pickling isn't all it's good for.
Ever since Rachel's ruined me for ginger beer forever, I've been trying to recreate it at home, since I don't exactly make it to Seattle very often (and the shipping… well, it burns more than the ginger). In my experimentation I've discovered that not all ginger is created equal. The same recipe using ginger from different stores will taste different, and nothing I tried really tasted exactly right.
Until I used the baby ginger.
The flavor is strong and spicy, but fresher, without the same sinus-singing burn that more mature ginger tends to have.
Granted, it is still pretty dang spicy (just how I like it), but you can easily adjust the quantities of sugar, lime juice, and other ingredients to mellow out the burn if you choose.
I used the brilliant method outlined in Ashley's book, Date Night In, which calls for you to blend the ginger with sugar and water (no peeling necessary), and then strain out the solids. I run it through the blender again to eek out every last bit of ginger flavor.
The ginger beer concentrate is incredibly versatile, and while it serves as the base for these fancy mules, you can also mix it with plain club soda for a hot and refreshing homemade ginger beer. I like to make a big batch of the concentrate and freeze it in ice cube trays so I can easily make a ginger soda anytime I please.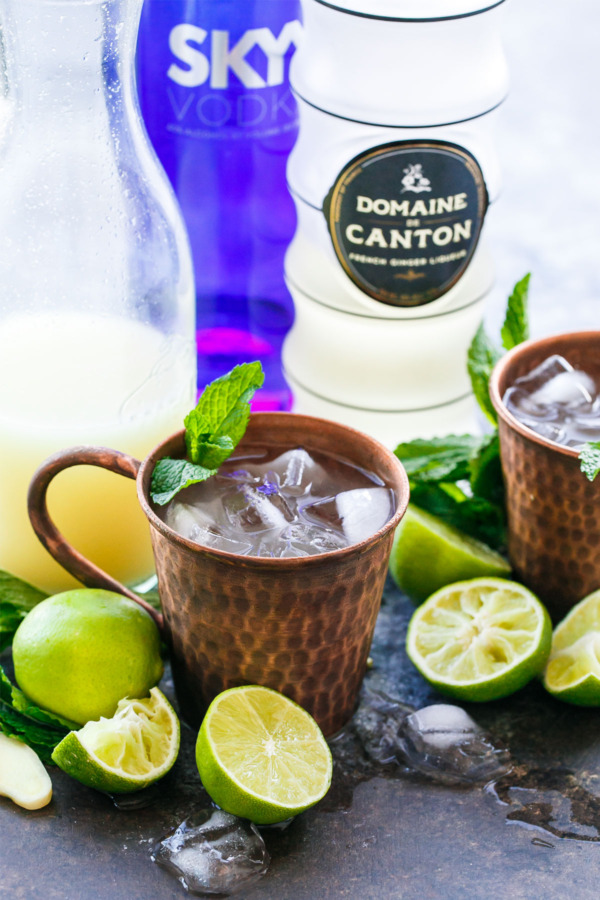 Funny story: I love ginger beer (that's nothing new), and I know if a restaurant has a Moscow Mule on their menu that I can usually just get a plain ginger beer. Well, one night I tried to be clever and order "a Moscow Mule please, hold the mule". The waiter gave me a strange look because, well, I basically just ordered a straight up vodka. Oops.
(Side thought: Who decided to call it a mule anyway? There's nothing ass-inine about ginger beer. Maybe because it has a bit of a kick? Who knows.)
I call these "Fancy Mules" because they have an extra splash of Domaine de Canton, a French ginger liqueur that makes these mules extra special. I guess you could call them French Mules if you'd like (despite the fact that the Moscow part is still there). But the variations are really endless… Kentucky Mules made with bourbon, Gin Gin Mules with gin, Mexican Mules with tequila, Mezcal Mules with (duh) mezcal… I mean really, ginger beer with just about any liquor is going to be good. Especially this homemade ginger stuff.
Ok, so what's with the copper mugs anyway?
Well, it turns out copper is an amazing heat conductor, and so your mules will stay frosty cold far longer than if you were to serve them in glass. Don't believe me? Fill a copper mug with ice and give it a few minutes until you start to see condensation form on the outside of the mug. Then touch it and see just how cold the copper gets.
For an even colder chill, freeze the mugs for 15 to 30 minutes before serving and they'll be fabulously frosty.
I used these hammered copper mugs, which have a nice vintage-looking patina (as opposed to the super shiny finish most mugs have).
Cheers!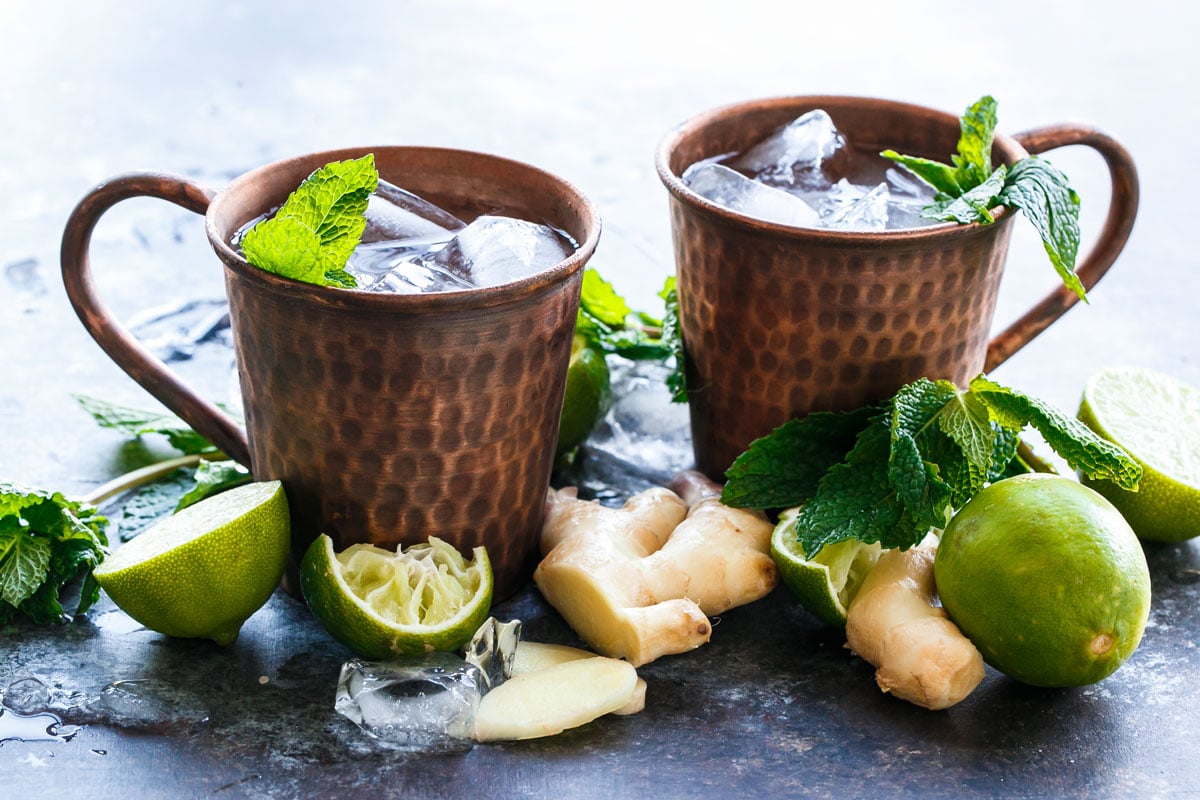 Scratch-Made Moscow Mules
Sure, you could use ginger beer here, but a refreshing moscow mule made with homemade ginger concentrate is a revelation. The addition of ginger liqueur makes it extra special.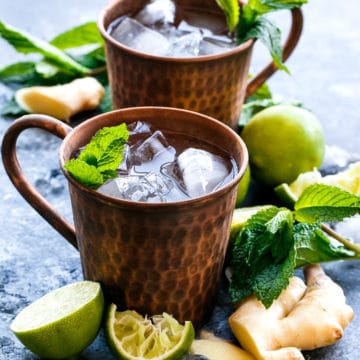 Ingredients:
For Ginger Concentrate:
10 ounces fresh young ginger
2 cups filtered water, divided
1/2 to 1 cup granulated sugar, to taste*
1/2 to 1 cup freshly squeezed lime juice, to taste
For Moscow Mules:
2 ounces ginger concentrate, or to taste
2 ounces vodka
1 ounce Domaine de Canton ginger liqueur
lime juice, optional, to taste
club soda
mint sprig, for garnish
Directions:
Wash and scrub ginger to remove all traces of dirt (break off limbs to be sure you get all the stray dirt in the crevices). You do not have to peel the ginger, especially if using young ginger. Cut into 1-inch pieces.
Microwave 1 1/2 cups of water with sugar until warm and stir until sugar is completely dissolved. (You can use anywhere from 1/2 to 1 cup of sugar in the concentrate depending on how sweet you want your ginger concentrate: if you will be using this recipe for moscow mules, which adds sweet ginger liqueur, you may want to use less sugar. But if you will be using it in other recipes, or drinking it straight up with soda, you might find you prefer it a bit sweeter.)
Blend ginger with 1 cup of sugar water until smooth and no large chunks remain.
Strain through a fine mesh sieve, pushing out as much liquid as possible. Return pulp to blender along with remaining sugar water, and blend again until smooth (this 'second pass' will extract even more ginger juice and will make your ginger go even further). Pour into strainer. If necessary, rinse blender with another 1/4 cup or so of filtered water to get out any remaining ginger pulp. Press through sieve to remove as much ginger juice as possible. Discard solids (or save it to use in Asian recipes, broths or stir frys, for extra ginger flavor).
Add lime juice (if you want more of it than is already in the concentrate) to taste and stir to combine.
This ginger concentrate will keep, refrigerated in a bottle or other airtight container, for up to a month. Stir well before using as some settling is normal. You can also freeze the concentrate in ice cube trays and store the cubes for up to 6 months.
For Moscow Mules:
Add ginger concentrate, vodka, and ginger liqueur to a chilled copper mug with ice. Stir to combine. Add lime juice to taste (if desired), and top with a sprig of mint for garnish. Serve cold.
If you want to skip the homemade ginger concentrate and just use store bought ginger beer, use about 4 ounces of your favorite ginger beer in place of the ginger concentrate and club soda, and add a generous squeeze of lime juice.
Did you make this recipe?
Let us know what you think!
Leave a Comment below or share a photo and tag me on Instagram with the hashtag #loveandoliveoil.