Up next in my Nashville Eats & Treats series is all about lunch: quick, casual eats for drop-in dining (I say lunch, but really, these spots would be great any time of day — just be sure you check the hours, as not all of them are open for dinner).
Why do a post on the best lunch spots in Nashville before divulging my favorite dinner destinations? Well, it comes earlier in the day, for one (though I've already posted about desserts so there goes that argument). Frankly, when it comes to eating out, I like lunch better, it's second only to brunch in my mind. Lunch is quicker, easier, and more casual, not to mention cheaper: lunch menu prices are often lower than the exact same dishes on the dinner menu. What's not to love?
Long live lunch!
Hattie B's
Nashville's signature dish is definitely hot chicken. While Hattie B's isn't the original (you'll have to venture to the depths of East Nashville to get that), it is damn good chicken. And if the hot part scares you, know that they offer varying heat levels, including plain and mild. Pro tip: both locations can get awfully crowded, so if you can swing an early or late lunch you'll be much better off.
→ Hattie B's / hattieb.com / 5209 Charlotte Pike, Nashville, TN 37209 and 112 19th Ave S, Nashville, TN 37203
Martin's BBQ
Dare I say Martin's has the best BBQ in town? Be prepared to go whole hog and chow down on some seriously good BBQ. Nashville doesn't necessarily have its own style of BBQ like Memphis or North Carolina, rather, here we embrace ALL the styles. You can get your mean wet or dry, with a dry rub or a sweet sauce or even an Alabama white sauce. And about that last one… whatever you do, get an order of the chicken wings with Alabama white sauce. Seriously, I wake up in the middle of the night craving these wings, and if you know me you know that is a rarity.
→ Martin's BBQ / martinsbbqjoint.com / 3108 Belmont Blvd, Nashville, TN 37212 (also Downtown)
Mas Tacos
Nashville's first food truck quickly became Nashville's favorite taco joint. Nothing else compares. The fried avocado tacos, eliote, and tortilla soup are my favorites, but you really can't go wrong with anything on the menu. Pro tip: check the hours before you go, and if you can avoid peak lunch hours, you'll be much happier (it can get quite busy and it's a tiny little place).
→ Mas Tacos / eatmastacos.com / 732 Mcferrin Ave, Nashville, TN 37206
Funk Seoul Brother
Another former food truck gone brick-and-mortar (though the food truck still roams the city as well). Definitely one of the more unique spots in town, it features Japanese and Korean street food with a twist. Don't miss the sushi burritos, Koren crack rice, and the fruity pebbles boba tea (I'm serious on that last one). (Photo credit for this one goes to Philip of SouthernFatty.com since I was too busy stuffing my face to get a good picture.).
→ Funk Seoul Brother / funkseoultruck.com / 230 Franklin Rd, Franklin, TN 37064
Butchertown Hall
One of our favorite neighborhood dinner joints, we just only recently tried their lunch, and will definitely be back again and again. My favorite? The smoked turkey sandwich, with a mound of shredded wood-smoked turkey, pickles, and white sauce. It's definitely big enough to share, especially if you start with an order of queso (complete with house-made chorizo) or guacamole. Also? Their house-made sodas, plain or in one of their many creative cocktails, perfectly round out the meal.
→ Butchertown Hall / butchertownhall.com / 1416 4th Ave N, Nashville, TN 37208
InterAsian Market & Deli
You wouldn't think to come here for a sandwich (it's your typical Asian supermarket), but trust me when I say the banh mi is the best in the city. Ask the owner, he'll proudly pull out the issue of Bon Appetit where they are featured. And at $3.50 a pop, you won't find a better deal in town. Call ahead and place your order, or browse around the clean and well stocked store (it's one of our favorite places to pick up ethnic ingredients) while you wait for your sandwiches, then go back to your car and dive in. Just beware of the jalapeños… they are often invisible and downright wicked.
→ InterAsian Market & Deli / interasianmarket.com / 2160 Nolensville Pike, Nashville, TN 37211
Vui's Kitchen
While we're talking about Asian food… Vui's deserves a mention, for sure. Located in Berry Hill neighborhood, Vui's touts "fresh" Vietnamese cuisine. Granted, it's more expensive than the dives down on Charlotte, but you can tell that the quality of the ingredients is top notch. Whether you order pho or one of their signature noodle bowls with your choice of meat (I love the lemongrass chicken), you'll be rewarded with a bowl full of deliciousness. Pro tip: try the fresh-pressed sugarcane juice. It's unusual and so refreshing!
→ Vui's Kitchen / vuiskitchen.com / 2832 Bransford Ave, Nashville, TN 37204
Proper Bagel
Finally, a proper New York-style bagel in Nashville. Kettle-boiled bagels baked fresh daily and an assortment of custom cream cheeses and spreads to go with (um, you guys, they have a cookie dough cream cheese and OMG HOW DID I NOT KNOW THIS? Not to mention the strawberry shortcake, dill pickle, maple bacon? Srsly.) It can get a bit crowded during peak times, especially during the academic year when the Belmont students frequent it in swarms.
→ Proper Bagel / properbagel.com / 2011 Belmont Blvd, Nashville, TN 37212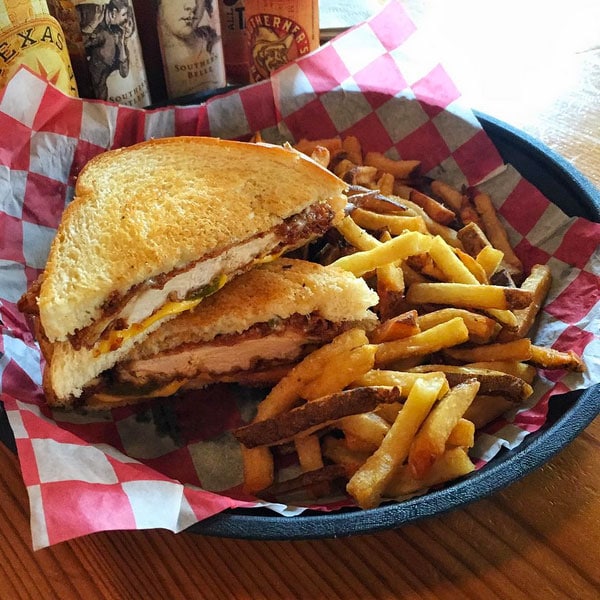 ACME Feed & Seed
One thing about Nashville is the lack of good food downtown. It's changing, thankfully, and ACME is one reason why. Three floors of food, drink, and music, it's an attraction in and of itself. But seriously people, they have a hot chicken grilled cheese. Did you hear me? Hot. Chicken. Grilled. Cheese. It's worth braving the crowds of Broadway for, trust me. Also: sushi on the second floor. Don't question, just do.
→ ACME Feed & Seed / theacmenashville.com / 101 Broadway, Nashville, TN 37201
Sloco
From their website: "The average ingredient travels 1500-2500 miles. The average sandwich has seven ingredients. This means that the average American sandwich travels 14,000 miles." Um, that's insanity. SLOCO is all about local, sustainable, and affordable. Everything is scratch-made in house, from the bread to the condiments, and the menu changes seasonally to feature the best local produce. AND they tell you exactly how many miles the ingredients in your sandwich have traveled. My favorite is the chicken salad (372 miles), which is topped with 'seasonal fixings' so it's different every time I go. Also? Get a chocolate chip cookie on your way out. Trust me.
→ Sloco / slocolocal.com / 2905 12th Ave S, Nashville, TN 37212
Little Gourmand
A little taste of France right here in Nashville. Stop by for lunch and pick up one of their baguette sandwiches. Yes, it may have traveled a bit farther than a sandwich from Sloco, but if you've ever had a sandwich in France you know there's nothing else like it. Their baguette dough is shipped in frozen from France and then baked fresh in the store each morning. It's the next best thing to actually going to Paris for lunch (wouldn't that be nice?) If you happen to be in the Green Hills neighborhood, where the non-chain food options are few and far between, it's a great option for a quick and satisfying lunch (and a bit of shopping while you're at it).
→ Little Gourmand / littlegourmand.us / 2209 Bandywood Dr, Nashville, TN 37215
Nashville Farmers' Market
I always tell visitors to check out the Farmers' Market, and lunch is a great time to do it because of the market house and its many vendors. Inside you'll find Sloco sandwiches, as well as Bella Nashville, where you are bound to find a unique pizza (Pro tip: try the special. It may sound weird but it's always awesome). The market house is a great place to go with a group as everyone can get what they want and still eat together: a farmers' market food court, essentially. Also: there's a Jeni's ice cream for dessert, and that's reason enough to go right there. The market house is open for lunch every day, but Saturdays are the best days for the farmers' market itself, with the most local produce and artisan vendors in the outside shed.
→ Nashville Farmers' Market / nashvillefarmersmarket.org / 900 Rosa L Parks Blvd, Nashville, TN 37208
Mitchell Delicatessen
If you're looking for a solid, down-to-earth sandwich, Mitchell's is your place. It's a local favorite that somehow flies under the radar of the tourists (perhaps its location in far-East Nashville is the reason… trust me though, it's worth the drive). The Asian Flank steak sandwich was named one of the best sandwiches in the South, and for good reason. With a menu touting house-cured meats and handmade sausages and fresh local produce, how can you go wrong?
→ Mitchell Delicatessen / mitchelldeli.com / 1306 McGavock Pike, Nashville, TN 37216
---
For easy trip planning, I've put together this a handy-dandy Google map with all the locations featured in this post as well as others in this series. Look for the green markers that indicate the spots listed in this post (pink is sweet spots, yellow is brunch, and blue is French fries).