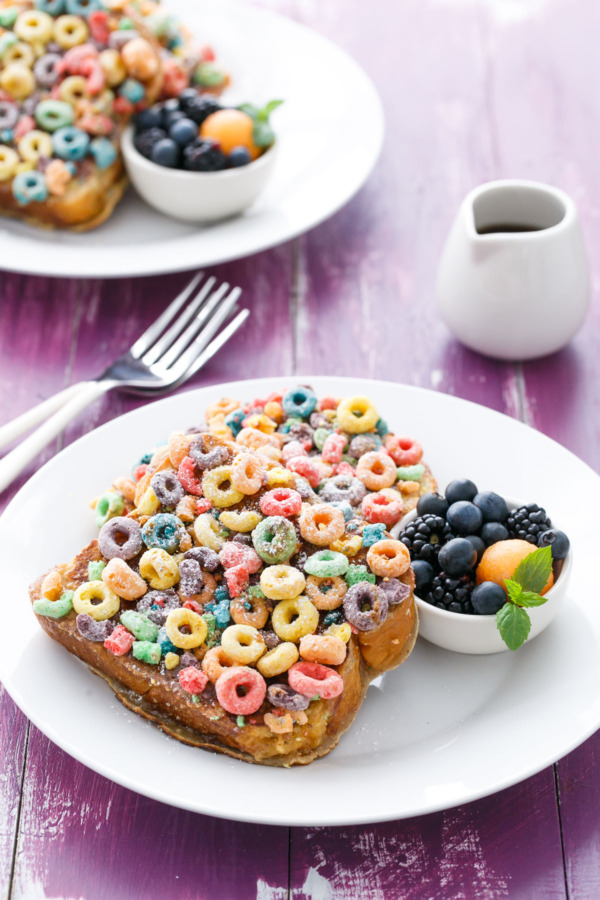 When you can't decide between cereal and French toast for breakfast…
This fun and fruity French toast lets you have both.
If only all decisions were this easy.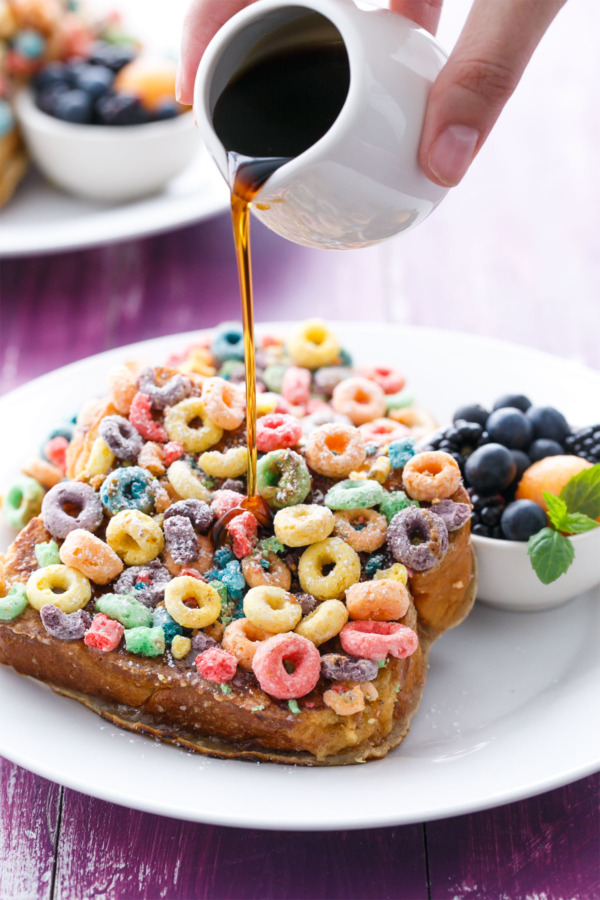 I first enjoyed this colorful concoction two years ago aboard the Carnival Sunshine, and then again this past spring on the Carnival Vista. This "Funnest French Toast" appears on Carnival's sea day brunch menu, only offered on days where no port stops are scheduled. On the Vista, with the jam-packed European port schedule, we only had one sea day, so we made sure to not miss out on the fabulous brunch options.
And yes, I'm aware this dish was probably made with kids in mind, but really, can't adults have some fun at breakfast too? Why should we be stuck ordering savory stuff while the kids get to have all the fun?
In that respect I'm really a kid at heart, which is probably what the couple sitting next to us thought when my rainbow platter arrived. Either that or they were just jealous they didn't order the same thing for themselves.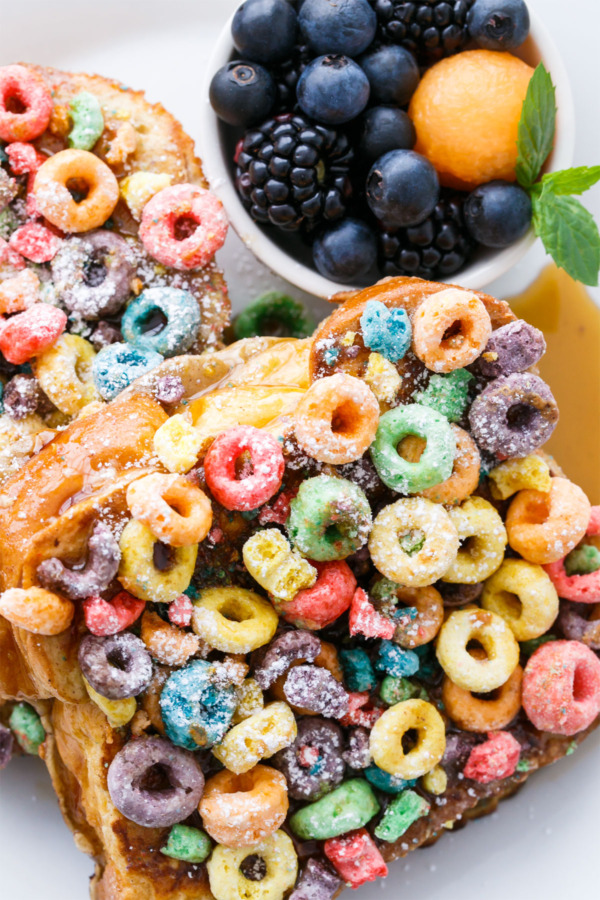 Luckily for you (and all of us, really) Carnival is very generous with their recipes and that's the only reason I'm able to share this Funnest French Toast recipe with you today, because I couldn't for the life of me figure out how they did it. It's not like it was battered, dipped in cereal, and then fried… that wouldn't work. There had to be some other magic process involved to get the cereal to stick so perfectly on the outside of an already-perfect French toast.
It's actually quite simple, despite a few extra steps and considerations to make it work. In fact, I'd argue these extra steps make this the perfect brunch-for-a-bunch recipe, as the final product is baked in the oven in one big batch and is ready all at once, instead of slice-by-slice like traditionally-cooked French toast.
The secret is that the thick slices of brioche bread are cooked twice, essentially. The first time is like any old French toast, battered and fried in a lightly buttered skillet, though the batter is thicker and stickier than what you might be used to (or at least the French toast recipes I've used in the past).
The second step is a brushed-on layer of the thick, sticky batter, which serves as glue to adhere the crushed cereal (and this is the reason for the thicker batter, typical milk-heavy batter isn't nearly sticky enough.) The cereal-coated slices then get baked on a baking sheet in the oven.
Carnival's version can be ordered with Honey Nut Cheerios, Raisin Bran, Fruit Loops, or Frosted Flakes… and you can certainly use other cereals here as well, though I'd argue that the other versions, while surely delicious, aren't quite as fun as the rainbow fruit loops.
Fruit Loops French Toast
Sweet and buttery brioche french toast coated with crunchy Fruit Loops cereal; this 'funnest French toast' recipe is from Carnival cruise line.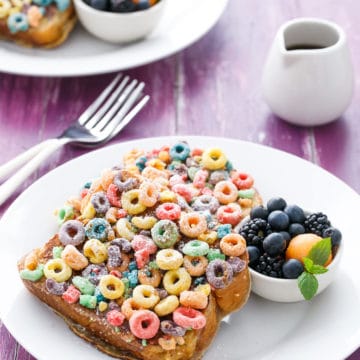 Ingredients:
7 large eggs
1 cup granulated sugar
1 cup (4 oz) plus 1/4 cup all-purpose flour, divided
1/4 cup whole milk
1 teaspoon ground cinnamon
1/4 teaspoon kosher salt
1 lb loaf brioche bread, sliced into 10 1-inch thick slices
4 cups fruit loops (or cereal of your choice), lightly crushed
maple syrup and powdered sugar, for serving
Directions:
In a bowl, whisk together eggs, sugar, 1 cup of flour, milk, cinnamon, and salt until thick and smooth. Pour into a baking dish.
Preheat a large nonstick skillet over medium-high heat. Lightly brush with butter.
Dip bread slices into batter, letting them soak for 5 to 10 seconds on each side. Lift out of batter with a slotted spatula and let excess batter drain off. Place in skillet and cook for about 3 minutes per side or until batter is set and golden brown. Transfer to a lined cookie sheet. Repeat with remaining bread slices.
Preheat oven to 350 degrees F. Place some of crushed cereal into a shallow dish.
Whisk remaining 1/4 cup of flour into what's left of the batter to thicken it. Generously brush tops of French toast with thickened batter, then invert into baking dish with cereal, pressing lightly to help the cereal stick. Brush other side with more batter and flip to coat with cereal. Remove from baking dish and return to baking sheet (you can manually press a few pieces of cereal into any holes that might remain). Repeat with remaining bread slices, adding more crushed cereal to the baking dish as needed.
Bake for 5 to 7 minutes or until batter is set and bottoms are lightly browned. Serve warm, drizzled with warm maple syrup and sprinkled with powdered sugar.
Recipe from Carnival Cruise Line.
All images and text ©
Lindsay Landis
/ Love & Olive Oil
Did you make this recipe?
Let us know what you think!
Leave a Comment below or share a photo and tag me on Instagram with the hashtag #loveandoliveoil.
Disclosure: Thank you to Carnival for inviting us on this amazing journey. As always, all opinions written are purely our own. We're incredibly grateful for opportunities like these that allow us to continue sharing delicious experiences with you, so thank you for supporting us and the brands we love.