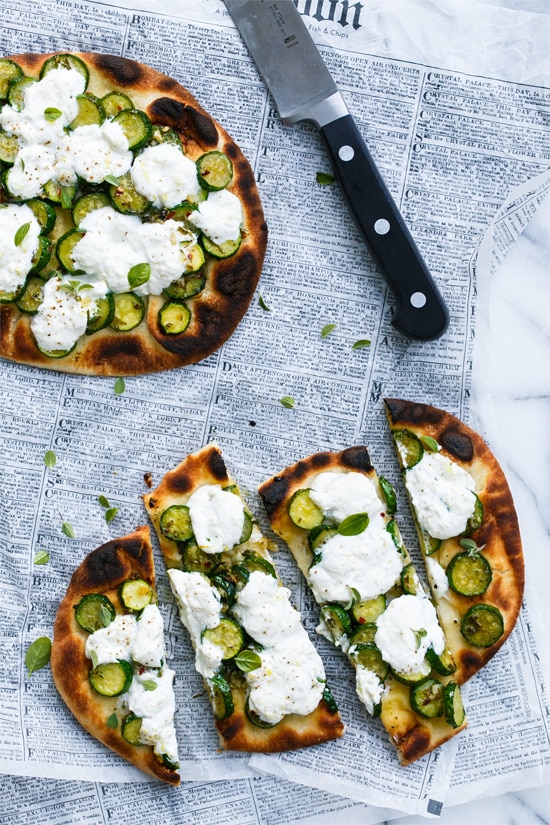 Taylor wants me to be clear with you: this is not a pizza.
In his mind, anything that doesn't have red sauce, mozzarella cheese, and pepperoni is most definitely not pizza.
I don't necessarily agree, but for the sake of argument, we're calling this one a flatbread.
We've recently discovered naan. I know I need to be making it myself (and it's on my to-make list, trust me!) but for now the pre-packaged whole wheat naan they sell at Whole Foods is more than usable.
I love the soft texture, less chewy than pizza crust, somewhere in between a pita bread and a soft wheat dinner roll. When broiled briefly in the oven it takes on a lovely crispness on the edges, but stays soft and tender in the center.
Plus it makes for a delicious dinner in a hurry.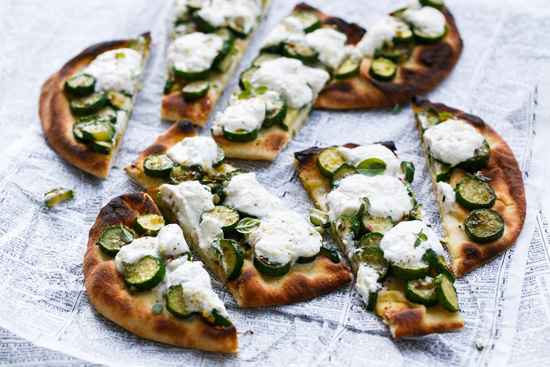 We topped this flatbread with slices of buttery baby zucchini, sauteed in olive oil with garlic, herbs, and red pepper flakes. The zucchini is so tender and buttery, in fact, that it's tempting to think it was poached in pure butter.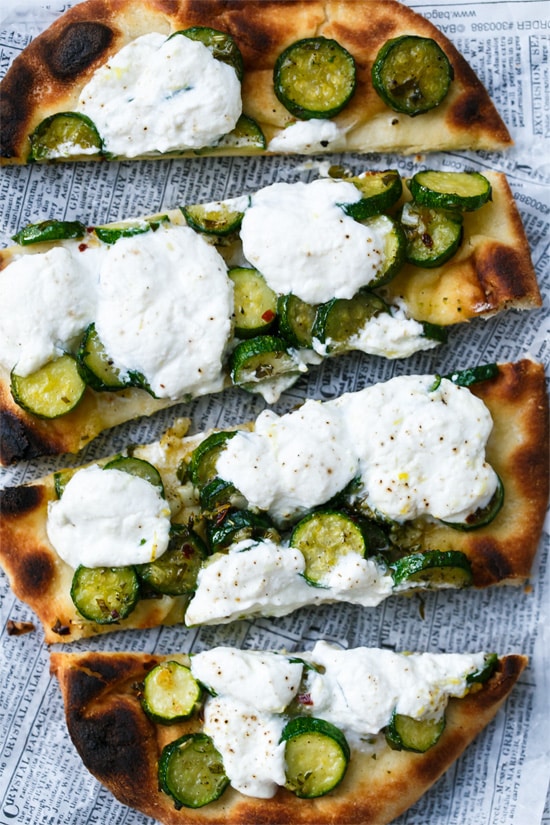 As a finishing touch (and because it really wouldn't be a pizza without cheese): some lemon-scented ricotta cheese. A cool and creamy contrast to the crisp crust and buttery zucchini.
Zucchini Naan Flatbread with Lemon Ricotta
Ingredients:
2 tablespoons olive oil, plus more for brushing
2 medium (or 6 baby) zucchini squash, sliced (and halved if large)
3 garlic cloves, minced
1/4 teaspoon red pepper flakes
1 tablespoon chopped fresh basil leaves
1 teaspoon chopped fresh oregano
1/3 cup whole milk ricotta cheese
zest of 1 small lemon
salt and freshly ground black pepper, to taste
2 whole grain naan flatbreads
Directions:
Preheat broiler to high; position oven rack in the upper 1/3 of the oven.
Heat oil in a medium saute pan over medium-high heat. Add sliced zucchini and saute for 1-2 minutes to soften slightly. Add garlic, red pepper flakes, and herbs and toss to coat, cooking for another 1-2 minutes or until garlic is fragrant and zucchini is tender.
In a bowl, stir together ricotta, lemon zest, salt and pepper to taste.
Arrange flatbreads on a sheet pan. Brush lightly with olive oil. Divide zucchini mixture among flatbreads, spreading evenly atop the bread. Drop dollops of ricotta mixutre on top. Sprinkle with a pinch of sea salt and a twist of black pepper.
Broil flatbreads for 2 to 3 minutes or until cheese melts and bread browns on the edges. Remove from oven and let cool slightly, then slice and serve warm.
Did you make this recipe?
Let us know what you think!
Leave a Comment below or share a photo and tag me on Instagram with the hashtag #loveandoliveoil.