Did you miss part one? Definitely go read that first as this post will make much more sense if absorbed in chronological order. Indeed, this trip was so epic it had to be split into parts, with some delightfully fun French toast in the middle.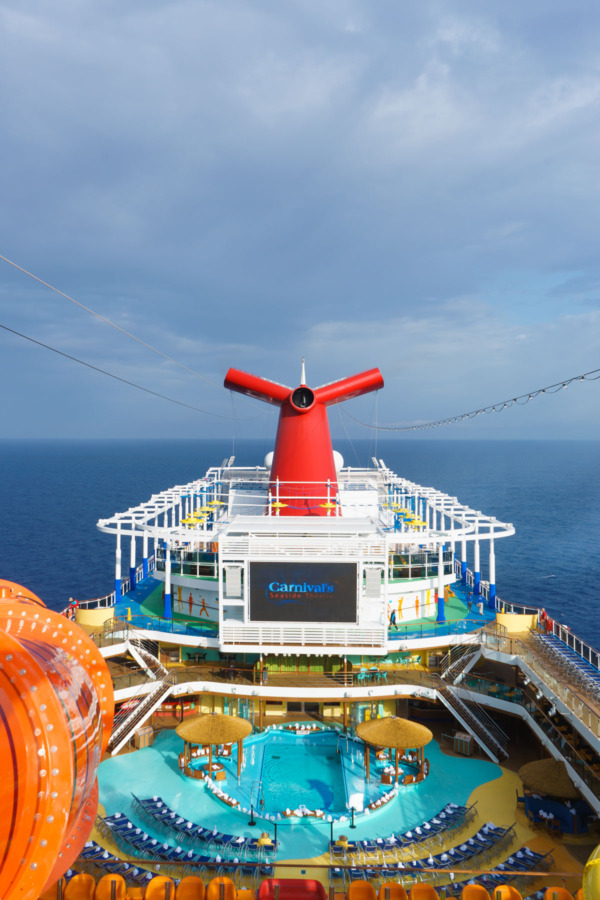 The port schedule was jam packed with amazing cities and sights and not that much distance between them, so day 6 was our one and only sea day on this voyage. Since we spent the whole day creating our own adventures aboard the ship, I thought I'd take this opportunity to talk a bit more about the Vista and all the amazing things it has to offer. With an itinerary like ours, 9 ports over 11 days and 10 nights, the ship takes a back seat to the cities themselves, with their ancient ruins and amazing views and bustling markets. I wanted to be sure this amazing ship (because it really is something to behold) got some time on the field too.
This was the Vista's second ever voyage, and we were lucky enough to be invited along with a group of media and bloggers from around the world. It wasn't a food-focused cruise like our last one aboard the Sunshine, but we still had the opportunity to visit all of the ship's specialty restaurants during our 10-night itinerary with the exception of the Chef's Table. Overall, my experience was much like our last Carnival cruise: the food is so impressive you'll forget you're even on a ship.
Sea day for for me included a leisurely brunch (of Fruit Loop French toast, obviously) followed by some reading and relaxing and giving my feet a well needed break. Taylor, on the other hand, hit the water slides and hit them hard. Despite the fact that the weather was on the chilly side for the first half of the voyage, he managed to hit the water slides almost every day. Did I mention he's really a 12-year-old at heart?
What I love most about Carnival's updated dining program is the freedom. No longer are you forced to eat at a specific time at a specific table from a lackluster menu. I mean, you can if you want (minus the lackluster part) since I know there are many who love traditional cruise dining, and Carnival still offers that option for those folks. But it is only an option. For the rest of us, you can pretty much eat anytime, anywhere. Be it in the dining room, where the menu changes daily, or in one of the ship's many specialty restaurants. Some are included in the cost of your cruise (such as Guy's Burger Joint and Blue Iguana Cantina) while others (like the Fahrenheit 555 , JiJi's, and the Seafood Shack) carry a nominal extra fee to dine there. The selections and cuisine on the Vista is very similar to what is offered aboard other Carnival ships, with a few notable additions, but you'll see a lot of familiar menu items if you've cruised with them before.
Some culinary highlights:
Alchemy Bar: Like the Sunshine, the Alchemy bar quickly became our evening haunt. The cool prohibition-style vibe and pharmacy-inspired menu rivals any hip cocktail joint here in Nashville. And if you don't see something that cures what ails you, the bartenders are brilliant and will mix you up something custom tailored to your tastes (including mocktails, like the ginger lychee one Ioana prepared for me one night… yes, the same Ioana from our last cruise aboard the Sunshine).
Bonsai Sushi: Bonsai is one of the premium restaurants on the ship, but the a la carte pricing is really quite affordable, especially compared to fancy sushi restaurants on land. The sushi rolls are unique and beautifully presented, but the expanded menu offers other Japanese-style dishes such as bento boxes and ramen noodle bowls. The fact that we ate there multiple times on our 10-day voyage is proof that it's probably our favorite specialty restaurant aboard the ship.
Fahrenheit 555: Someone asked me on Instagram if making a reservation here (and yes, you definitely need reservations) was worth the effort and cost. And I'd say it is most definitely $35 well spent. Where else can you enjoy a multi-course steakhouse feast for $35? And whether you go for surf or turf (or both, because you can do that too), definitely don't miss the chocolate dessert sampler, it's to die for.
Seafood Shack: I had a lobster roll once back in high school and I've been dreaming of it ever since. And this lobster roll did not disappoint… neither did the fries for that matter. The Vista is the first Carnival ship to sport the seafood shack, and I have a feeling we'll be seeing it on future vessels as well.
I'll also let you in on a little secret: The Seafood Shack sources fresh local seafood from the various ports along the way, and you can purchase it right there and have them cook it, or have them send it to any of the ship's dining options and the chefs will cook it up fresh just for you.
Cucina del Capitano: Oddly enough the dinner we had here was better than the lunch we had in Rome, not that this should have surprised me considering how much I enjoyed it the last time. The eggplant parmesan was so good it inspired my own version, and the tiramisu is simply divine.
During lunch the Cucina transforms into a create-your-own pasta bar for no additional cost, something I wish I had had time to check out.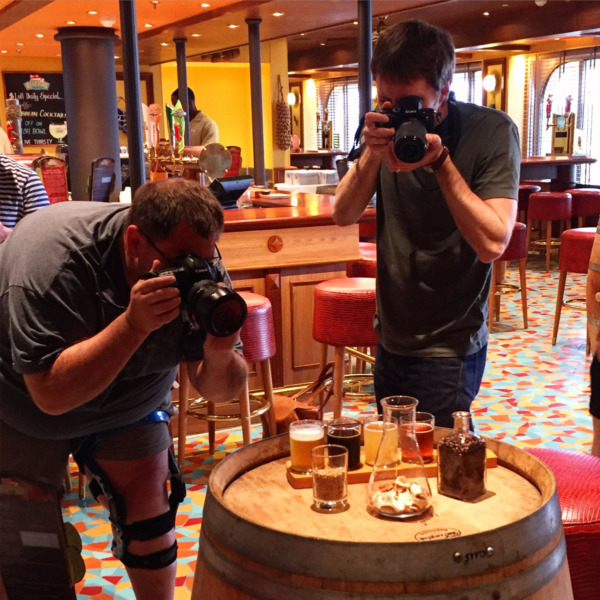 Red Frog Pub & Brewery: The Vista is also the first and only North American-based ship to sport an on-board brewery. Yes, you heard that correctly, this ship brews its own beer, three varieties to be exact, all served on tap at the Red Frog Pub. Taylor's favorite was the Thirsty Frog Port Hoppin' IPA, but they also brew a Caribbean Wheat and a Java Stout.
The Red Frog Pub also serves some tasty Caribbean-themed appetizers like conch fritters, coconut shrimp, and plantain chips for only $3.33 a dish.
JiJi's Asian Kitchen: Probably my second favorite dinner of the trip, Jiji's menu is a journey across Asia. For $15/person it's a delicious deal if I ever saw one. Don't miss the pork belly or the hakka noodles or the shrimp dumplings or the chili shrimp or the coconut tapioca wontons for dessert (a dish I liked so much last time it inspired my own recreation… of the tapioca part at least). On second thought, you'd best go with a big group and just order one of everything.
The drinks aren't half bad, either.
Vacation fact #415: cocktails are more fun with little umbrellas. Bonus fun points if you get one behind your ear too.
Now that we've shown the ship is just as big an attraction as the ports themselves… I can contently move on to the rest of our journey. From Naples, we made our way over 600 nautical miles through the smooth Mediterranean waters to the island of Crete, Greece, and its capitol city of Heraklion.
Day 7: Heraklion, Crete, Greece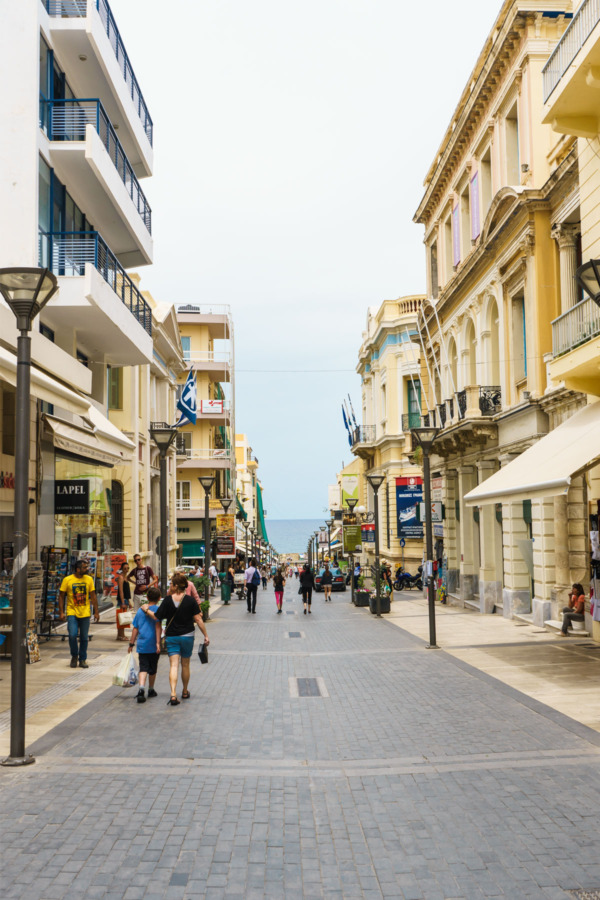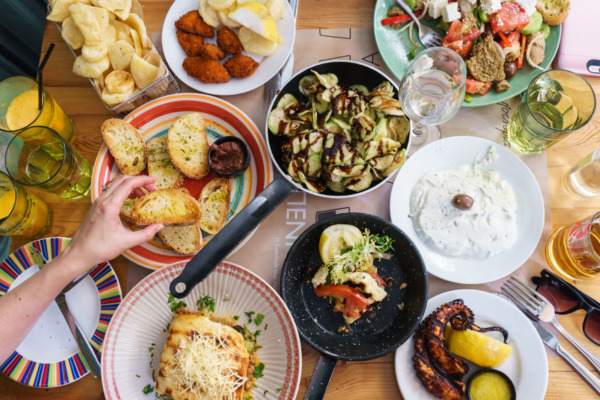 We landed next on the island of Crete, Greece, in the largest city of Heraklion. The town center was a short 15 minute walk from the port, so we chose not to book an excursion this day and rather went exploring with Kristan and her son. The city boasts a large central market, bustling with shops and food stalls and restaurants. I loved the casual atmosphere of the town, which was full of unique shops but didn't feel overly touristy.
We found a quaint little restaurant for lunch, the highlights being the grilled octopus and the tzaziki sauce, which was unlike any tzaziki I've ever had before. REAL tzaziki sauce is so good you'll want to eat it with a spoon.
Also: beware the raki. It's like a Greek version of grappa and is wicked, wicked stuff. I'm sure the locals get a kick out of giving shots to tourists. One sip was enough for me.
Also also: candy. Because, we're food bloggers, after all. We stumbled on a candy shop in the central market area and went a little crazy, grabbing handfuls of colorful hard candies and chocolate bars and candied almonds and foil-wrapped pieces of mystery that we thought might be chocolate but they really could have been anything (spoiler: they were chocolate, most with a creamy hazelnut center or something similar). One of the things I grabbed looked like a swiss cake roll and turned out to be chocolate covered baklava which is just as amazing as it sounds. Looking back, I really wish I'd bought more than two.
Seriously though, foodstuffs make the best souvenirs (if they make it home, that is).
Day 8: Rhodes, Greece
Rhodes is this amazing ancient city within easy walking distance of the ship, so, as in Heraklion, we made our own excursion. Despite the rain, we explored the cobbled streets of the city, filled with castles and cast iron doors and courtyards with patterned pebbles so intricate they look like rugs.
We dined under a giant tree near the center of town at the recommendation of a local store clerk. And again, octopus and tzaziki (sensing a pattern here?) I've never considered myself an octopus fan, but I think Greece is changing that for me. And more baklava for dessert, though this time not chocolate covered, it was still incredible. We also ordered a gyro platter (because, when in Greece, right?) and were surprised to find it was pork, rather than lamb. Apparently Greek gyros are traditionally pork-based, whereas Turkey is where you typically find more lamb.
Seeing as Rhodes is quite close to the coast of Turkey, it was interesting to see the similarities and melding of Greek and Turkish culture, from the cuisine to the patterns of pottery to the evil eye emblem that both places seem to claim as their own. In that respect, you could definitively tell that Rhodes is closer, both geographically and culturally, to Turkey than it is to Athens, despite being in the same country.
Day 9: Kusadasi, Turkey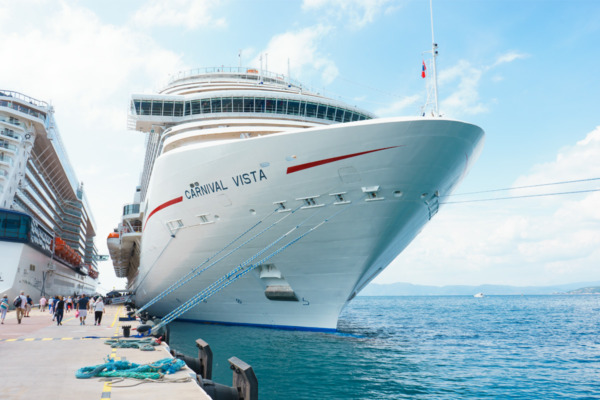 We were originally scheduled to port in Izmir, but, due to state department travel warnings, that was cancelled. At first we thought we were getting an extra sea day instead, but somehow the captain managed to get us in to the smaller port town of Kusadasi (which was not on the state department's list). I'll admit, we were nervous about it (it really isn't that far away from Izmir) but it turned out to be one of our favorite stops of the voyage. I feel very fortunate to have had this opportunity, since I know neither the first nor recent voyages were able to make this stop (for obvious reasons).
From Kusadasi we booked an excursion to the ancient city of Ephesus, a UNESCO world heritage site, with ruins dating back as far back as the 10th century BC. We almost didn't go, but once Tammi told me that the city was basically run by cats (brought in by the archaeologists to control the rodent population) I was sold.
As soon as our bus arrived at the archaeological site, the rain began. As the drizzle slowly progressed to a downpour, the walk through the city, with its slick marble stones, became rather treacherous, but also surprisingly beautiful: the pathways dotted with the brightly colored umbrellas and raincoats of the tourists in stark contrast to the ancient stones. Unfortunately, the rain also meant there weren't many cats out and about, though we did make a few friends along the way (once a cat person, always a cat person, right Jennifer?)
On the way back to the bus I stopped and bought a cup of pomegranate juice from one of the souvenir stands there, and watched with hungry thirsty eyes as it was freshly pressed from 2 or 3 whole pomegranates. Turkey is known for their amazing citrus and pomegranates, and it's no wonder, this was the single most amazing cup of pomegranate juice I've ever had.
We returned to Kusadasi where the sun was (thankfully) shining, and we, along with Gina, Kristan, and Jennifer (the 4 of us constituting the whole of the food blogger delegation on this particular voyage), immediately went in search of food. And we found it, platters of kabobs and bowls of ghoulash on a bed of salt and flames, finished off with a side of adventure (the short version: we didn't quite have enough cash between the 10 of us to cover the whole meal and they wouldn't [or didn't want to] take our credit cards, so the owner escorted half our party a few blocks away down the winding streets and alleys to an ATM, while the rest of us stayed back at the restaurant as implied collateral. Luckily we weren't running late or we may have missed the boat completely.) Did we get swindled? Probably, the final price of the bill was quite a bit higher than the 'deal' they enticed us in with, and I'm sure if we had been more forward about it we could have negotiated it down to what we had in cash (you're supposed to negotiate everything in Turkey, so I hear). Still, it was a meal and an experience that none of us will soon forget.
Day 10: Athens, Greece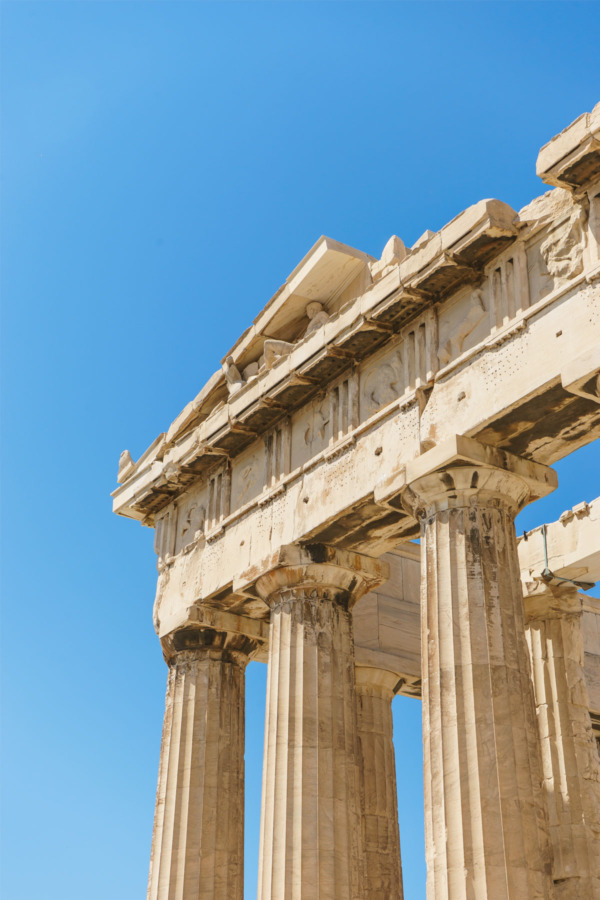 The Parthenon: what you think you're going to see.
The Parthenon: what you actually see.
Still, it's pretty darn spectacular even amidst the scaffolding and selfies.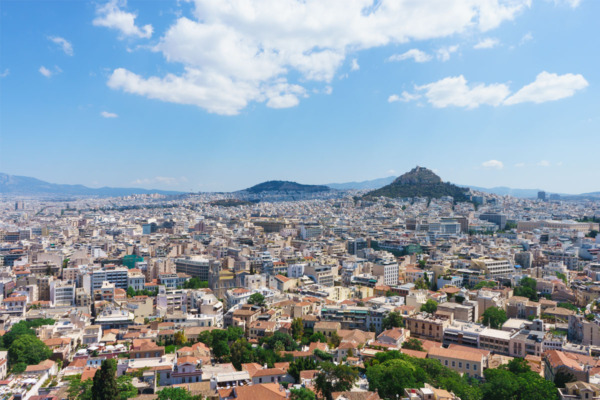 We spent our final night in Athens, an overnight port stop that allowed us to make the most of the entire day in this awe-inspiring city. We spent it much like we spent the day in Rome: on a whirlwind "highlights" tour that gave us a surface-level glimpse at the most famous sights, most notably the Parthenon.
I found it slightly entertaining that there are only two Parthenons in the whole world, and the other happens to be in Nashville (it's a full-scale replica built for Tennessee's 1897 Centennial Exposition… visit it if you're ever in town, as it's quite a sight to see.) Our guide claimed she had heard of this second (and clearly lesser) Parthenon, chuckling to herself and probably wondering to herself why crazy Americans would ever do such a thing.
Needless to say I was excited to see the real deal, even if it was in ruins.
We meandered up the hilly path to the top of the Acropolis, and stood in awe along with the other tourists at what stood there. Pretty amazing, if you think about it, that this thing is still standing after over 2,000 years of wars and sieges and fallen empires. It's currently undergoing a major restoration, so there is a good deal of construction mess and scaffolding marring the views, but remarkable nonetheless.
It happened to be a picture perfect day atop the Acropolis (which, I'll admit, was a much taller hill than I ever envisioned) and the views were endless. We could see all the way to the cruise port and then some.
Indeed, if I were the Goddess Athena I'd want to live up there too.
We debated staying a few extra days in Athens but ultimately decided to head straight home, figuring that after 12 days we'd be ready to go home to our kitties (and our jobs). Which was definitely the case. As sad as we were to have this journey come to an end, there's always a contentment that comes from returning home after a big adventure like this one.
I think it's a requirement to end a cruise post like this with a sunset… don't you think? Even better: a whole bunch of sunsets, since such an epic trip deserves an epic ending (that and I couldn't decide which one I liked best). Maybe I should have titled this post: The Food, The Sights, and The Sunsets. Ha.
Thanks for following along, and thanks again to Carnival for hosting us on such an amazing experience. Seriously though, all these words and pictures later and I still don't feel like I've fully and completely described just what this trip meant to us. But this will have to do.
Until next time…
Disclosure: Thank you to Carnival for inviting us on this amazing journey. As always, all opinions written are purely our own. We're incredibly grateful for opportunities like these that allow us to continue sharing delicious experiences with you, so thank you for supporting us and the brands we love.