This post is presented in partnership with KitchenAid, whose products fill our kitchen and give us culinary inspiration on a daily basis. And don't miss the end of this post as I'm giving away a HUGE prize pack valued at over $1,500 (seriously!) Thanks for supporting us and the brands we love!
Out of all the culinary events out there (of which there seem to be a never-ending number these days) the FOOD & WINE Classic in Aspen is perhaps the most exclusive. Knowing that most of us will never get a chance to attend this high-caliber event, KitchenAid wanted to give us the chance to bring a taste of the Classic to the comfort of our own kitchen. They've partnered with chef Chris Cosentino to put together a gourmet menu, the same dishes that he demonstrated at the event.
#HaveDinnerWithUs is a chance to bring a bit of Aspen home, to expand your culinary horizons, and to get out of your comfort zone and cook something fancy that you've never made before. Although we consider ourselves fairly proficient in the kitchen, we've never cooked a lamb shoulder, and have only cooked clams maybe once or twice before (and probably used canned or frozen clams at that). And not to mention the cured egg yolks: I didn't even know it was a thing you could cook before now (spoiler alert: they're all kinds of awesome).
Needless to say we learned a lot with these recipes that are both gourmet and yet surprisingly approachable, and we're excited to share it all with you today!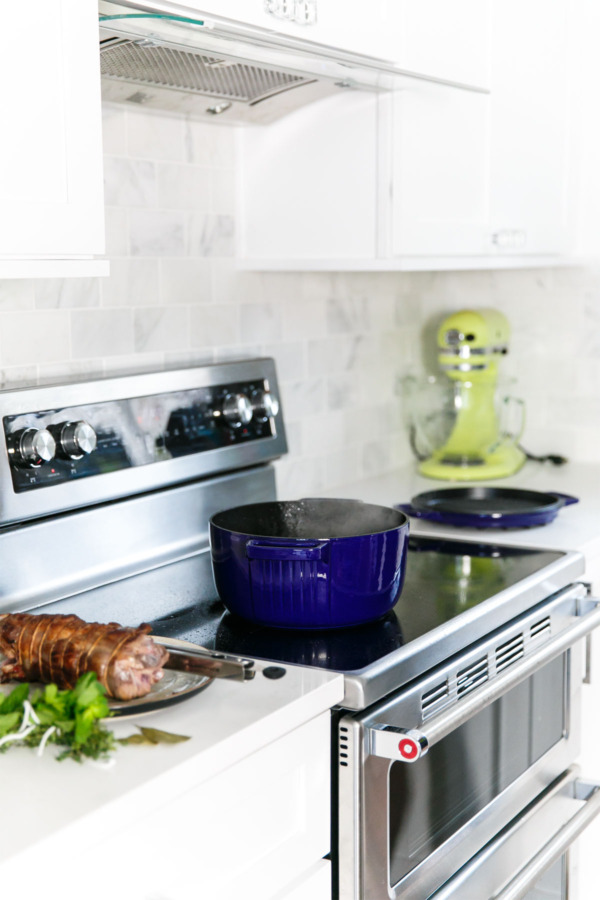 The main course reinterprets the classic surf and turf. Instead of steak and lobster, chef Cosentino prepares a braised lamb shoulder paired with clams. I know, it seems like a weird combination, but trust me, it works.
We substituted a 2 1/2 pound boneless lamb shoulder in lieu of the bone-in lamb shoulder that chef Chris uses. Mainly because that's what we could find locally (If you're in Nashville, check out The Ladies of the Lamb at the Nashville Farmers' Market if you're looking for locally-sourced lamb) and also because 2 1/2 pounds was a lot more reasonable for the two of us than a 9 pounder.
If you choose to do the same, you'll need to make a few adaptations to the recipe (because obviously, a bone-in piece of meat that's three times the size is going to need to be treated differently). Our lamb shoulder was rolled and tied, much like a beef or pork tenderloin.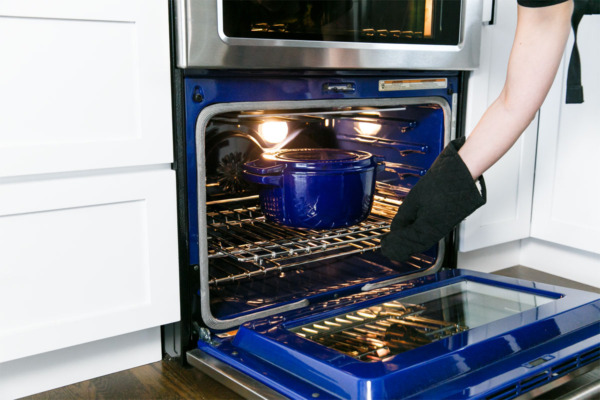 Cover the meat with 4-6 cups of beef or lamb stock (be sure to cover at least 3/4 of the meat). It won't require the full 3 1/2 hours as would a bone-in cut, but it'll still need a solid few hours in the oven until it is fork tender.
The gorgeous KitchenAid® cast iron casserole serves double duty in this recipe, perfectly searing and braising the meat on the stovetop and in the oven, and, in a bonus perk that couldn't have been more perfect, the lid of the Dutch oven serves double duty as a grill pan for grilling your bread for the next course: crushed avocado and pea bruschetta with cured egg yolk. Also perfect? The fact that the gorgeous blue color matches my new oven, and that just makes my color-loving heart giddy. (Don't miss the massive giveaway at the end of this post, where you'll have a chance to win one of these beauties and over $1,500 worth of other KitchenAid goodies!)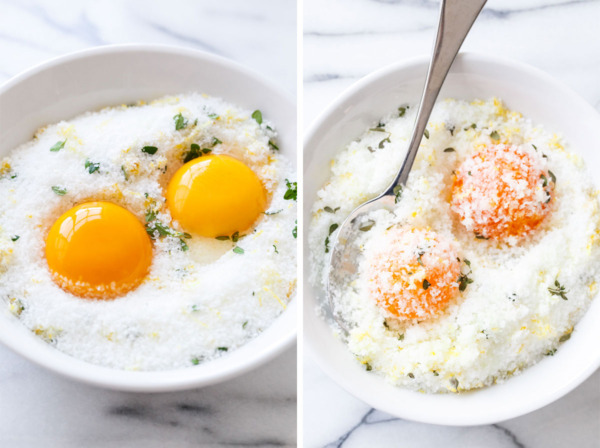 Let's talk about these cured egg yolks for a second here, because they truly blew my mind.
Essentially they are made the same way as homemade bacon or gravlax: buried in salt and set aside for a period of time as the salt works its magic.
After 24 hours the yolks will have lost most of their moisture and set up to the consistency of a young cheddar cheese. You then remove them from the salt and let them sit at room temperature for 2 more days to fully dry, where they'll harden to something more akin to Parmesan. I have a feeling in climates without the inescapable stickiness that engulfs Nashville in the summer, the drying process would be more efficient. After 2 days at room temperature mine were a bit softer than I think they should have been, although fortunately still grateable. I've seen similar recipes where the eggs are cured for a longer period and then dried in a very low temperature oven, and (especially during the sticky summer months) I think that might have produced a firmer final product. Then again if you live in the dry mountain air of Aspen, where the air is fresh and crisp with practically negative humidity, your egg yolks should turn out beautifully.
Grating the egg yolks over the toast gives it a salty, savory quality not unlike Parmesan cheese: that element of animal fat that cuts and compliments the other flavors on the toast in ways that plain salt, even fancy finishing salt, simply can't.
Brilliant!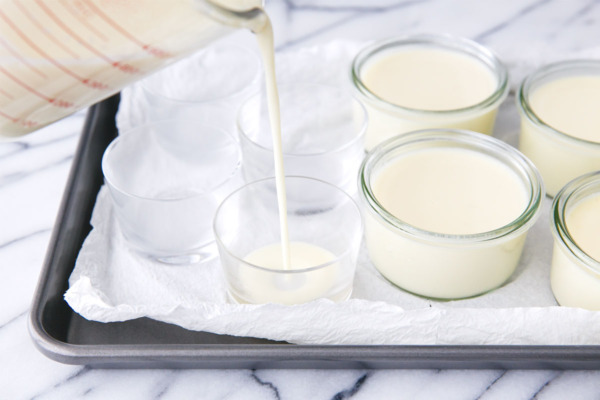 For dessert, we prepared a stunningly simple panna cotta, with an ultra-creamy base (seriously, this is perhaps the most divine panna cotta I have ever consumed, let alone made) infused with savory bay leaf. I substituted dried bay leaves, as fresh, unfortunately, are heartbreakingly hard to find here in Nashville (the bay laurel tree requires a more Mediterranean-like climate, apparently). I'm sure it's not quite the same, but I enjoyed the slightly savory undertones it gave the dish.
I used glass ramekins as panna cotta molds, which, when lightly rubbed with cooking spray beforehand, release the custard fairly easily and cleanly at the end. Or, if for some reason they don't, the glass is pretty enough to function as a serving dish in and of itself. You can also use disposable tin ramekins; because you can easily poke a small hole in the base of the tin, releasing the suction and unmolding the custards with surprising ease.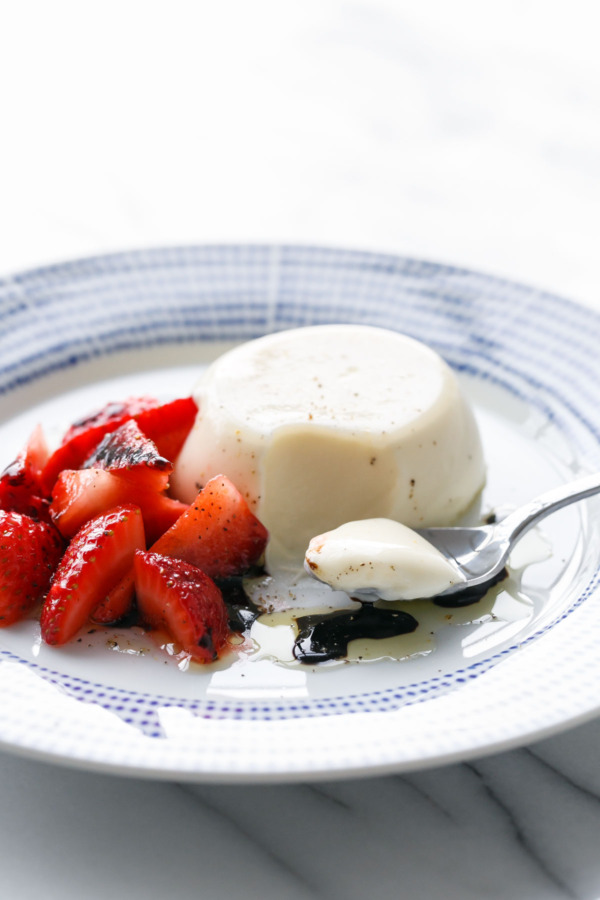 The panna cotta is topped with fresh strawberries and a drizzle of olive oil and balsamic vinegar and freshly cracked black pepper, again, savory elements that take this otherwise sweet dish to new heights.
What fun we had with this one, both the cooking and the eating of it. And the best part is, you can make this meal at home too.
This post was created in partnership with KitchenAid®. All opinions are my own. No purchase necessary. One entry per person, limited to US residents only. Entries must be received by Wednesday, August 31st at 12:00 midnight (Eastern time). Winner will be selected randomly from verified comment entries and will have 48 hours to respond and confirm their information or a new winner will be drawn.