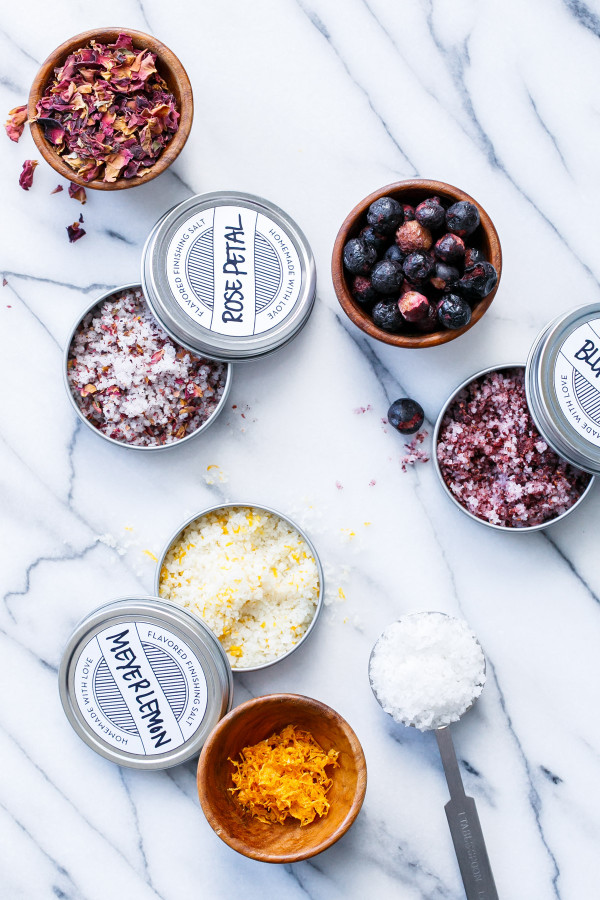 It's no surprise that I love edible homemade gifts. They are thoughtful, delicious, and they don't contribute to the clutter that seems to endlessly plague our lives. If you know me, chances are you've gotten at least one jar of jam over the years. If you're related to me, you've probably gotten a few more than that (let's just say I make way more jam than I can eat). But lately, in an effort to expand my consumable gift repertoire, I've been exploring other gift-ready recipes that are equally unique and just as tasty.
Which brings me to these flavored finishing salts.
I don't know about you, but I love to finish off my recipes with a pinch of "special" salt. I'm not talking about table salt or even plain old kosher. No, finishing salt is much more special than that. If you're anything like me than you too have a salt library, dozens of jars and tins and sacks of every variety of salt imaginable, from smoked salt to pink salt to fleur de sel, volcanic black salt to truffle salt to sea salt with flakes so big they look like rock candy. I simply can't resist a unique salt.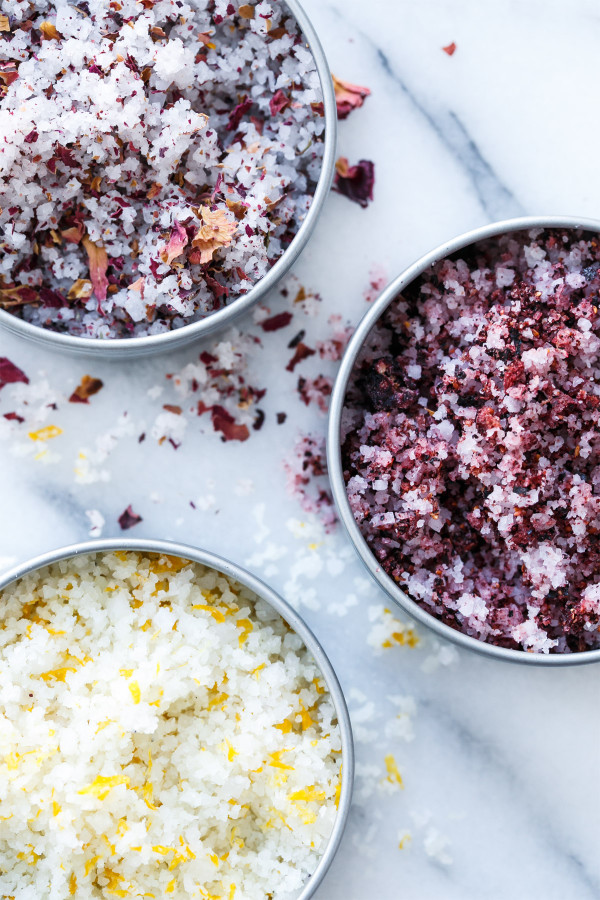 The beauty of these larger grained, specialty salts is that a pinch will go a long way. Since the salt is added at the very end, right before serving, the salt crystals aren't absorbed into the dish, meaning you get much more taste and flavor with a fraction of the salt. Indeed, using a finishing salt can reduce the total salt needed in a dish dramatically. So even if you are watching your salt intake, a pinch of finishing salt on your home cooked meal is going to be far less sodium than a processed or restaurant meal that probably doesn't taste nearly as good.
These homemade finishing salts combine gorgeous flake sea salt with unique additions like blueberry, rose petal, and dried lemon peel, combining the flavor enhancing superpowers of salt with unique flavorings that will truly take your recipe over the top.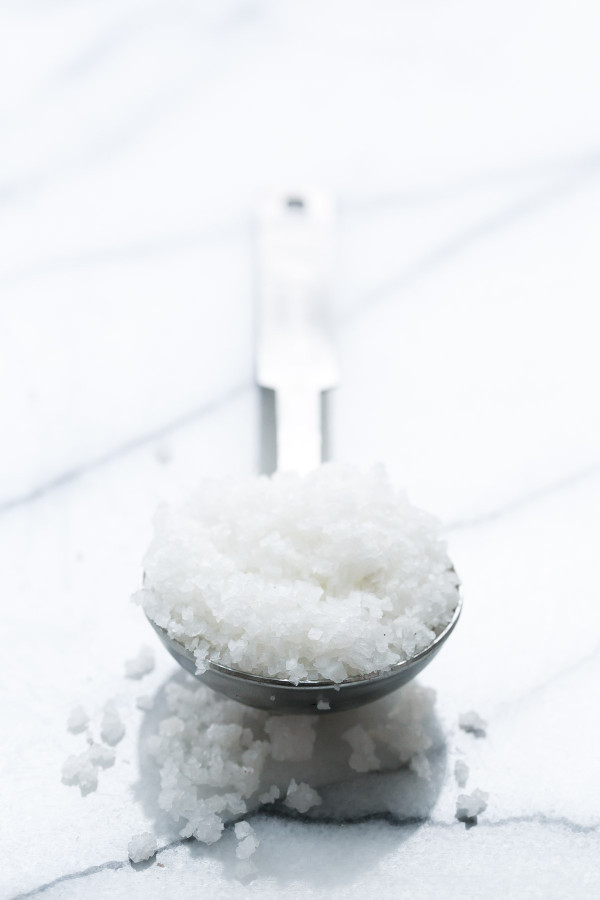 As for which of the dozens of varieties of salt work best here, I experimented with a few different types including coarse sea salt, unrefined sea salt, and flake sea salt. Ultimately, this unrefined sea salt produced the best results for me, being that it is a fresh salt that still contains a good bit of moisture. This moisture allowed the salt to keep it's coarse flakes even after grinding together with the dried flavoring. Whereas a plain coarse sea salt, being that it is drier, tended to get pulverized and resulted in an altogether powdery consistency.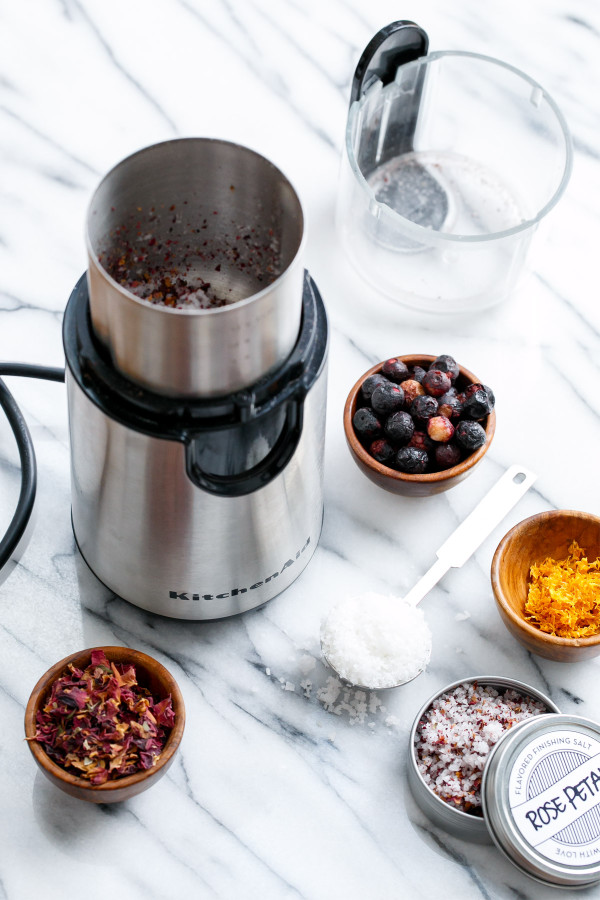 Making the flavored salt is an easy process, simply pulse the dried flavoring in your (clean!) coffee or spice grinder to break up the large pieces, then add your sea salt and pulse to evenly incorporate. Literally 10 seconds and you're done.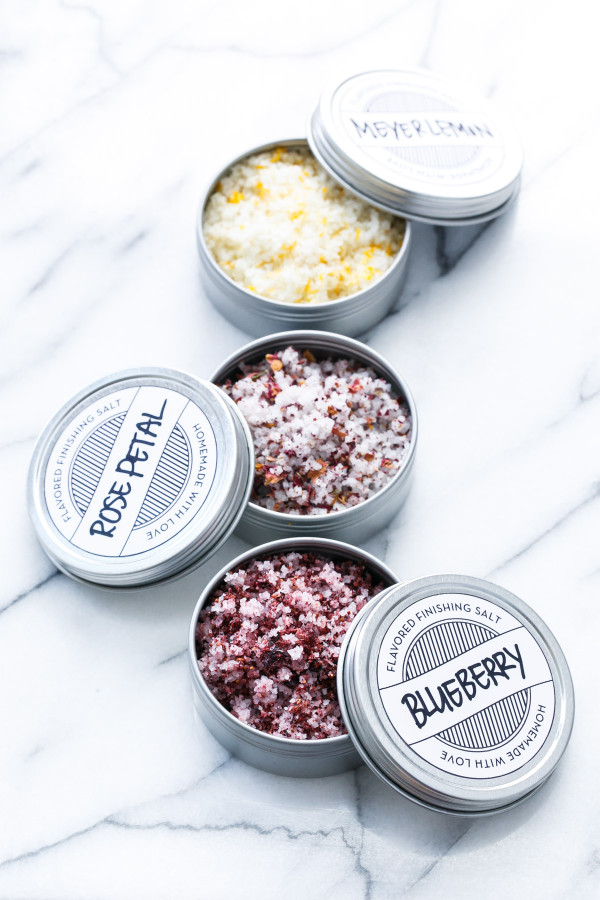 I made three flavors of finishing salt using dried Meyer lemon peel, freeze dried blueberries, and dried rose petals (be sure to buy organic/culinary grade dried flowers). But really, the flavor possibilities are endless… pretty much any dried flavoring that can be ground into smaller pieces will work here.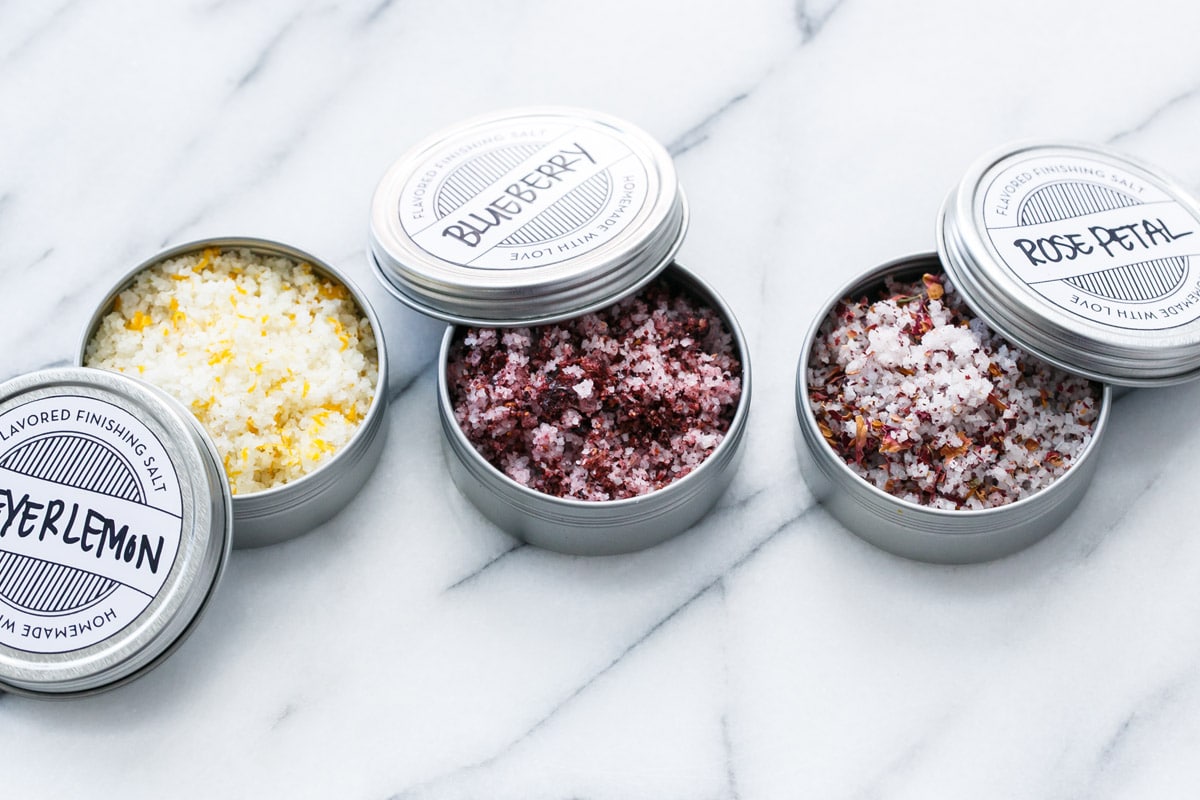 Flavored Finishing Salt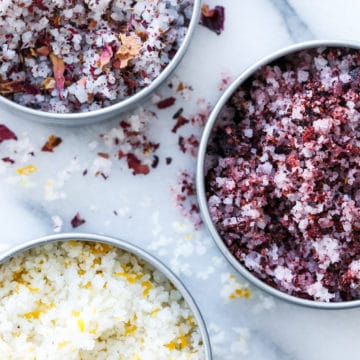 Ingredients:
1 tablespoon dried rose petals or freeze-dried blueberries or 1 teaspoon dried Meyer lemon peel*
2 1/2 tablespoons unrefined sea salt or flake salt
Directions:
Place dried flavoring in the bowl of a clean coffee or spice grinder. Give it 2-3 quick pulses to break up the flavoring. Add 1 tablespoon of sea salt and pulse another 2-3 times to incorporate, then add remaining 1 1/2 tablespoons salt and pulse once more to combine. Transfer to a decorative tin or jar. The salt will keep best in an airtight container.
*To dry lemon peel, finely zest lemons, and spread zest onto a paper towel-lined plate. Place in the oven with the oven light on overnight or until dried. Alternatively, you can microwave the zest on a paper towel-lined plate for 1 to 2 minutes or until dry.
Did you make this recipe?
Let us know what you think!
Leave a Comment below or share a photo and tag me on Instagram with the hashtag #loveandoliveoil.
Free Printables!
These finishing salts make lovely homemade gifts for any cook or foodie, and perfect packaging will make that gift extra special… and lucky for you I've designed some fab labels for you to use on your own creations!
Simply download the PDF label file using the form below, then print onto sticker paper and fill in the blank with your own creative flavor. The labels are designed to perfectly fit a 2-ounce tin, but can also be used on jar lids or printed on card stock and tied around the neck of a decorative glass jar.
This recipe was originally created in partnership with KitchenAid®. All opinions are my own. This post contains affiliate links.