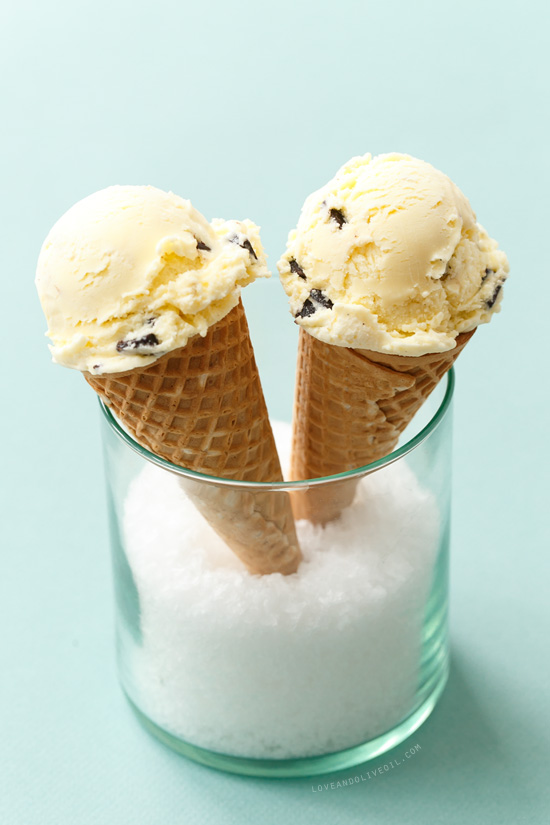 Let me get one thing clear: when it comes to ice cream, chocolate chips do not fudge chunk make. I'll admit to have posted a recipe or two claiming just that, but it's kind of a cop out. Fudge chunks should be fudgy, softer with a bit of chew to them, not hard chunks of chocolate.
And that's exactly what I set out to create.
Turns out melted chocolate mixed with a bit of corn syrup and cream is the perfect solution: the modeling chocolate-like material stays slightly chewy even when frozen. Vastly superior to plain old chocolate chunks in terms of texture.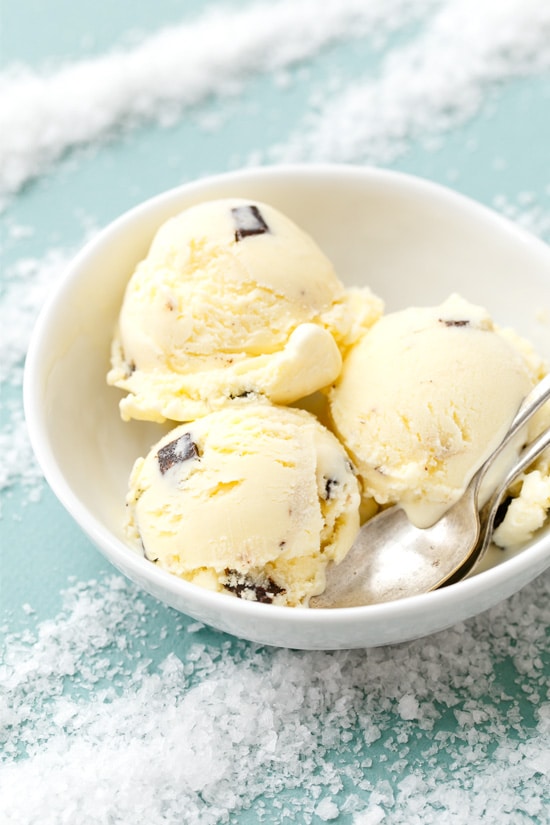 The sea salt was a wild idea in an attempt to make the vanilla base more than just plain ol' vanilla. The results are astounding, it's a vanilla unlike any you've ever tasted. SUPER vanilla, if you will, the salt intensifying the aromatic flavors of the bean in ways you can only imagine it would.
Mary Poppins was wrong: it's not just a spoonful of sugar, but a hearty pinch of salt that makes everything better, in the most delightful way of course.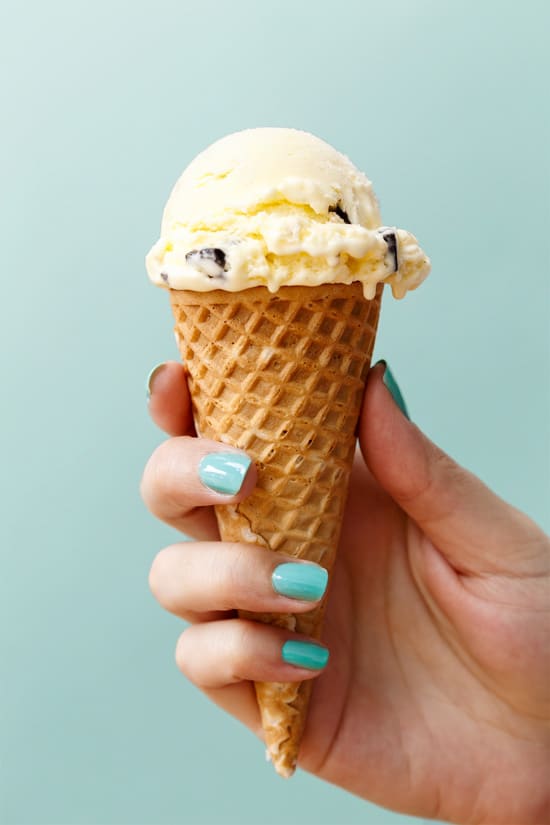 This is essentially a two-part recipe: the fudge chunks and the sea salt vanilla ice cream base. Either could be used independently or in conjuction with another flavor or mix-in. Maybe you forgo the fudge chunks and drizzle in melted chocolate (Jackson Pollock style) for a Stracciatella-like effect. Or maybe you use the fudge chunks in a banana ice cream base for a spot-on replica of one of my favorite ice cream flavors of all time. Seriously, just do it.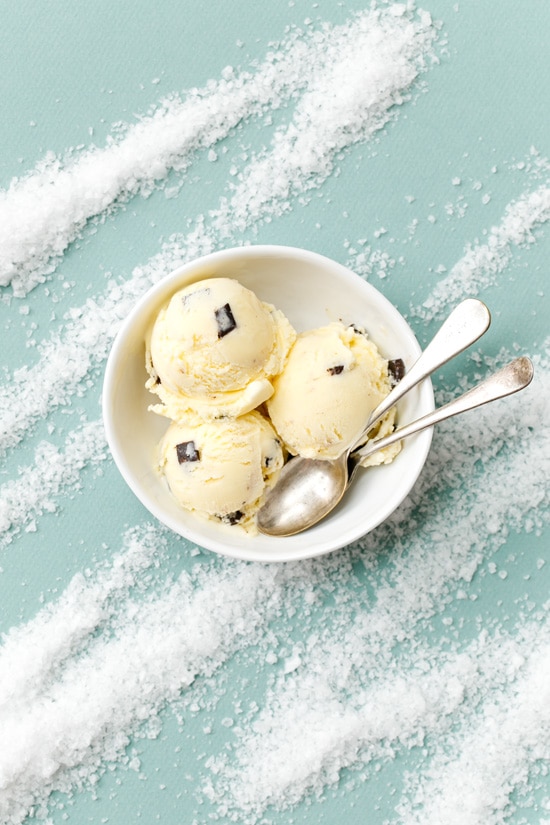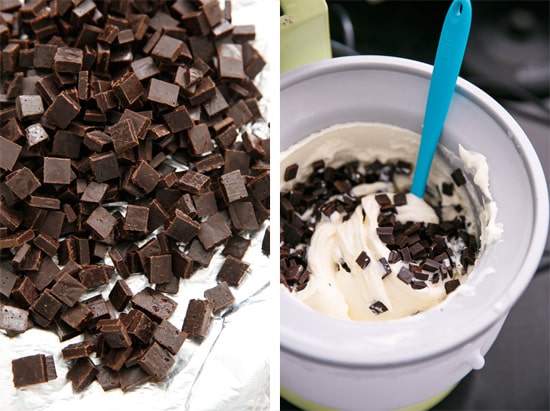 The fudge chunks are made by melting chocolate with corn syrup and a splash of heavy cream; the paste-like concoction then spread into a thin layer and chilled until firm. Then cut up the cold chocolate into good-sized chunks, and freeze them (they will melt if left at room temperature, so you want them to be as cold as possible before stirring into your freshly-churned ice cream).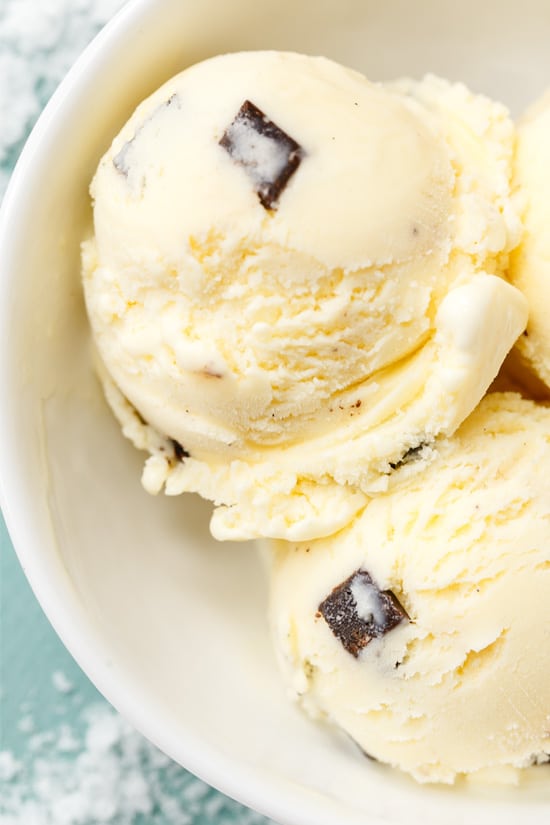 It's a double revelation. Fudge chunks and sea salt just might change your ice cream game forever (and that's a good thing).
Sea Salt & Vanilla Fudge Chunk Ice Cream
Ingredients:
For Ice Cream Base:
1 1/2 cups heavy cream, divided
1 1/2 cups whole milk
2/3 cup granulated sugar
1/2 teaspoon fine sea salt
4 large egg yolks
3/4 teaspoon vanilla paste or 1 teaspoon vanilla extract
For Fudge Chunks:
5 ounces semisweet chocolate, finely chopped
2 tablespoons corn syrup
1 tablespoon heavy cream
Directions:
Pour 1 cup of the heavy cream into a heat-proof bowl and nest inside a larger bowl filled with ice water. Place a fine mesh sieve over the top of both bowls.
In a saucepan, combine remaining cream, milk, sugar, and salt. Cook gently over medium heat, stirring regularly, until sugar is dissolved and mixture just starts to steam. Remove from heat.
In a small bowl, whisk egg yolks. Slowly whisk in some of the warm cream mixture, 1/3 cup at a time, until about half of the cream mixture has been incorporated and yolk mixture is warm to the touch. You want to do this gradually; doing so will temper the egg yolks rather than cook them.
Pour yolk mixture back into the saucepan and return to medium heat, stirring constantly, until the mixture thickens slightly and coats the back of a spatula, about 5 to 7 minutes, or until it reaches approximately 165 to 170ºF. Do not allow it to boil. Pour mixture through sieve into cold cream, discarding any solids. Add vanilla paste or extract and let cool to room temperature, stirring occasionally. Cover with plastic wrap, carefully pressing wrap down onto the surface of the cream mixture. This will prevent a skin from forming on top of the custard. Refrigerate until completely cool, at least 3 hours or overnight if possible.
While ice cream base is chilling, make the fudge chunks. In a small saucepan set over low heat or a double boiler, melt chocolate, corn syrup, and cream until chocolate is melted and mixture forms a smooth paste. You can also do this in the microwave, heating the ingredients on half-power inn 15 second intervals, stirring in between.
Pour chocolate mixture out onto a sheet pan lined with parchment paper or aluminum foil and spread into an even 1/4-inch thick layer. Cover with a layer of plastic wrap, pressing onto surface of chocolate, and chill until firm.
When ice cream base is thoroughly chilled, churn ice cream according to manufacturer's instructions.
While ice cream is churning, remove plastic wrap from chocolate sheet and turn onto a cutting board. Cut into 1/2-inch squares. Return pieces to sheet pan and freeze until ready to use.
When ice cream is the consistency of soft serve, stir in fudge chunks, then transfer to a freezer safe container and freeze at least 2 hours or overnight until firm.
Did you make this recipe?
Let us know what you think!
Leave a Comment below or share a photo and tag me on Instagram with the hashtag #loveandoliveoil.