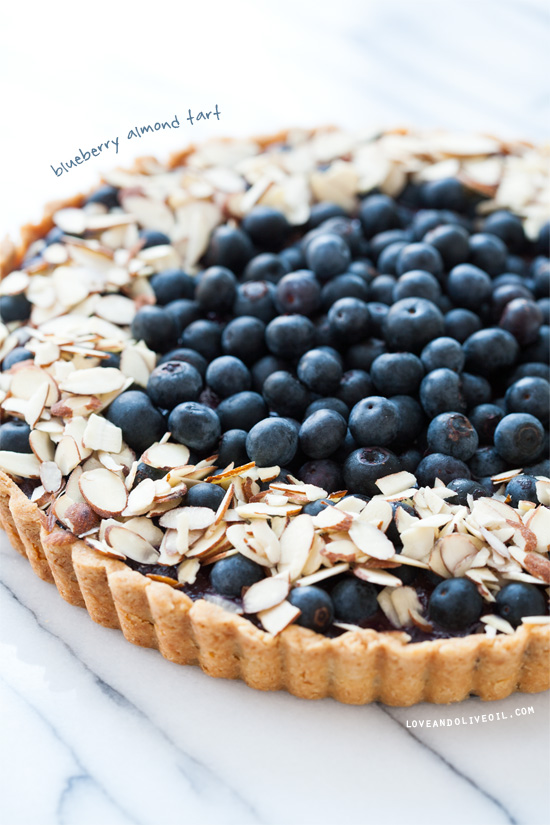 The other morning Taylor and I awoke feeling rather blue. Not because the cats decided to use our bodies as early-morning spring boards; rather, we had blueberries on the brain. That's the best kind of blue. So, in spite of the heat, we put on our grubby clothes, loaded up on bug spray, and headed out to the country for a good ol' fashioned blueberry-pickin' date.
The fields were swarming with bugs, but the bushes were hanging heavy with ripe berries. It didn't take us long to pick two whole buckets of beautiful blues.
Actually, we probably picked two and a half buckets, if you count all the 'snacks' we had along the way (those are free, right?)
Yes, we were dripping by the end of it, but it was well worth the blood, sweat, and tears. Ok, just sweat. No tears were shed in the picking of these berries.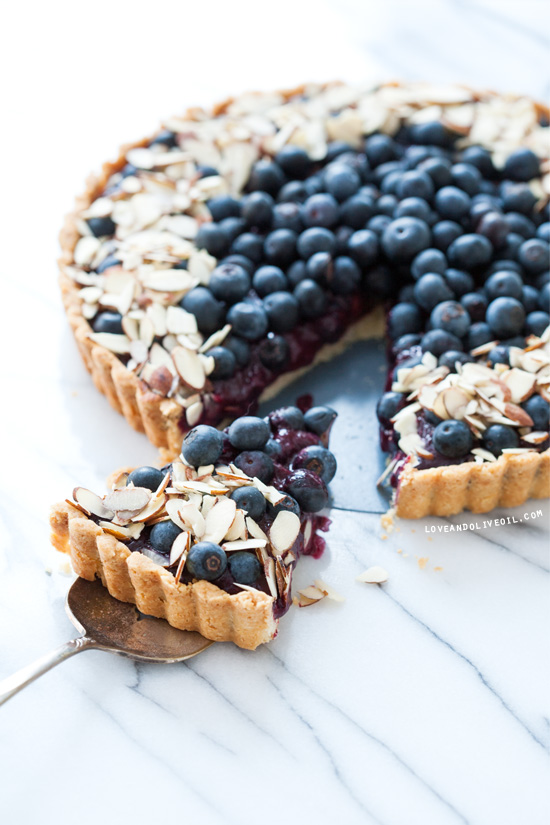 Once we got home I realized just how many blueberries we actually picked. It's easy to go overboard when you're meandering down long, overgrown aisles and each bush seems to have more berries than the next (or rather, the bushes on the other side of the aisle always appear to have more berries… the grass is always greener berries are always bluer, right?)
And since one can only have so much jam (don't worry, I made plenty, and will be posting about that shortly!) I sought out some new recipes to ensure that not a single berry went to waste. In fact, you'll probably be seeing nothing but blueberries here for the next, oh, week and a half? I'm sure you won't mind.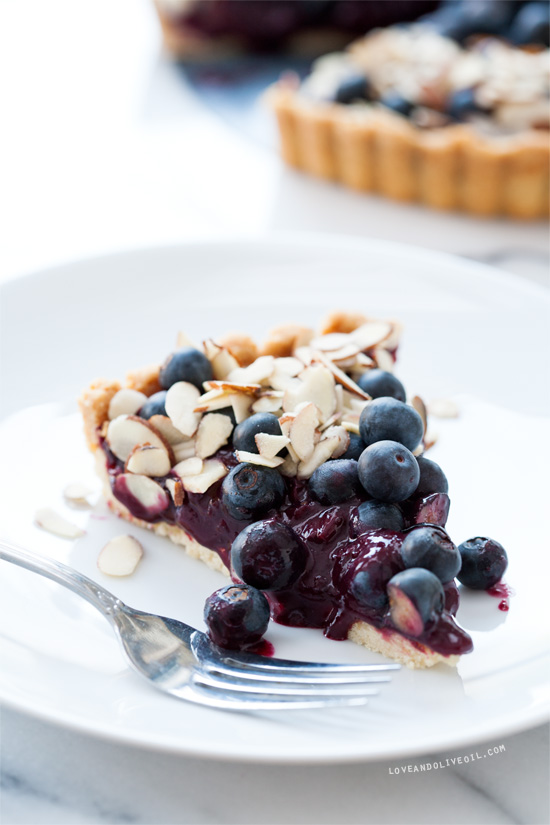 Let's talk about this tart.
The filling is basically a blueberry curd, thickened with both egg yolks and cornstarch. It was on the loose side, but packed with fresh berry flavor. True to it's name, it is quite tart, both from the berries and the addition of lemon. Think of it like a lemon bar… but blue. It's best served with a scoop or two of vanilla ice cream to offset some of the pucker. The filling itself is no-bake, so the berry flavor is bright and fresh, and the light almond flavor of the crust is a perfect counterpart. I'd personally like some more almond, perhaps a marzipan crumble or something would be a nice addition, but overall this tart was a perfect way to highlight our freshly-picked blueberries.
Blueberry Almond Tart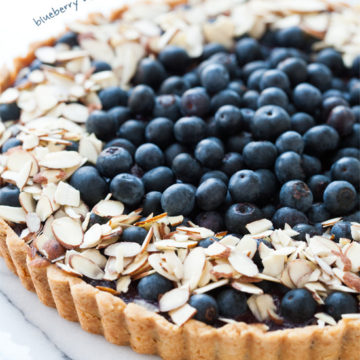 Ingredients:
For Filling:
3 lbs (2 quarts or 8 cups) fresh blueberries
1/2 cup granulated sugar
1 tablespoon freshly squeezed lemon juice
2 large egg yolks
2 teaspoons cornstarch
3 tablespoons unsalted butter
1 teaspoon finely grated lemon zest
For Crust:
1 cup all purpose flour
1/2 cup sliced almonds, lightly toasted and divided
2 tablespoons granulated sugar
1/4 teaspoon salt
1/2 cup (1 stick) chilled unsalted butter, cut into 1/2-inch cubes
1 large egg yolk
1/4 teaspoon almond extract
Directions:
To prepare filling, combine 1 1/2 lbs (4 cups) blueberries, sugar, and lemon juice in heavy medium saucepan, crushing berries with the back of a spoon or a potato masher. Stir over medium-high heat until sugar is dissolved and mixture boils and thickens, about 7 minutes. Whisk yolks and cornstarch in medium bowl. Gradually drizzle in half of hot berry mixture, whisking constantly, until yolks are warm to the touch; return to saucepan and whisk into remaining berry mixture. Stir over medium-high heat until mixture begins to boil and thickens, about 3 minutes. Whisk in butter and zest, stirring until butter is melted and smooth. Transfer to a heat-proof bowl. Cover tightly and chill overnight.
The next day, prepare the crust. Lightly butter a 9-inch-diameter tart pan with removable bottom. Combine flour, 1/4 cup sliced almonds, sugar, and salt in the bowl of a food processor and pulse until almonds are finely ground. Add butter; and pulse a few times or until mixture resembles coarse meal. Whisk egg yolk and almond extract together in a small bowl; add to flour mixture and pulse until moist clumps form. Gather dough into ball, then press onto bottom and up sides of prepared tart pan. Pierce crust all over with fork; freeze 30 minutes.
Preheat oven to 375°F. Line crust with a sheet lightly-buttered foil; fill with dried beans or pie weights. Bake until crust is set, about 12 minutes. Carefully remove foil and weights. Bake for another 16 to 18 minutes or until crust is lightly golden. Place on a baking rack and cool completely.
When crust is cooled, fill with chilled filling mixture. Arrange remaining 4 cups of blueberries on top. Sprinkle remaining 1/4 cup sliced almonds around edges. Cover loosely with plastic wrap and chill at least 2 hours or up to 1 day before serving.
Did you make this recipe?
Let us know what you think!
Leave a Comment below or share a photo and tag me on Instagram with the hashtag #loveandoliveoil.