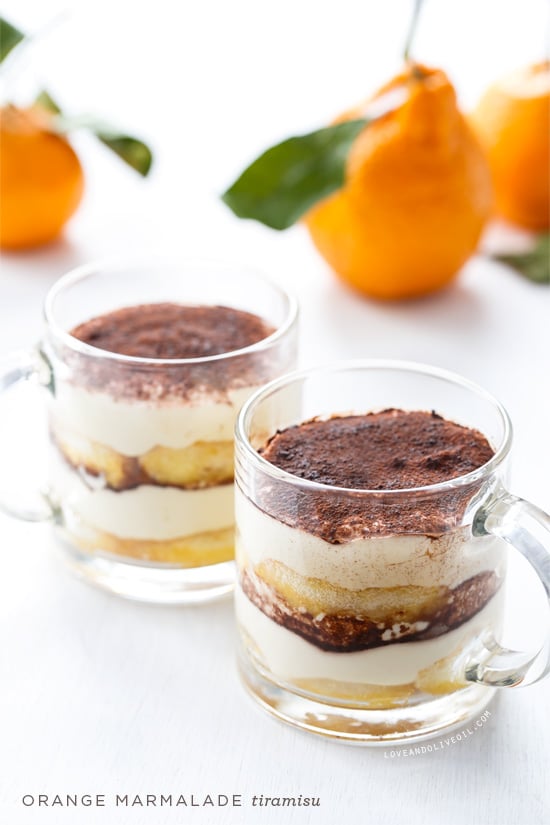 I adore tiramisu. The creamy layers are something straight out of a dream, light and airy and yet rich and decadent at the same time.
The main problem with tiramisu is the espresso. While delicious, caffeine and I aren't so buddy-buddy, and even a few bites after dinner will ensure a sleepless night.
If you're a caffeine wimp like I am, or maybe just don't much like the bitter flavor of espresso, here's your chance to enjoy tiramisu. I've replaced the coffee with a bright mixture of orange juice and orange marmalade, complimented with Grand Marnier liqueur and fresh orange zest folded into the filling.
It's a festive take on an Italian classic. I mean, talk about a perfect holiday dessert!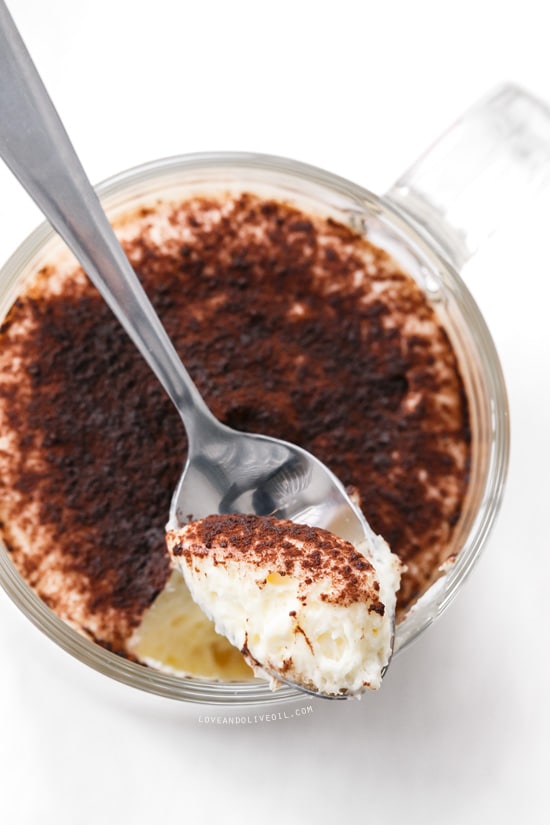 The orange flavor is subtle, I'll give you that. It doesn't scream orange, rather, it whispers sweet nothings as it slides down your tongue. This tiramisu is what dreams are made of, or, more aptly, this tiramisu is basically made of dreams, with a hint of orange essence, a dusting of cocoa, and a cloud-like mascarpone filling, so light that you'll wonder if you're actually awake (reality check: you are, so eat up!)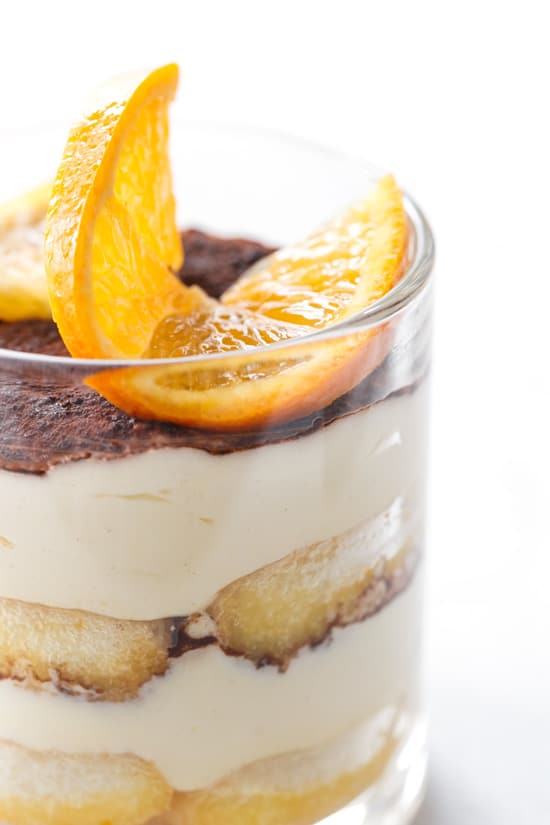 Tiramisu is one of the easier desserts to prepare, it just seems more complicated than it really is (I promise!) There's no baking, no boiling, no complicated chocolate or sugarwork. Honestly, if you've ever played with Lincoln Logs, you can make tiramisu.
When I've made it before, I made it more complicated than it needs to be because I was trying to make it without raw eggs (I was working on a cookie dough tiramisu for the Cookie Dough Lover's Cookbook, and since the focus of the book is eliminating the raw eggs from the cookie dough, I thought putting that eggless dough in a dessert full of raw eggs seemed contradictory).
In reality though, I've nothing against raw eggs. I just recommend buying quality, local eggs from a trusted source, or, if you prefer, pasteurized whole eggs if you can find them. Then there is little to no worry of anyone getting sick from your dessert.
The easiest way to make this recipe is in a 13-by-9-inch baking pan.
But since I like to make things complicated, I assembled them in individual glasses that would really showcase the gorgeous layers. If you'd like to do the same, here's a tip: use a round cookie cutter the same size as your glass or ramekin. Line up 2 or 3 ladyfingers together and use the cookie cutter to cut them to the exact size and shape you need, then dip and place in the bottom of your glass. It's much easier than trying to cut and shave off the ends of the cookies to perfectly match the edges of a round glass.
I used this amazing Calabrian Citrus Marmalade from DeLallo Foods, which is made from a tart mix of oranges, clementines, and lemons. It's seriously the best marmalade I've ever had.
In fact, when we were in Pittsburg visiting the original DeLallo store, they had a sampling table out with their Savoiardi ladyfinger cookies and this marmalade, and that's what ultimately sparked the idea for this recipe.
Inspiration. It's a mysterious thing, but when it strikes it consumes my every waking thought. Yes, I've been thinking about this tiramisu since September, and I'm so excited to finally have a chance to share it with you today. Because it's that good.
Orange Marmalade Tiramisu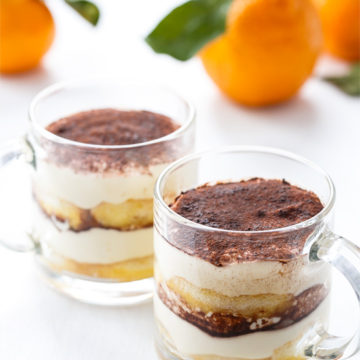 Ingredients:
4 large eggs, separated*
1/4 cup sugar
16 ounces mascarpone cheese, room temperature
3 tablespoons Grand Marnier liqueur
1 teaspoon finely grated orange zest
1 cup freshly squeezed orange juice
1/2 cup orange marmalade
2 (7 oz) package Savoiardi ladyfingers
Bittersweet cocoa powder for sprinkling
Directions:
Line the bottom and sides of a 13-by-9-inch baking pan with plastic wrap. Alternatively, you can use two 5-by-9-inch bread pans, or 12 individual ramekins or glasses.
In a large bowl or the bowl of a stand mixer fitted with the paddle attachment, beat the egg yolks and sugar on medium-high speed until thick and pale, about 5 minutes. Add the grand marnier, mascarpone cheese, and orange zest and mix until smooth.
In a separate bowl, beat the egg whites until they hold medium peaks. Using a large rubber spatula, gently fold the egg whites into the marsacrpone mixture.
In a small saucepan, warm orange juice and marmalade until melted and smooth. Dip each ladyfinger cookie into the juice mixture for 3 seconds (no longer – you don't want the cookies to be soggy), then arrange in the bottom of the lined pan, breaking them in half if necessary in order to fit. (Tip: if using individual ramekins or glasses, use a round cookie cutter the size of your dish to cut the ladyfingers to the proper size/shape).
Spread half the mascarpone cheese mixture evenly over the layer of cookies. Dust with a layer of cocoa powder. Arrange another layer of dipped cookies on top, followed by remaining Mascarpone mixture and another dusting of cocoa.
Cover tightly with plastic wrap and refrigerate for at least 4 hours, or overnight, to allow it to set before serving.
*If you are uncomfortable consuming raw/undercooked eggs, we recommend purchasing pasteurized whole eggs for this recipe.
Did you make this recipe?
Let us know what you think!
Leave a Comment below or share a photo and tag me on Instagram with the hashtag #loveandoliveoil.