Sometimes, things don't quite turn out as you intended.
They turn out better.
Like this recipe for instance. I wanted a chocolate creme brulee. Silky smooth, creamy, and deep, dark chocolate.
I was going to call it "Brownie Batter Crème Brûlée" and it was going to be brilliant.
While I succeeded in getting about as much chocolate as humanly possible in a single ramekin, the resulting texture was quite unexpected: more like the center of a chocolate truffle than a creamy custard.
So, slight change of plans, and I present to you "Chocolate Truffle Crème Brûlée" instead.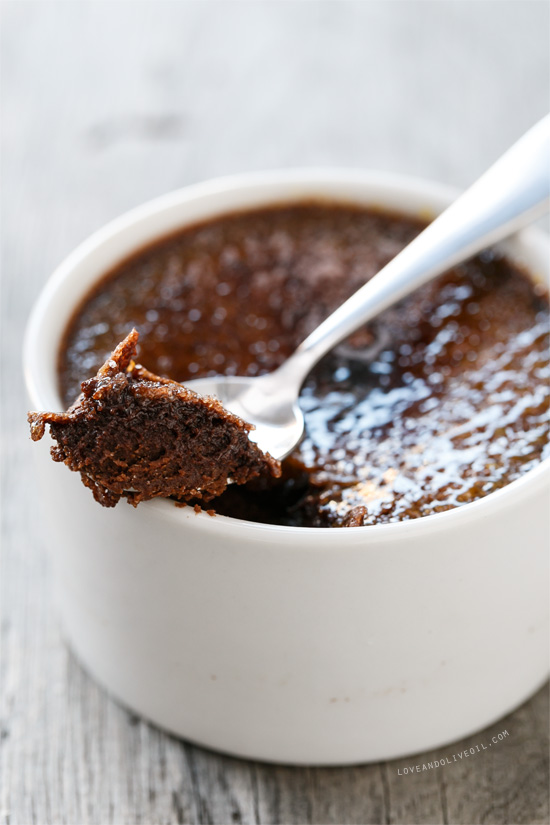 Let me tell you, this dessert is RICH. Like, Warren Buffet rich.
While one of these ramekins would be a reasonable single serving of traditional crème brûlée, I was lucky to get through half of one before I had to raise the white flag.
Which makes it pretty darn perfect for a certain lovey-dovey holiday coming up this week. Two spoons, one ramekin… it doesn't get more romantic than that.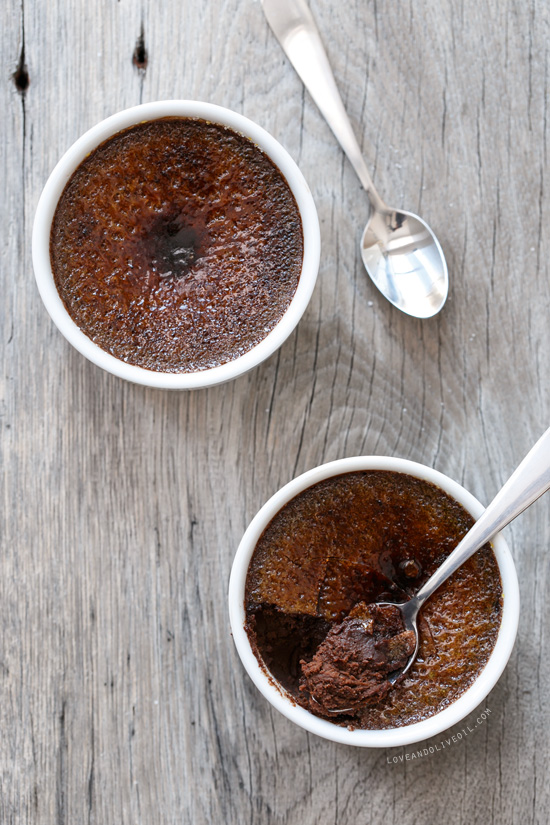 One spoon, two ramekins is perfectly acceptable too.
You know, perspective.
The crunchy caramelized sugar is perhaps the icing on the cake. Just like with traditional crème brûlée, it's that textural contrast that makes the dessert so delightful, and probably the reason why it appears on pretty much every restaurant dessert menu ever. Without it, well, it's just pudding.
Chocolate Truffle Crème Brûlée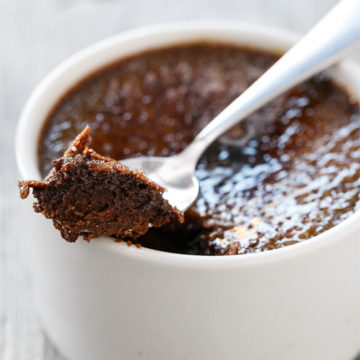 Ingredients:
4 ounces bittersweet chocolate, very finely chopped
1 1/2 cups heavy cream
4 large egg yolks
1/4 cup granulated sugar
2 tablespoons cocoa powder
pinch salt
1/2 teaspoon vanilla bean paste or 1 teaspoon vanilla extract
granulated sugar, for topping
Directions:
Preheat oven to 300 degrees F. Place a folded dish towel flat inside a 13-by-9-inch baking dish (this will keep the ramekins from shifting around), and arrange four 6 ounce or six 4 ounce ramekins inside. Bring 3 to 4 cups of water to a simmer and keep warm.
Place chopped chocolate in a heat-proof bowl and set aside. In a saucepan over medium heat, warm heavy cream until it begins to steam.
In a bowl, whisk together egg yolks, granulated sugar, cocoa powder, and salt until smooth. Whisk in warm cream, 1/4 cup at a time, until mixture is warm to the touch and about half of cream has been added. Do this gradually, as you want to temper the egg yolks rather than cook them. Pour yolk mixture back into saucepan and whisk until incorporated.
Pour warm cream mixture over chopped chocolate; let sit for 30 seconds, then whisk until chocolate is melted and mixture is smooth. If you chopped your chocolate fine enough the residual heat from the cream should be more than enough to fully melt it. If not, return to saucepan and stir over very low heat until almost melted, then remove from heat and continue to stir until smooth. Whisk in vanilla.
Divide mixture evenly among ramekins. Place baking pan in oven, then very carefully pour hot water into the baking dish until it comes about half-way up the side of the ramekins.
Bake for 30 to 35 minutes or until centers are just set but still slightly jiggly. Remove from oven and let cool for 30 minutes, then carefully remove ramekins from water and let cool to room temperature on a wire cooling rack. Once cool, cover and refrigerate for at least 2 or until ready to serve.
About 30 minutes prior to serving, remove ramekins from refrigerator and allow to come to room temperature. Just before serving, sprinkle each custard with an even layer of granulated sugar, then caramelize with a kitchen torch, keeping the flame moving over the surface of the custards, until sugar is golden brown and bubbly. Let sit for 1 to 2 minutes to allow sugar to harden, then serve.
Did you make this recipe?
Let us know what you think!
Leave a Comment below or share a photo and tag me on Instagram with the hashtag #loveandoliveoil.