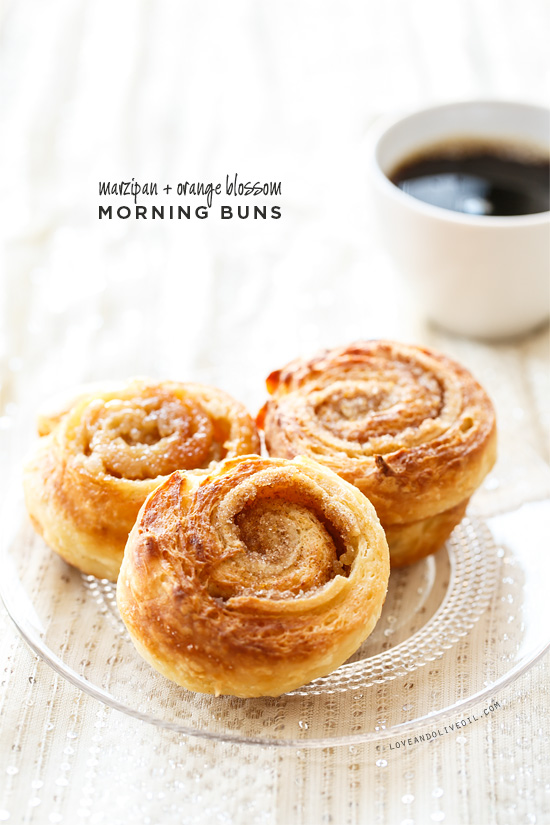 Christmas morning always calls for something special. I don't know why I'm always drawn to cinnamon rolls, but they just feel like Christmas morning, a present unto themselves. Unwrapping the layers of soft dough and gooey filling, the sticky sweet frosting melting into the swirls and down your fingers… that's Christmas to me.
That said, I had an idea this year, that, if it worked, would raise the bar on Christmas morning. Inspired by Tartine's famous morning buns, with a hint of orange and a bonus marzipan swirl hidden inside: indeed, if I could pull this off I just might make it onto Santa's good list. This year and for all eternity. (What? Santa likes morning buns.)
I'd argue that these buns are not just for Christmas morning. They'd truly make any day feel like a holiday, whether it is Christmas morning, New Years' brunch, or just any old Tuesday, they're that special.
Rather than a traditional cinnamon bun dough, these buns incorporate a more pastry-like base. Think croissant or danish. It's buttery and flaky, crispy on the edges and soft on the inside. It was so good, in fact, and so EASY, that I don't think I'll ever make a traditional cinnamon roll again.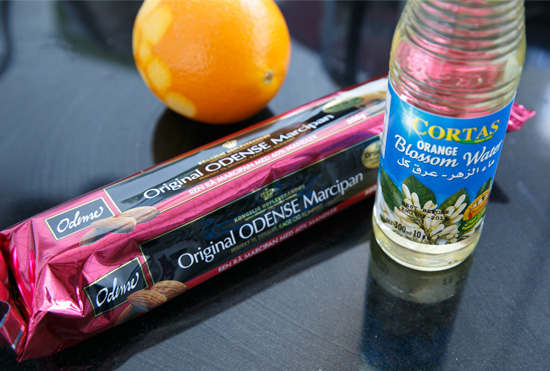 The secret ingredient in these particular morning buns, are twofold: marzipan and orange blossom water. You can also use almond paste (mix with powdered sugar until it's not quite as sticky), but they key is you want it to be workable. Some of the tubed stuff you find in grocery stores these days is rock hard. Try to stay away from that stuff, it's not worth the frustration. I used Odense Marcipan, the European kind, that, unfortunately, isn't distributed in the states any more (boo). It's worth the cost if you can find it though (try here or here) European marzipan (marcipan) has a much higher percentage of almonds and a purer almond flavor.
Orange blossom water is similar to rose water, made from distilled orange blossoms. It's lightly floral and fragrant, and like rose-water, requires a delicate hand so your pastry doesn't end up smelling like grandma's boudoir. You can find it at specialty or international food stores or online. These rolls utilize just a light brushing, both to allow the sugar to stick to the marzipan, but also to give the rolls just a faint hint of something extra special.

The pastry dough itself is quite simple, made in a food processor. It looks like a mess when you first start, but after a few folds and rolls it begins to look like a pastry dough should. And it is leaps and bounds easier than doing a homemade croissant dough (which is what Tartine's morning buns call for). Been there, done that, and would rather not do it again if there's an easier way.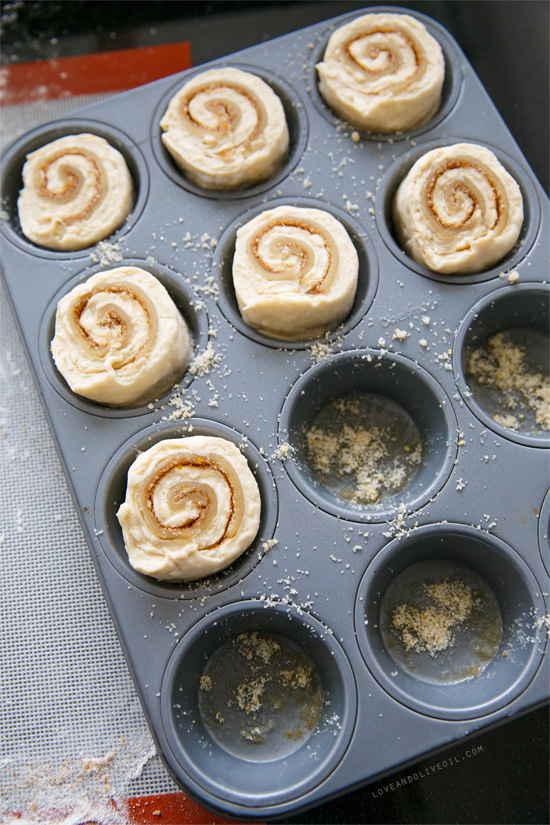 While these are fairly simple to make, I still recommend dividing the work into three days. On day 1, make the pastry dough. Cover and chill the bowl overnight. On day 2, roll and fold the dough, then let chill for a few hours. Later that day, prepare the sugar topping and roll out the buns. Cover and refrigerate the buns in the muffin tin overnight. Then, the morning of, take them out of the refrigerator and set them in a warm spot (like on top of a pre-heating oven). They'll need an hour or so to rise and another 30 minutes to bake.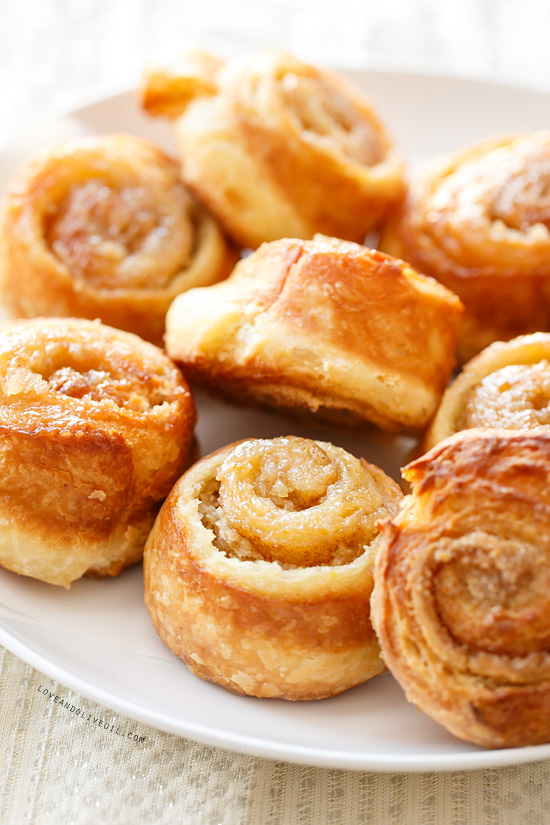 While I toyed with the idea of using the orange blossom water to make a simple powdered sugar glaze, in the end I decided that less is more: these buns are perfect in their birthday suits, no glaze necessary.
Marzipan & Orange Blossom Morning Buns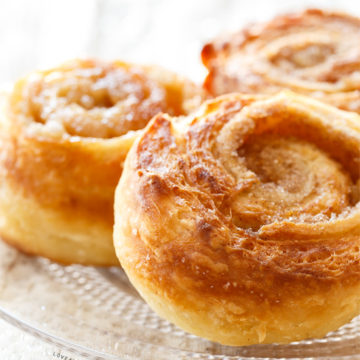 Ingredients:
For Pastry:
1/2 cup milk, at room temperature
1 large egg, at room temperature
2 1/4 cups (285 grams) white bread flour
1 package (1/4 ounce) rapid-rise yeast or 1 tablespoon fresh yeast
1 teaspoon salt
1 tablespoon sugar
1 cup (2 sticks) unsalted butter, cold, cut into thin slices
For Buns:
3/4 cup granulated sugar
1 tablespoon orange zest (from 1 medium orange)
1/2 teaspoon ground cinnamon
Pinch of salt
 2 tablespoons unsalted butter, melted
8 ounces high quality marzipan
powdered sugar, for rolling marzipan
2 tablespoons orange blossom water
Directions:
To prepare pastry, combine 1/4 cup warm water and milk in a small bowl or measuring cup. Add egg and whisk to combine. Set aside.
In the bowl of a food processor, pulse the flour, yeast, salt and sugar until incorporated. Add butter and pulse 4-5 times, until butter is evenly chopped but still visible in large-ish (1/2-inch or so) chunks. DO NOT OVER-PROCESS.
Dump the contents of the food processor into a large bowl, and quickly fold in the milk mixture using your hands or a large rubber spatula until just incorporated. Do not overmix: the dough will be pretty messy at this point, and it's supposed to be that way.
Cover with plastic wrap and refrigerate overnight or up to 4 days.
The day before, remove the dough from the refrigerator and let sit at room temperature for no more than 30 minutes. Turn out onto a lightly floured surface, and roll into an 18-inch square. Fold into thirds like a business letter. Roll again into an 18-inch square, then fold and roll once more. The dough should start to get a bit smoother with each roll and fold.
Finally, fold the dough into thirds once more, then fold that rectangle into thirds in the opposite direction, forming a 6-inch square piece. Wrap tightly in plastic wrap and refrigerate for 30 minutes.
Pulse sugar, orange zest, and cinnamon in the bowl of a food processor until evenly incorporated.
Brush a 12-cup muffin tin with melted butter. Dust cups with about 2 tablespoons (divided evenly among cups) of sugar mixture.
To shape buns, on a lightly floured surface, roll dough to a 9-by-18-inch rectangle, with the long edge closest to you.
Lightly dust a clean surface with powdered sugar. Roll marzipan into a 7-by-18-inch rectangle. You may need to knead your marzipan into a workable dough if it is on the hard side. You can also use almond paste, just knead in powdered sugar as needed until it forms a workable dough.
Evenly brush dough with 1 tablespoon of orange blossom water. Lay marzipan on top, lining up the bottom long edge closest to you as well as sides. There should be a few inches of dough along the top edge, this is important for the buns to seal properly.
Brush marzipan with remaining orange blossom water, then sprinkle with about 1/2 cup of remaining sugar mixture evenly over entire marzipan layer.
Starting with the long edge closest do you, tightly roll into a cylinder; pinch to seal along edge. Using a sharp serrated knife, gently cut cylinder into 12 even discs 1 1/2-inches thick. Gently pull the knife back and forth through the dough, letting the teeth do the work; do not saw or squish.
Place one disc into each muffin cup, with the cut spiral facing up. Sprinkle tops with remaining sugar.
At this point, the rolls can be refrigerated overnight if you like. Simply cover and refrigerate. Take them out 1 to 2 hours before you'd like to eat.
Preheat oven to 375 degrees F. Set pan in a warm spot (like on top of the preheating oven) to rise until buns are noticeable puffed, about 45 minutes to 1 hour (slightly longer if they had been refrigerated).
Place muffin tin on a cookie sheet (to catch any stray drips) and bake for 25 to 35 minutes, or until golden brown. Remove from oven and let cool for at least 5 but NO MORE THAN 10 minutes, then turn upside down onto a platter to serve. If the buns are sticking, try slightly twisting them (in the opposite direction of the swirl) to release the bottoms. Keep them upside down to prevent them from sticking to the plates. Serve warm.
Did you make this recipe?
Let us know what you think!
Leave a Comment below or share a photo and tag me on Instagram with the hashtag #loveandoliveoil.