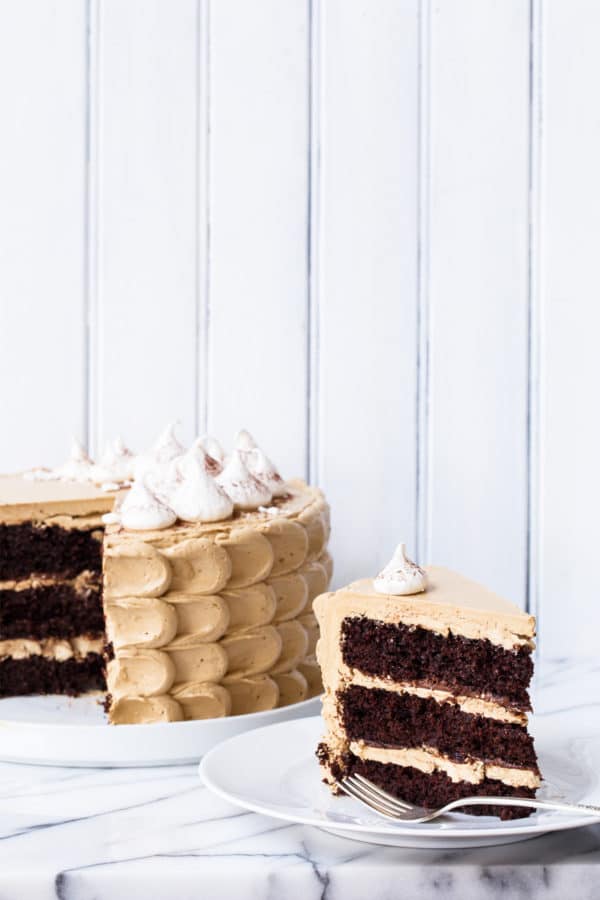 I'm always on the hunt for alternative desserts for the holiday table. As much as I love pumpkin and pecan pie, sometimes you just need something different. And this impressive three-layer cake fits the bill. Lusciously moist chocolate cake infused with sweet potato and fall spices, sandwiched with chocolate ganache and an ultra-buttery molasses meringue buttercream. The hint of molasses in the frosting is both alluring and aromatic, almost espresso-like in its subtle flavor.
It may look like an ordinary chocolate cake, but once you take one bite, you'll know it's anything but.
In a nutshell, it tastes like November.
I'm posting this recipe as part of Blogsgiving Dinner, a virtual Thanksgiving feast hosted by Meghan of Cake 'n Knife and Susannah of Feast + West.
When it comes to parties and potlucks, 9 out of 10 times I'll bring dessert to the party, and I figured even a virtual party should be no different. :) Trust me when I say that if you bring this cake to your next gathering, you'll be invited back again and again.
But seriously though, if you're looking for Thanksgiving inspiration look no further. More than 60 blogs will be sharing their amazingly unique holiday recipes this week, so be sure to check out Part 1 and Part 2 for the whole menu.
Not wanting an ordinary decor job, I topped the cake with some meringue cookies (recipe from the SprinkleBakes cookbook). I piped kisses of different sizes, arranged the cookies into a half-moon around the perimeter of the cake, and sprinkled some crushed up meringues and cocoa powder on top. Certainly not the simplest of decorations (I tend to make things more complicated than the really need to be), but no doubt impressive.
Let's be honest for a moment. Though it may look impressive, this cake just about killed me (and my mixer) in the process. When it was finally done and decorated and photographed, I was so strung out and tired and frustrated that I seriously wanted to smash something.
Amazing how simply slamming a piece of cake down onto the floor can be so gosh darn satisfying.
Food bloggers take note: throwing food is fun and a great stress reliever.
(Everyone else take note: while I wanted to smash the whole freakin' thing, I only sacrificed a single slice. Because the rest was too good, frustration and all, and Taylor and I ate every last bit of it).
So here's the deal (and probably why this cake almost got the best of me)…
I normally make smaller, 6-inch cakes, a size which just so happens to be exactly half of a full size recipe (aka easy math). But this time, because it's a holiday cake, and because presentation is everything, I made a full size.
I don't know if you've ever tried to whip a massive batch of Swiss-meringue buttercream, but the more there is the longer it takes to cool. And it better be completely cool before you add the butter or you're in big trouble.
I'm not kidding when I say it took nearly 90 minutes of beating on high speed before it could even be considered cool. I could feel the heat emanating off my stand mixer (it's still going strong after 10 years of regular use, but I was convinced this would be the end of it).
I ended up splitting the partially-cooled meringue and beating half of it, then adding back the rest (which had cooled on its own in the meantime). Knowing how temperamental Swiss meringue buttercream can be I was worried it'd be a disaster, but it worked just fine.
Honestly though, a molasses flavored American buttercream like the kind I used in this cake from a few years back is 100 times easier and won't give your mixer a stress test. It's sweeter, for sure, and not as buttery in consistency, but will still make for a stellar cake. It's ultimately up to you and what you want your final cake to be (and how much effort you're willing to put into it).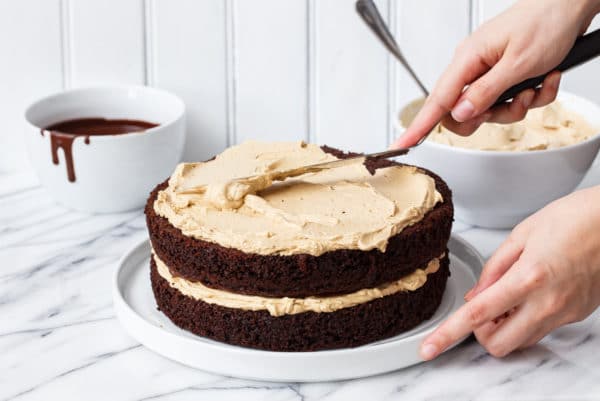 I am always a proponent of recipes that can be split into smaller chunks of time on multiple days. Especially during the holidays. With that in mind, rather than spend an entire morning baking, frosting, and assembling, I'd suggest baking your cake layers a few days earlier and then freezing them until you're ready. Freezing also has the added bonus of making the assembly process easier, as cutting and leveling frozen cake is a much more precise process than with freshly baked layers.
The rest of the cake should be made and assembled the morning of if possible and left at room temperature until it's served. However (because it is the holidays, after all) if you absolutely have to, you can make it the day before and refrigerate it (leave off the meringue cookies until the last minute, as they'll get soft and sticky in the refrigerator). Let the cake fully come to room temperature before serving so the ganache and frosting aren't too firm.
Chocolate Sweet Potato Layer Cake with Molasses Buttercream
A perfectly moist chocolate cake infused with sweet potato and fall spices with chocolate ganache and molasses meringue buttercream.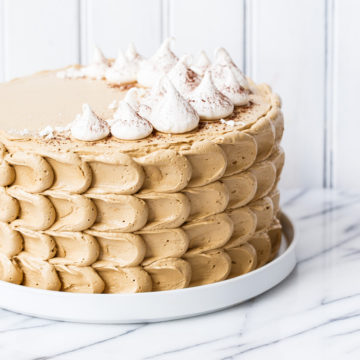 Ingredients:
For Cake:
2 cups granulated sugar
1 3/4 cup all-purpose flour
3/4 cup dark or Dutch-processed cocoa powder, sifted
2 teaspoons baking soda
1 teaspoon baking powder
1 teaspoon fine sea salt
1 1/2 teaspoons ground cinnamon
1/4 teaspoon ground cloves
1/4 teaspoon ground nutmeg
1 cup sweet potato puree (canned or fresh)
3 large eggs
1/2 cup vegetable oil
1 1/2 teaspoons vanilla extract
1 cup full-fat buttermilk
For Ganache:
3.5 ounces dark or semisweet chocolate, finely chopped
1/3 cup heavy cream
1 tablespoon unsalted butter, cut into cubes
For Buttercream:
10 large egg whites (about 10 ounces)
3 cups granulated sugar
1/4 cup plus 2 tablespoons molasses, divided
2 pounds (8 sticks or 4 cups) unsalted butter, room temperature
1 teaspoon vanilla extract
Directions:
Preheat oven to 350ºF, position oven racks at 1/3 and 2/3 positions. Butter and line the bottoms of three 8-inch round cake pans with parchment paper; butter parchment.
To prepare cake layers, whisk together sugar, flour, cocoa, baking soda, baking powder, salt, and spices in a large bowl or the bowl of a stand mixer.
In a separate bowl, whisk sweet potato puree with eggs until smooth. Whisk in oil and vanilla extract.
Make a well in the bowl with the dry ingredients and add sweet potato mixture and buttermilk. Mix on low speed until dry ingredients are just incorporated, scraping down the sides of the bowl as necessary.
Divide batter among prepared baking pans; you'll use approximately 2 cups of batter per pan. Bake for 30 to 40 minutes, rotating pans halfway through baking, until a toothpick inserted near the center comes out clean.  Place pans on wire baking racks and let cool to room temperature.
Run a knife around the edge of each cake pan then invert onto a wire rack. The cake should come out cleanly. Remove parchment and let cool completely before assembling, or ideally, wrapping each layer with two layers of plastic wrap and sealing in a zip-top bag and freeze (frozen layers will be easier to level and assemble later).
To prepare ganache, place chopped chocolate (the finer the better) in a heat-proof bowl.  Warm cream over medium-low heat until it just starts to steam (do not let it boil). Pour over chopped chocolate and let sit for 30 seconds. Slowly and gently whisk, starting with small concentric circles in the center of the bowl, until chocolate is melted and ganache is smooth. Add butter, a little bit at a time, gently whisking until incorporated. Refrigerate for 30 to 40 minutes or until thickened and spreadable.
Meanwhile, to prepare buttercream, combine egg whites, sugar, and 2 tablespoons molasses in a heat-proof bowl set over (but not touching) a pot of boiling water. Or if you have a large double boiler pot you can use that instead. The idea is to gently heat the egg so it is warm but not scrambled, as it would if you heated it directly. Whisk until sugar is completely dissolved and mixture is warm to the touch (it should measure 140ºF on an instant-read thermometer). Transfer to the bowl of a stand mixer fitted with the whisk attachment. Beat on medium high speed until the meringue is completely cool; bowl should not have even a hint of heat at the base when you touch it. This can take quite a while, upwards of 45 minutes even, so just keep mixing until it's completely cool.
Once cool, switch to the paddle attachment and begin to add butter, 1 tablespoon at a time, mixing well after each addition. Do this slowly, as adding the butter too quickly could cause your buttercream to separate. Once all the butter has been added increase speed to high and beat until thickened and fluffy (you'll see a visible change in the consistency as you add the last bits of butter). Add vanilla and additional 2-4 tablespoons of molasses (to taste) and mix thoroughly. Use immediately, or cover and refrigerate until ready to use. If refrigerated, let the buttercream warm to room temperature before using and beat it again until the fluffy texture returns.
To assemble cake, level each cake layer by cutting of the domed top with a long serrated knife. Place one cake layer on a cake stand or serving plate. Top with 1/2 cup of buttercream and spread to edges with an offset spatula. Top with half of ganache, spreading into a smooth layer. Place second layer on top, gently pressing to adhere. Repeat with another 1/2 cup of buttercream and remaining ganache, then top with third and final layer, flat side up.
Cover the entire cake with a thin layer of buttercream. This "crumb coat" will keep the stray crumbs in place and make frosting the cake easier. Refrigerate for about 15 minutes to allow this crumb coat to set, then spread the thicker final layer of buttercream on top of that, smoothing out top and sides as best you can. There will be a good amount of buttercream left, which you can use to pipe decorative details onto your cake if desired. Optionally top cake with meringue cookies and a dusting of cocoa powder before serving at room temperature.
Did you make this recipe?
Let us know what you think!
Leave a Comment below or share a photo and tag me on Instagram with the hashtag #loveandoliveoil.