I love Thanksgiving.
But can we talk about the obvious lack of chocolate in the typical lineup of Thanksgiving desserts?
I mean, pumpkin, pecan, apple, and cranberry are great and all, but fruits, nuts, and gourds do not a satisfying dessert make. Seriously, when did Thanksgiving desserts get so… vanilla? I cry foul. Give me chocolate, or give me death. (Would you like a side of cliché with that? You're getting it anyway.)
This deeply chocolate and yet festively-flavored tart is my kind of dessert. Perfect for when you want something seasonally-appropriate for your holiday table but aren't willing to give up your precious chocolate.
The filling is not overly sweet; in fact, the only sweetness comes from the pumpkin and a bit of brown sugar in the crust, allowing the intense and bitter chocolate filling to engulf your tastebuds. Dark chocolate fans, this one is for you.
As intense as it is, the tart is surprisingly light and almost mousse-like in texture, the pumpkin lightening the chocolate in much the same way a whipped cream or whipped egg whites might. Typically with chocolate tarts like this (this tart cherry tart, for example) the chocolate is so rich and intense that a few bites is usually enough to satiate your appetite.
Although some may argue that this unexpectedly light consistency and lack of sweetness is a bad thing, as there's nothing stopping you from going back for a second or third slice. Which is exactly what you'll want to do, it's that good.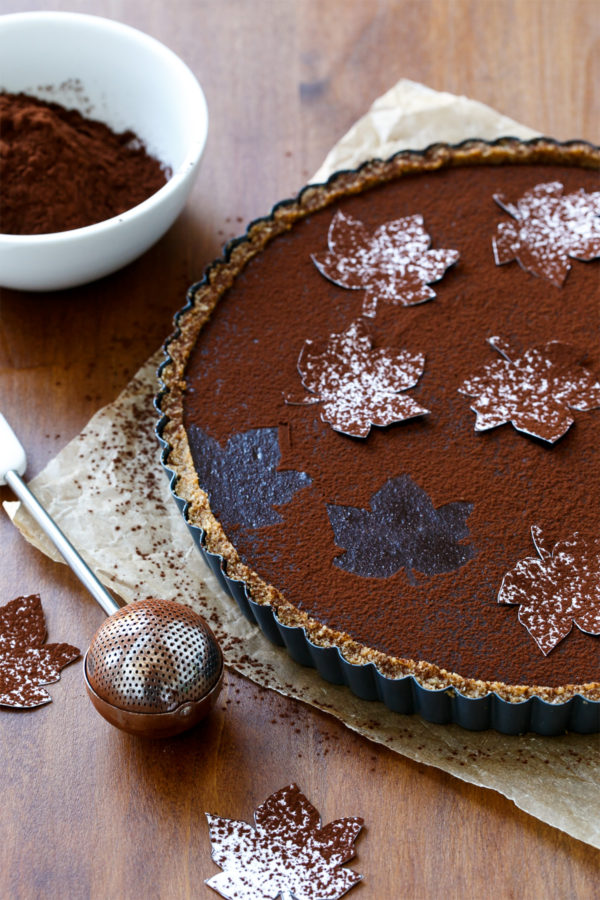 Full disclosure: I stole the decoration idea after seeing Amy's instagram photo, just executed with cocoa powder instead of powdered sugar. The tart itself is stunningly simple on its own (and you could certainly serve it as is) but I felt it needed a little 'wow' to make it suitable for the occasion.
To accomplish this autumn leaves effect, I printed maple leaf shapes onto cardstock and cut them out with an X-acto knife (hello, flashbacks to college design class). I then arranged the shapes on top of the tart and dusted over them with cocoa powder (OXO's Baker's Dusting Wand is perfect for this task). The top of the tart is firm enough once it's cool that the cardstock doesn't stick, and once the stencils are removed (tweezers give you more delicate control than chubby fingers), the result is a stunning fall presentation. It's the perfect finishing touch that makes this tart look as good as it tastes.
This recipe is a stark contrast to last week's savory squash tart, though they both contain squash in a tart shell, they couldn't be more different. Just goes to show you how versatile these fall gourds can really be… how many other vegetables can transition from breakfast to dinner to dessert with such ease?
The crust is made from crushed vanilla wafers, ground pecans, brown sugar, and cinnamon. I love adding ground nuts to my crusts, it gives them more complexity and depth of flavor. With the pumpkin in the filling and the pecans in the crust, you are almost getting the best of every Thanksgiving dessert in one: a little pumpkin, a little pecan, and a whole lot of chocolate.
I recently purchased a basic tart tamper that makes for a perfectly packed crust. But I've also found that a flat-bottomed glass or measuring cup works just as well.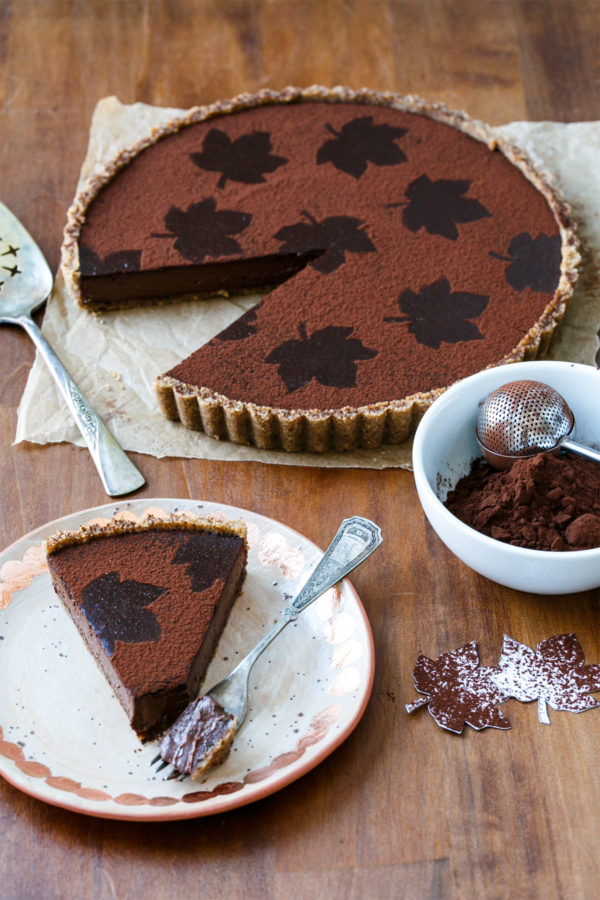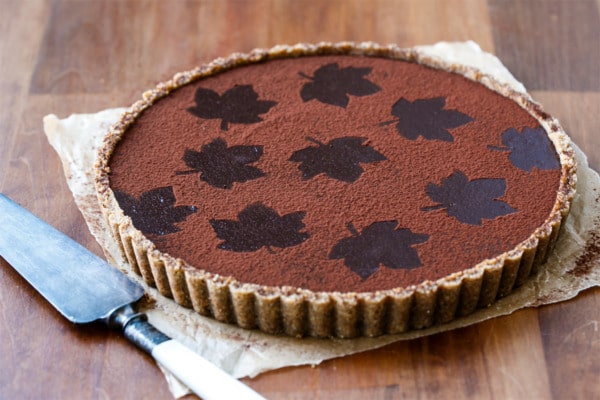 Bittersweet Chocolate Pumpkin Tart
The best of every Thanksgiving dessert in one decadent tart: a little pumpkin and pecan and a whole lot of chocolate.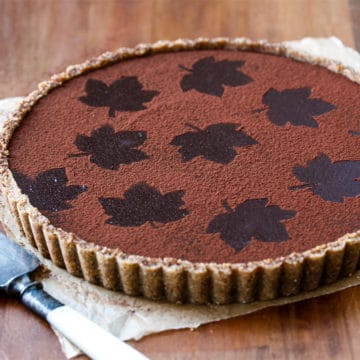 Ingredients:
For Crust:
8 ounces vanilla wafer cookies
1/2 cup pecan pieces
2 tablespoons packed light brown sugar
1/2 teaspoon ground cinnamon
1/8 teaspoon kosher salt
1/4 cup (1/2 stick) unsalted butter, melted
For Filling:
3/4 cup heavy cream
1/4 cup whole milk
2/3 cup pumpkin purée
9 ounces bittersweet (70%) chocolate, finely chopped
2 large eggs
1 teaspoon ground cinnamon
1/2 teaspoon ground ginger
1/4 teaspoon ground cloves
1/8 teaspoon freshly grated nutmeg
1 tablespoon bourbon (or substitute 1 teaspoon vanilla extract)
Directions:
Preheat oven to 325 degrees F.
Place cookies and pecans in the bowl of a food processor. Pulse until finely ground and no large chunks remain. You should have about 1 1/2 cups of crumbs. Add sugar, cinnamon, and salt and pulse until incorporated. Drizzle melted butter over top, then pulse until crumbs are evenly moistened.
Dump crumb mixture into a 9-inch-round tart pan with a removable bottom. Firmly press into the bottom and up the sides of the pan. Place tart pan on a baking sheet and bake for 8 to 10 minutes or crust is set and just starting to puff. Remove from oven and let cool slightly (if you have big bubbles you can gently press them back down using a tamper while the crust is still warm).
Reduce oven temperature to 250 degrees F.
For filling, heat milk and cream in a medium saucepan over low heat until it just starts to bubble around the edges. Remove from heat and add chopped chocolate, gently whisking until melted (the heat from the cream and the residual heat from the pan should be enough to melt the chocolate).
Meanwhile, whisk eggs together with pumpkin and spices in a bowl. Whisk in a 1/4 cup or so of the warm chocolate mixture, then another 1/4 cup, whisking until mixture is slightly warm to the touch. Pour into saucepan with the rest of the chocolate and whisk until smooth. Whisk in bourbon or vanilla.
Pour filling into cooled tart shell and bake for 30 to 35 minutes or until center is set and just barely jiggly. Place on a wire rack to cool to room temperature, about 1 hour. Slice and serve at room temperature. The tart will keep in the refrigerator for a few days after baking, just let it come to room temperature before serving.
Did you make this recipe?
Let us know what you think!
Leave a Comment below or share a photo and tag me on Instagram with the hashtag #loveandoliveoil.