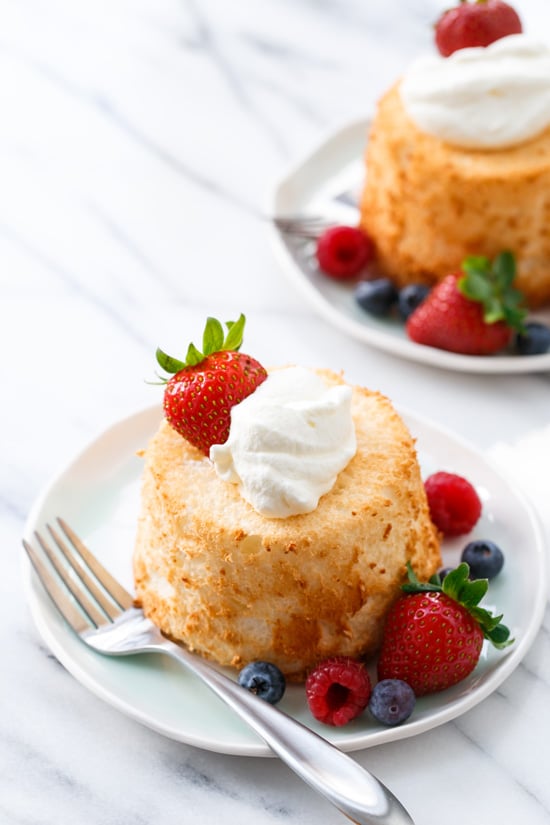 Angel food cake is one of those totally appropriately named foods if you've ever tried it, because the texture is truly heavenly. It's what a cloud would taste like if baked into a cake.
But I'll readily admit that I've never made angel food cake before. I know, any baker worth their salt should have a go-to angel food cake recipe and in that respect I have most definitely failed. But let's be honest that more often than not when you set out to bake a cake, you're really craving something rich and dense and full of fat and flavor, and that's pretty much the antithesis of angel food cake right there.
Shortcakes too, which is another situation in which an angel food cake would be appropriate. Me? I prefer the cream biscuits as the base for my short stacks. The key words there, once again, being fat and flavor.
After being inspired by KitchenAid's new series on Craftsy: Make the Most of Your Stand Mixer, I decided to try my hand at this ethereal cake and see what the fuss was all about.
And you know what? Angel food cake is not, as I previously believed, a flavorless sponge. With a good base recipe and quality ingredients, it's really quite delightful. Maybe (just maybe) this oft-overlooked cake will become a more regular part of my baking repertoire.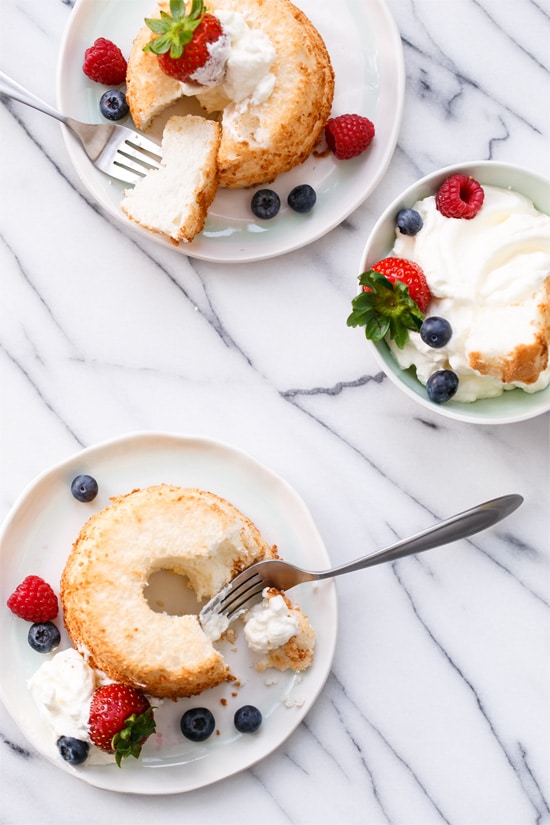 The fact that I found a mini angel food cake pan only sweetened the deal (if you know me you'll know that I prefer my desserts in mini form wherever possible). Although the mini cakes did prove trickier to master than a full-size cake might have been, namely that the bottoms on the mini pans are not removable like traditional angel food cake pans. And this made extraction a bit of a challenge.
Worse comes to worse if your mini cakes come out of the pan looking like the dog tore open the sofa, you can always turn it into a trifle.
Ingenuity. It comes in handy sometimes. :)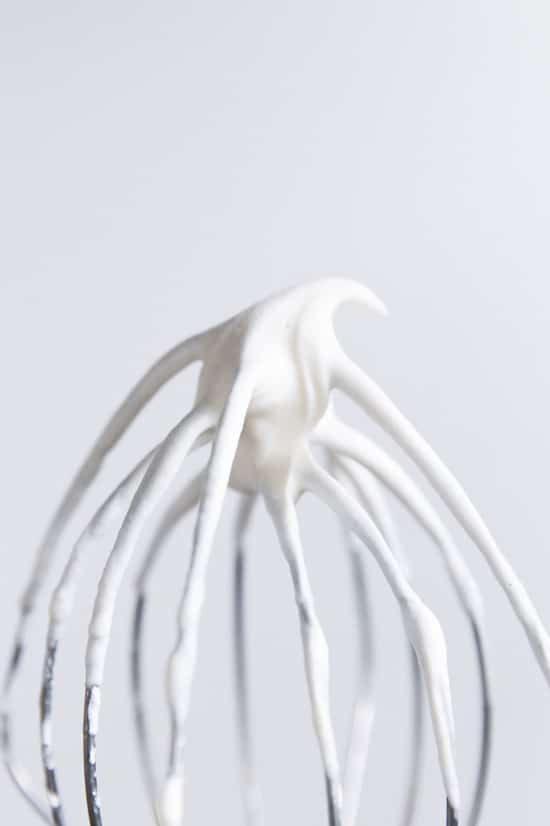 The key to the otherworldly texture of angel food cake is air, in the form of whipped egg whites. As the cake bakes, the liquid in the whipped egg whites turn to steam, and it's that steam that makes the cake rise, no chemical leavening required.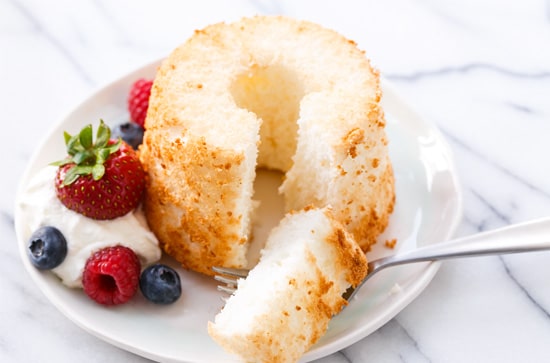 This really is the perfect recipe to give your whisk attachment a workout, as it's required for both the light and airy base and the fluffy homemade whipped cream.
Mini Angel Food Cakes
Subtly sweet and scented with vanilla and almond, angel food cake is the perfect base for freshly whipped cream and ripe seasonal fruit.
Ingredients:
3/4 cup sifted cake flour
1/3 cup sifted powdered sugar
1/2 teaspoon fine sea salt
3/4 cup granulated sugar, divided
1 cup (9 ounces) egg whites (from 7 to 8 large eggs), at cool room temperature
1 teaspoon cream of tartar
1 teaspoon vanilla extract
1/2 teaspoon almond extract
For Topping
1 cup heavy whipping cream
1/4 cup granulated sugar
Fresh fruit or berries, for topping (optional)
Directions:
Preheat oven to 350ºF. Sift cake flour and powdered sugar into a bowl. Add sea salt and 1/2 cup of granulated sugar and set aside.
Place egg whites in metal stand mixer bowl. Sprinkle over cream of tartar. Fit mixer with the whisk attachment and whip on medium speed for 30 to 60 seconds or until frothy. With the mixer running, gradually add remaining 1/4 cup of sugar. Increase speed to high and whip until egg whites form medium-soft peaks, about 3 to 5 minutes. Fold in vanilla and almond extracts. Unlatch bowl from mixer base.
Sprinkle half of flour mixture over top of beaten egg whites. Gently incorporate with a large rubber spatula using a folding motion so as not to deflate the egg whites. When flour is mostly incorporated, sprinkle over the remaining flour and fold again, thoroughly scraping the sides and bottom of the bowl until just incorporated and no dry ingredients remain.
Transfer batter to a gallon-sized zip-top bag and seal. Cut off about 1/2 inch of the corner of the bag to form a make-shift piping bag. Pipe batter into ungreased mini angel food cake molds, filling each cavity about 2/3 of the way full. (If making a full-size angel food cake, simply pour the batter into the ungreased pan, no piping bag necessary). Smooth tops with a small spatula.
Bake for 18 to 20 minutes (30 to 35 minutes for a full size cake) until the tops are evenly golden brown and a toothpick or skewer inserted in the middle comes out clean.
Carefully invert pan, using pint glasses to support the upside-down pan as needed. Let cool for one hour before gently loosening edges of cakes with a thin metal spatula and removing from pan.
To make whipped cream, place chilled whipping cream into the metal bowl of stand mixer fitted with the whisk attachment (you can even chill the metal bowl to make the cream more sturdy when whipped). Sprinkle sugar over cream and then whip on medium-high speed until cream forms medium-stiff peaks. Top cakes with a dollop of whipped cream and fresh fruit, as desired.
Did you make this recipe?
Let us know what you think!
Leave a Comment below or share a photo and tag me on Instagram with the hashtag #loveandoliveoil.