My main beef (ha) with chicken noodle soup is the "stuff" to broth ratio. So when a soup has like 2 1/2 noodles in the whole bowl and a measly bite or two of chicken, well, I'm disappointed, to say the least. If I wanted to drink flavored hot water I'd have some tea instead.
But this soup is swimming with the good stuff. Or, should I say "wading" since the broth isn't really that deep at all.
I will warn you though: this soup is not as innocent as it might look.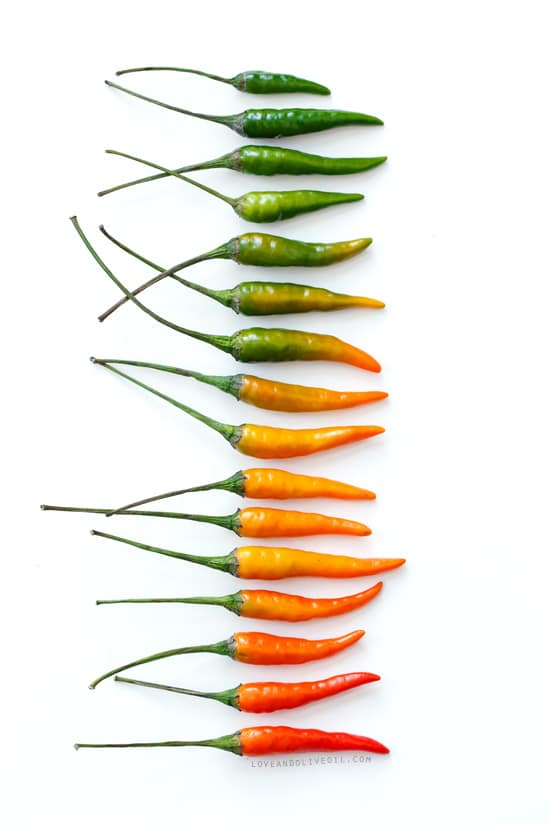 Danger Will Robinson: these tiny peppers pack a punch. Would you believe there are only two of these wee firey pods in an entire batch of this soup (all 4 servings of it)? And you will most definitely know they are there; you'll feel it from your tongue to your ear drums. Let's be honest: chicken soup is already a surefire cure for colds. Add to that the fact that spicy foods do wonders to clear out the sinuses… that pretty much makes this soup the be all, end all of cold remedies.
But that's not to say you can't enjoy it when you don't have a cold, too (we sure did!)
(And psst! You can now buy prints of this pepper photo and more in my Society6 shop. Dare I say it'd look fabulous hanging in your kitchen alongside the blueberry gradient? Plus, get FREE worldwide shipping now through February 8th when you use this link. </end shameless plug>)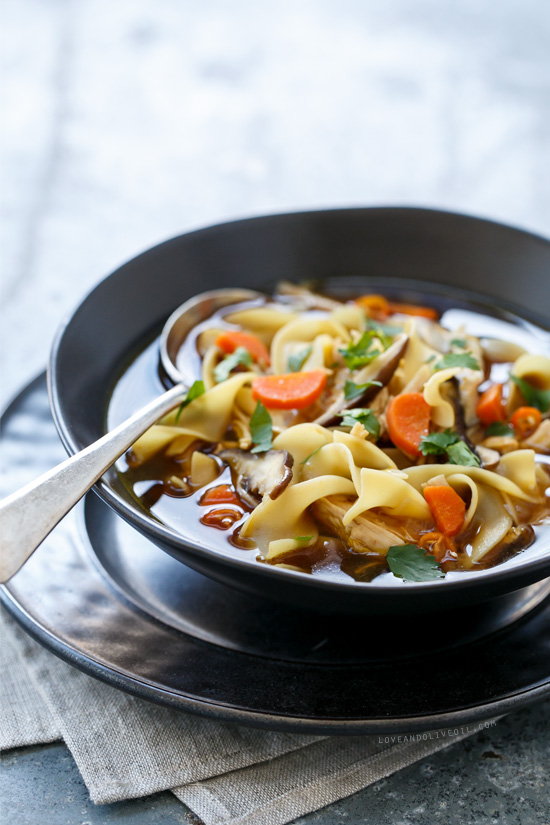 When it comes to peppers, as a general rule, the smaller and the redder the pepper, the higher the heat level, and that's true for these tiny Thai chilies as well as milder ones like jalapeños. If you can only find green ones (mid-January is not exactly peak pepper season, afterall) simply pop your peppers in a brown paper bag for a week or so and they should take on a fiery blush. Keep them in the fridge and they'll get hotter the longer they sit, even if the color stays deceivingly green.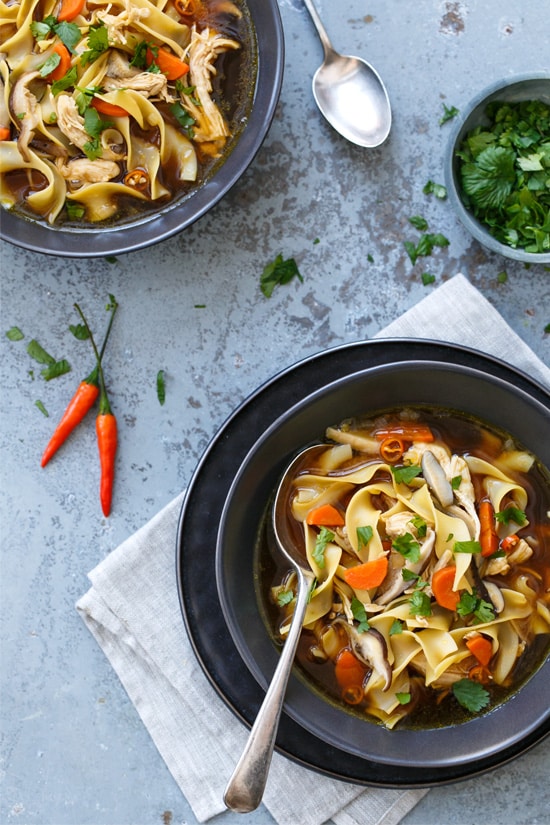 The other "secret" ingredients in this soup might seem unexpected, but trust me, they make all the difference. A bit of ginger, a splash of soy sauce, and this chicken soup is unlike any you've ever tasted with a rich depth of flavor and a perfect saltiness with absolutely no additional salt. Soy sauce. Seriously. Don't ask what prompted me to put soy sauce in my chicken soup, but be glad I did.
We used No Yolks® Extra Broad Noodles noodles for this soup, which cook up firmly and hold their shape nicely amongst the chunky accoutrements. The right noodles can make or break a chicken noodle soup (it is called chicken NOODLE soup for a reason). The No Yolks® noodles are right on the money, exactly what you'd expect in a classic chicken noodle soup (or, you know, not so classic. Either way.)
Spicy Chicken Noodle Soup
This Asian twist on classic comfort food recipe packs a spicy punch! A perfect soup recipe for cold winter days.
Ingredients:
1 tablespoon olive oil
1/2 medium onion, chopped (about 1/2 cup chopped)
1 medium carrot, sliced and halved into semi-circles (about 1/2 cup sliced)
5 large garlic cloves, minced (about 5 teaspoons minced)
1 teaspoon finely grated fresh ginger root
2 fresh thai chilies*, thinly sliced (discard most of the seeds for slightly less spice)
4 ounces fresh shiitake mushrooms, stemmed and thinly sliced
4 cups low-sodium chicken stock
2 cups filtered water
2 boneless, skinless chicken breasts (about 1 pound)
6 ounces (1/2 a bag) No Yolks® Extra Broad noodles
2-3 tablespoons dark soy sauce, or to taste
chopped fresh cilantro, for garnish
Directions:
Heat olive oil in a large saucepan or dutch oven over medium heat. Add onion and carrot and sautee until slightly softened, 3 to 4 minutes, then add mushrooms and cook until soft and shrunken in size, about 3 minutes more. Add garlic, ginger, and chilies and stir until fragrant, about 1 minute.
Add chicken broth and water and bring to a simmer. Add chicken breasts to liquid and simmer for 10 to 15 minutes or until chicken is cooked through (thickest part should read 165 degrees F on an instant read thermometer). Remove chicken from pot and transfer to a plate to cool slightly before shredding with a fork.
Add noodles to simmering broth mixture and cook for 7 to 8 minutes or until just al-dente. Add shredded chicken back to pot and cook for 1 to 2 minutes until heated through. Stir in soy sauce to taste.
Divide among serving bowls and top with chopped cilantro.
* Thai chilies are HOT, so handle with care (we recommend using gloves when slicing them). Two chilies make this soup extra spicy. For slightly less spice, discard the seeds, or use a single chili instead.
Did you make this recipe?
Let us know what you think!
Leave a Comment below or share a photo and tag me on Instagram with the hashtag #loveandoliveoil.
Compensation for this post was provided by New World Pasta via AOL Media. The opinions expressed herein are those of the author and are not indicative of the opinions or positions of New World Pasta or AOL.