It's been about 10 months since my last book post. In that time I've probably read 25 books. Some good, some great, some downright awful. I actually felt like there were a lot more good ones in that 10 month period, but going back through my reading list, only a handful got five stars.
Maybe I'm a harsher critic than I realize.
Honestly, I'm easily entertained. I have an active imagination and it doesn't take much to surround me in a story, which is probably why I enjoy reading so much. If a book keeps me engaged, it's going to get at least 3 stars. If I can truly say I enjoyed the book, it'll get 4 stars, which is probably my most common rating. I reserve my precious 5 star ratings for the books that have me reading as fast as my little eyes will allow, dying to find out what happens next. Books that make me consciously turn off the TV to read instead. Books that have you still lost in their world long after you've read the last page.
On the other end of the spectrum, a book has to be honestly and truly bad for me to give it 2 stars. A 1 star book would be one I couldn't even finish. And so far, there haven't been any of those.
Anyway, as un-scientific as my rating system may be, today I want to share my latest 5-star books. I figure every time I have about six new 5-star books to share, I'll do another book post. Sound like a plan?
Now, get reading!
(FYI there are affiliate links in this post. Click if you want, or don't. Just know that by doing so, you're supporting my ravenous reading habit.)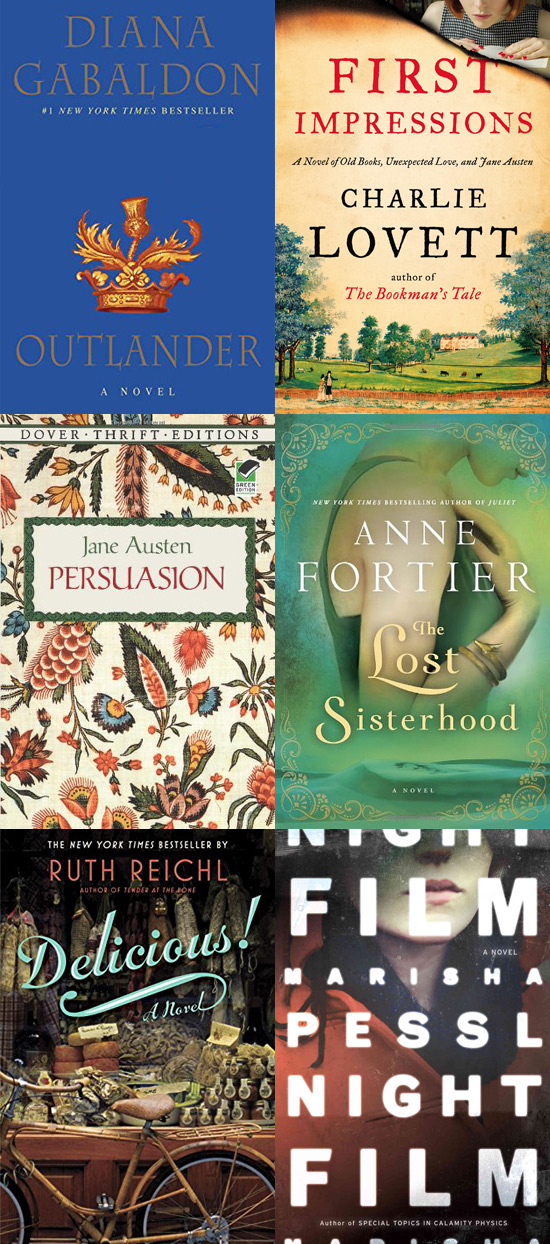 Outlander – I am IN LOVE with this series. Like, obsessed. I'm more than halfway tempted to upgrade our already-pricy cable package to get Starz, just so I can watch the TV series based on the books. The first episode was free on OnDemand, and I got excited thinking I could watch them all, but, alas, the rest are only for Starz subscribers. But anyway, we're talking about books here, not TV. And the books I can honestly say are as engaging as a good TV show, if not more, despite their intimidating length. I'm in the middle of the 4th book currently, and am pleased as punch that there are still 4 more to go. I will admit, however, that some of the descriptions, especially of the hunky Scot named Jamie, can get a bit repetitive. Yes, yes I know his hair is the color of copper, and his wide shoulders and blue cat eyes are dreamy… uh, anyone want to go to Scotland with me? :)
First Impressions – Charlie Lovett is 2 for 2. If you recall, his first book, The Bookman's Tale, was on my last list, and this one is as good as the last. A book for book lovers, and a must read for anyone who loves and appreciates Jane Austen. Is it bad that this made me want to go out and buy some antique books? Not that I have the space, but I feel like my life would be so much more meaningful with a few dusty old books on my shelves. Now, Charlie, when can we expect #3? :)
Persuasion – Charlie Lovett inspired me to read more Jane Austen, who I admittedly hadn't read since college when I was forced to do so. And honestly, after the first few chapters I was ready to give up entirely, the sentence structure alone took some time to get used to (dear Jane, could it hurt you to use a period every once in a while?) Rather than my normal fast-paced skimming, I really had to take my time with this one to understand what was being said. But it got better. Way better. And that letter… well, that just about did me in. I could read that letter a dozen times and still feel the heart-fluttering anticipation of true love. And there's no better feeling than that.
The Lost Sisterhood – I loved this book, which was recommended to me by my friend Leigh. It was good up until the half-way point, well on it's way to 4 stars, but it suddenly became amazing somewhere in Turkey and I simply couldn't put it down. Full of mystery, history, adventure, and romance… and some serious girl power. Strong, independent women who can also fall in love? That's my kind of heroine.
Delicious – This novel (yes! Fiction!) from former Gourmet editor Ruth Reichl is a foodie's delight. Obviously she knows how to write about food, but she manages to write a quite delightful story as well. It's not anything deep or insightful or the next great literary masterpiece by any means (I say that in a good way, sometimes those kind of books are simply too dense to be enjoyable), but this book was downright charming. A fun read, for sure, especially for anyone who loves food or New York City.
Night Film – This is perhaps the most unusual book of the bunch. The way it is written, piecemeal with snippets from newspapers and online articles and police reports, make you feel like you are part of the investigation, at the same time leaving you wondering what the heck is going on. While the characters aren't necessarily likeable or relatable, there's no denying that they are very interesting. This is not your typical mystery novel for sure and will keep you guessing until the very end.
—
Now, since last time I asked you guys gave me such awesome recommendations: tell me, what are your most recent 5-star reads?