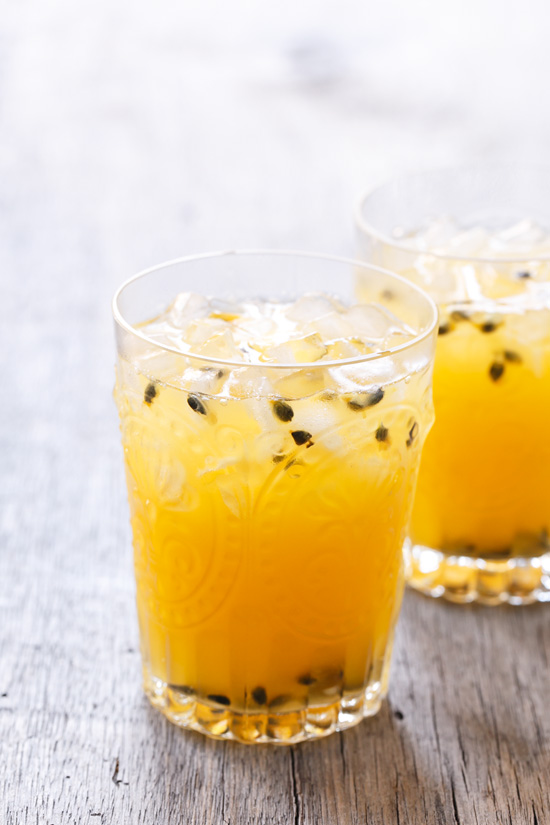 Well, that was fun.
Passion fruit week was a smashing success (in my opinion at least), and you all seemed to love the recipes as much as I did. I'm officially out of passion fruit now (sad face), so I guess it's back to the same-old-same-old next week.
To wrap things up I'd like to share this oh-so-simple and delicious recipe for passion fruit lemonade. The recipe was inspired by something Todd prepared for us during my trip to California a few weeks back (the same trip where I acquired said passion fruits) and that I knew was the perfect use for the last of them.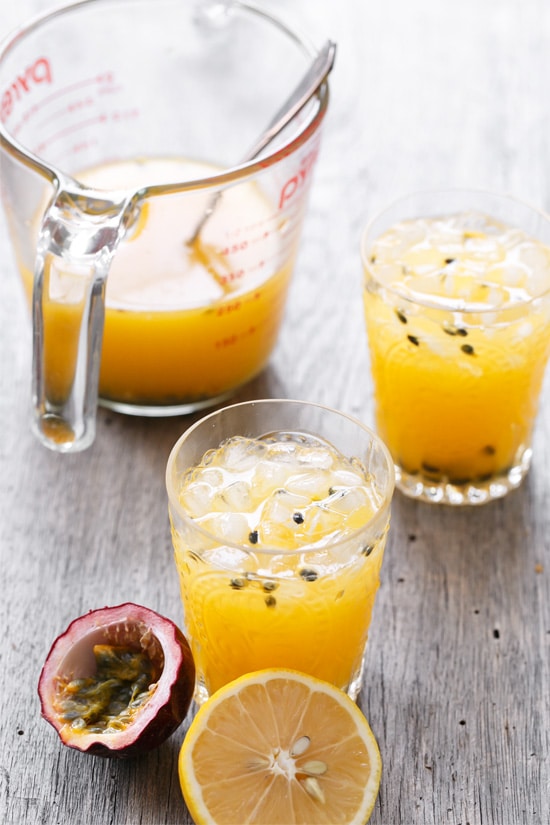 Essentially it's just lemonade, made with fresh squeezed lemon juice (in this case the sweeter Meyer lemons) and fresh passion fruit. A bit of water and simple syrup to taste, and voila. Passion fruit lemonade.
Meyer lemons are a cross between a traditional lemon and mandarin orange, so their skins are more orangey in color and their juice sweeter and less tart than standard lemons, making them the perfect companion for passion fruit. If you substitute regular lemons, you'll likely just need a bit more sugar to offset the sourness.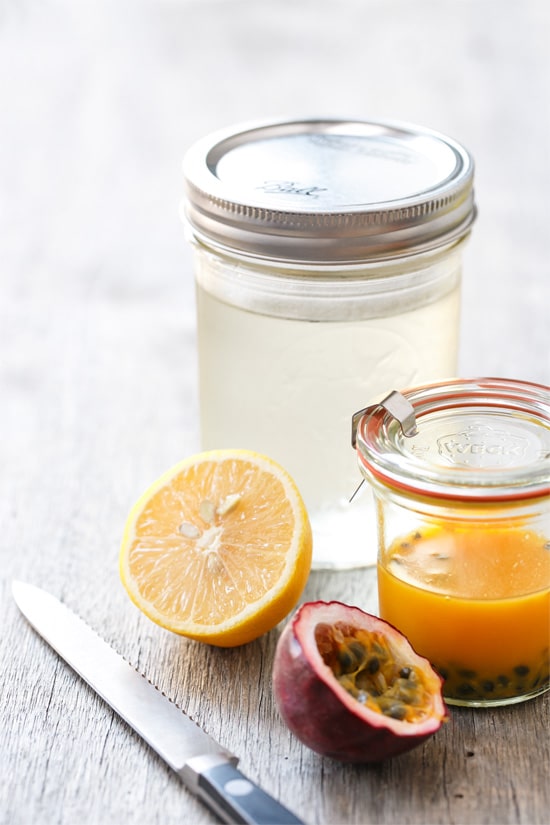 Despite the fact that the polar vortex is back in full force, sipping a glass of this lemonade made me feel like I was back in sunny Southern California. What a great way to bring a little sunshine into an otherwise frigid winter day (er, technically it's still fall. Not cool, mother nature, not cool).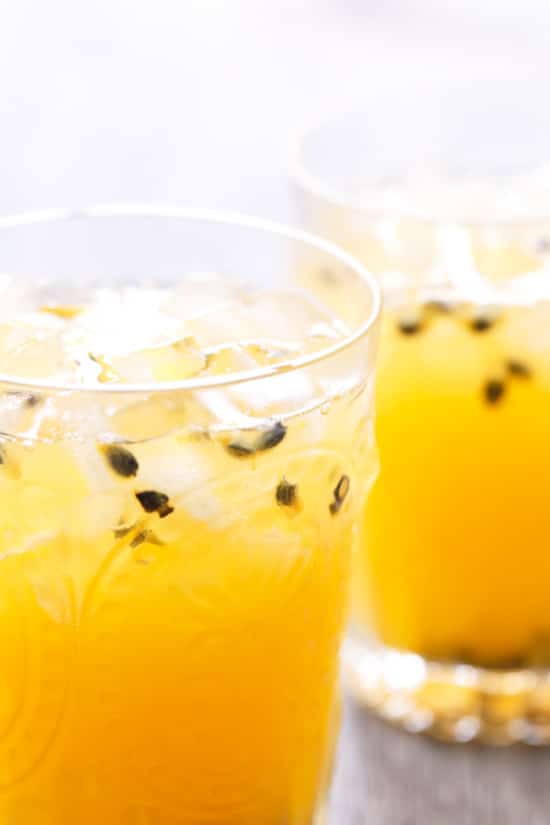 You'll need about 6 juicy passion fruits to make enough juice for 2 cups of lemonade (4 glasses worth, approximately). I needed a few more because a few of my fruits were slightly dried out and didn't have a ton of pulp. Scoop out the pulp and seeds, and press through a fine mesh sieve to extract as much juice as possible. Then, if desired, add back a spoonful or two of the seeds. It's a bit of a tedious process, but well worth it.
While the other passion fruit week recipes can easily be adapted to utilize frozen passion fruit puree or concentrate, this is one time when fresh really makes a difference, especially because you can incorporate the seeds into the final drink for added visual and textural interest. You wouldn't think that crunchy lemonade would be desirable, but in this case, well, it's perfection.
Passion Fruit Meyer Lemonade
Ingredients:
1/2 cup fresh passion fruit juice (from 5-6 passion fruit)
1/2 cup Meyer lemon juice (form 2-3 large lemons)
1 cup water
4-6 tablespoons simple sugar syrup*
Directions:
In a pitcher, combine passion fruit juice (option to add back some of the passion fruit seeds if desired), along with lemon juice and water. Add 4 tablespoons sugar syrup and stir to combine. Taste, then add additional sugar syrup as desired. Serve chilled over ice.

*To make a 1:1 sugar syrup, boil 1 cup sugar with 1 cup water until sugar is dissolved and syrup is completely clear. Transfer to a jar or heat-proof container and refrigerate until completely cool. Syrup will keep in the refrigerator for up to one month.

Did you make this recipe?
Let us know what you think!
Leave a Comment below or share a photo and tag me on Instagram with the hashtag #loveandoliveoil.