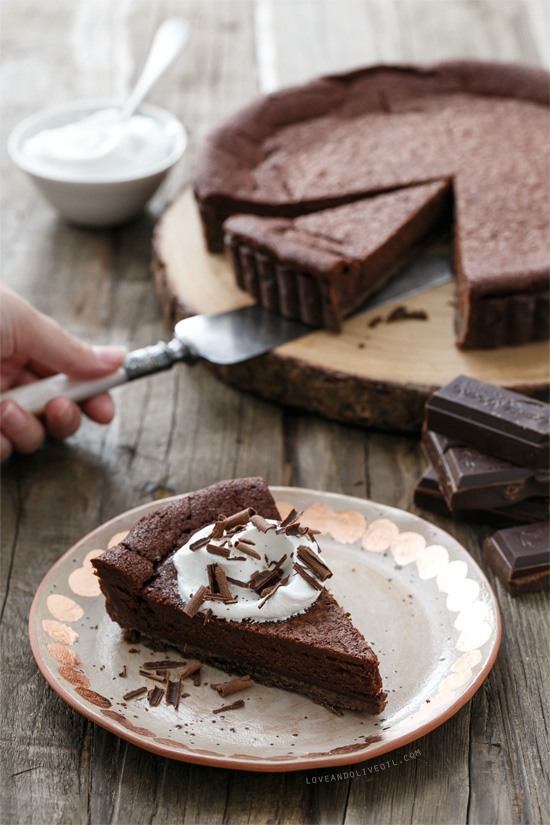 I just got back from Food Blog Forum in Asheville, North Carolina (full recap coming as soon as I can wade through all my photos), and by just I mean nearly two weeks ago (my how time flies). Overall an amazing event, one to remember, but without a doubt one of the highlights of the trip was getting to know Asheville's French Broad Chocolates, a bean-to-bar chocolate company dedicated to having a positive impact on their community and chocolate world at large.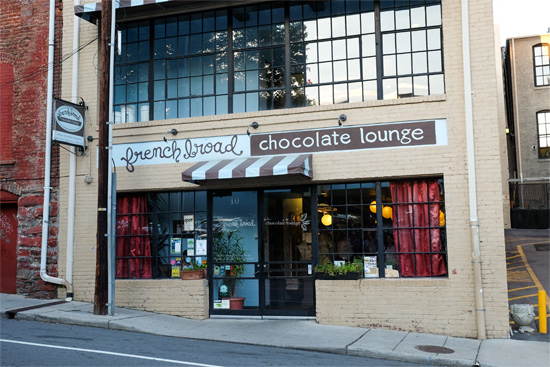 Owner Jael Rattigan attended the conference and provided plenty of tasty treats along the way, from one-bite chocolate espresso cupcakes to decadent salted honey caramels to strawberry balsamic truffles and blueberry beet macarons (I die). I enjoyed speaking with her over the course of the two-day event, her passion and dedication to her craft apparent in everything she said.
But the thing that made my heart flutter more than anything was the Lindsay-sized bar of baking chocolate she so generously provided to all of the attendees. It reminded me of the "Pound Plus" bars from Trader Joe's, except so much better.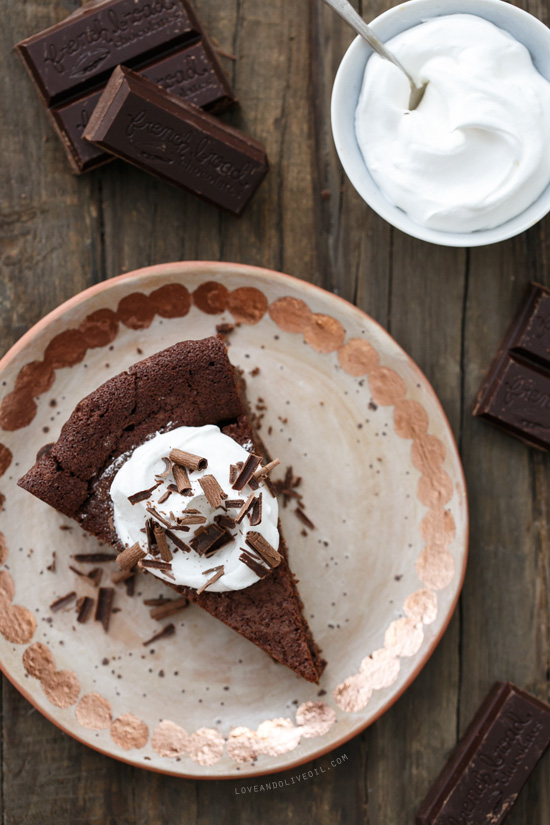 But just what to DO with a gigantic bar of beautiful chocolate? The decision was harder than I thought. I have a tendency to 'hoard' the good stuff, opting for decent but lesser-expensive chocolate and ingredients for my everyday baking. The problem is that I'm always saving the good stuff for something special, and my definition of "special" is, apparently, too lofty. I'll admit, I've let some amazing ingredients expire, and for that I should be ashamed (believe me, I am).
Not wanting to let one of Jael's chef tablets to go to waste, I immediately started scouring recipes for the perfect use for this gorgeous chocolate. The 68% bar is sustainably sourced from Nicaraguan cacao beans, and has a bright, fruity flavor, and sultry molasses undertones that left me perplexed until I finally figured out what I was tasting. It's definitely not your ordinary chocolate baking bar, and I knew it deserved something special. After an exhaustive search, I stumbled upon this Chocolate Bourbon Tart from Food & Wine and, given my penchant for boozy baking, it seemed like the perfect recipe.
Perhaps the recipe was doomed from the get-go. The crust failed in a stupendous manner, leaving me skeptical for the recipe's success as a whole. The pastry dough was way too soft, making it almost impossible to roll and transfer to the tart pan (I ended up pressing it in instead). Then, the foil stuck to the crust during the par-bake (no mention of buttering, alas) and the crust rose in almost cookie-like pillows, spilling out over the edge of the tart pan.
It was not pretty. Or tasty.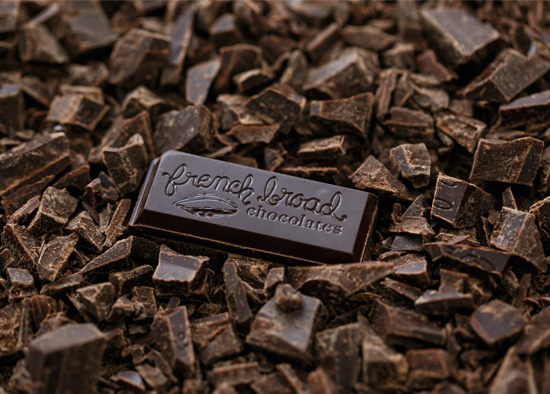 Luckily, the crust failed before I wasted any of my precious chocolate. So I simply started over with a different crust recipe (courtesy of the lovely Laura, who apparently knows her pastry better than Food & Wine). That crust worked perfectly.
With my crust cooling, I hesitantly moved on to the filling, crossing my fingers that it wouldn't follow the same pattern as the crust.
I'll tell you this: it's not how I would have written a recipe. First of all? The sugar, which is supposed to dissolve into the hot bourbon without ever boiling, never really did. After about 10 minutes with sugar granules still visible I finally gave up and moved on and dumped the hot sugary booze into the bowl with my chocoalte. The chocolate, the beautiful bittersweet chocolate, seized up as soon as it began to melt and mix with the bourbon. It was one of those "WHAT HAVE I JUST DONE" moments, thinking of the 10 ounces of my precious chocolate that I had just wasted. I moved on nonetheless (if it's ruined I may as well keep going, such was my skewed logic at the time), and luckily the filling came together once the eggs and butter were added.
The result? It's good. Rich, decadent chocolate. Basically a brownie gussied-up in a chocolate crust. We enjoyed it, sure, devouring it with ice cream or whipped cream to cut the richness of the chocolate. But is it worthy of your best block of bittersweet chocolate? Probably not. I hate to say that about recipes but in this case, it's the truth.
Oh, you can't really taste the bourbon. Despite using a full 1/3 cup in the filling. That alone was disappointing. But hey, it was pretty, and decadent, and maybe a gussied up brownie sounds like your ideal dessert. So I figured I'd post it anyway.
Maybe in the future I need to save my good chocolate for tried and true recipes. Or use the cheap stuff to test a new recipe, and only when it's proved itself in my kitchen is it deemed worthy of the good stuff.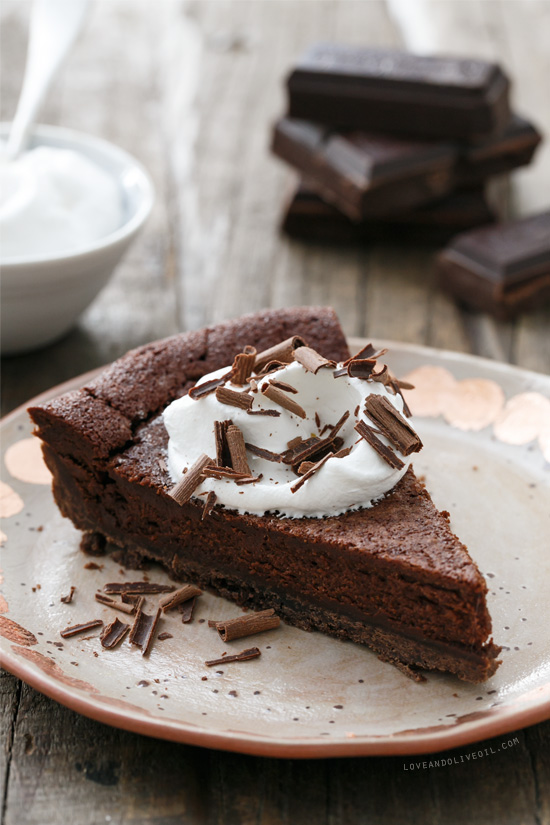 I scaled the original recipe down to fit my 9-inch tart pan (that high school Algebra class is actually paying off, go figure!) If you happen to have a 10 inch tart pan please refer to the original recipe (although I'd recommend finding an alternative crust).
If you had half a bar of beautiful artisan chocolate just waiting to be used, what would YOU make? I'm totally open to suggestions since this chocolate deserves SO much more.
Bittersweet Chocolate Bourbon Tart
Ingredients:
For Crust:
6 ounces (1 1/2 sticks) unsalted butter, softened
3 1/2 ounces (3/4 cup) powdered sugar
1 egg
pinch of salt
1 ounce (1/4 cup) Dutch-processed cocoa powder, sifted
8 1/2 ounces (1 3/4 cup) all-purpose flour
For Filling:
10 ounces bittersweet (60-70%) chocolate, finely chopped
1/4 teaspoon salt
1/3 cup bourbon
3/4 cup sugar
13 tablespoons unsalted butter, cut into small pieces, at room temperature
4 large eggs, at room temperature
Directions:
To prepare the crust, ccream butter in a stand mixer on medium-high speed for 2-3 minutes. Add the powdered sugar and beat until light and fluffy. Add egg and salt and mix on low speed until just combined, scraping down the sides of the bowl as needed. Add sifted cocoa powder and mix until just incorporated. Add flour, a little bit at a time, until just combined. Knead a few times until dough comes together in a ball; flatten into a disc and wrap tightly with plastic wrap.  Chill for 1 to 2 hours or until firm.
Preheat oven to 350 degrees F. Remove dough from fridge and let sit for 5 minutes to soften slightly.
On a lightly floured work surface, roll the dough to a 1/4 inch thick round, about 10 inches in diameter. Transfer the pastry to a 9-inch fluted tart pan with a removable bottom. Gently ease the pastry into the pan, taking care not to stretch it. Run your rolling pin over the top of the pan to trim off excess gouh. Chill for 15 minutes or just until firm.
Line the pastry with foil or parchment paper and fill with pie weights or dried beans. Bake for about 15 minutes, then carefully remove the foil and weights. Return the shell to the oven and bake for about about 10 minutes longer or until dry. Transfer to a wire rack and let cool to room temperature.
For the filling, place finely chopped chocolate in a heat-proof bowl or the bowl of a stand mixer fitted with the whisk attachment.
In a small saucepan, heat the bourbon and sugar over moderate heat, stirring until the sugar is dissolved; try not to let the mixture boil. Pour the warm bourbon mixture over the chocolate. Turn the mixer on and add the pieces of butter, a few pieces at a time, along with the eggs, and mix on medium speed until shiny and smooth.
Pour filling into tart shell, taking care not to overfill (it should come to within 1/4-inch of the top of the shell, you may have some batter leftover). Bake for 35 to 40 minutes, until the center is puffed and begins to crack. Place on a wire rack and let cool completely, then refrigerate overnight. Cut into wedges with a sharp knife and serve with vanilla ice cream or freshly whipped cream.
Did you make this recipe?
Let us know what you think!
Leave a Comment below or share a photo and tag me on Instagram with the hashtag #loveandoliveoil.