…I first said hello to the world under the banner of Love & Olive Oil.
It's a special day for us, for obvious reasons.
Two years ago to celebrate 5 years of blogging, I threw a birthday bash.
And last year, I shared with you some of the very first images, showing just how far I've come (spoiler: A LONG WAY).
But I was at a loss for what to do this year. I didn't want to skip it, because 7 is my lucky number, after all. That's no small feat, keeping a blog going for 7 years, and I didn't want it to go unrecognized.
Julie suggested I share a photo of Taylor and myself from 7 years ago. So I opened up the old iPhoto library and scrolled back to see what I had in the way of old photos…
And sure enough….
That's 24-year-old Taylor, enjoying our home-cooked Valentine's day meal (in his pajamas, how romantic). But that salad he's eating just so happens to be the very first recipe I ever posted on this here blog.
And that's 21-year-old me, baking a cake. This cake, to be exact. The second recipe I ever published, posted later that day.
I'll have you note that I am NOT in my pajamas.
The fact that I had these images blows my mind. My iPhoto library was quite sparse until later that year, when I graduated collage and we moved to Nashville and I started to get more comfortable with my digital camera. That I even had these photos, blurry as they may be (I was still learning how to use my camera, apparently), was incredible enough, but the fact that they depicted us making/enjoying the exact meal that comprised my very first post…
Well, that's just fate.
And while a lot has happened in the past 7 years, graduating and moving and starting a business together and buying a house and getting married and adopting a few more cats and writing a few cookbooks (and yes in that order)…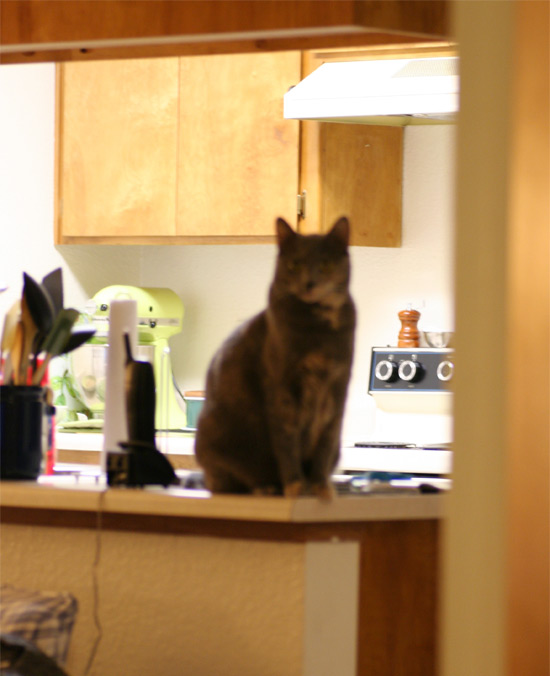 Some things never change.
Bad kitty.
Anyway, with 7 years behind us and (hopefully) another wonderful 7+ years ahead, I ask, what do YOU want to know?
We've done this once before to celebrate 3 years of blogging: opening ourselves up to your questions. Ask us anything! What do you want to know? Lindsay's top 5 books of all time? The one food Taylor refuses to eat? What advice we'd give to a new blogger? Any subject is fair game, whether it's about us, the blog, food, Nashville, the cats… seriously. Just ask.
We'll answer some questions here over the next few weeks. While I can't promise we will get to every question, I do promise we'll be completely candid and honest in our answers.
So, what are you waiting for, ask away!