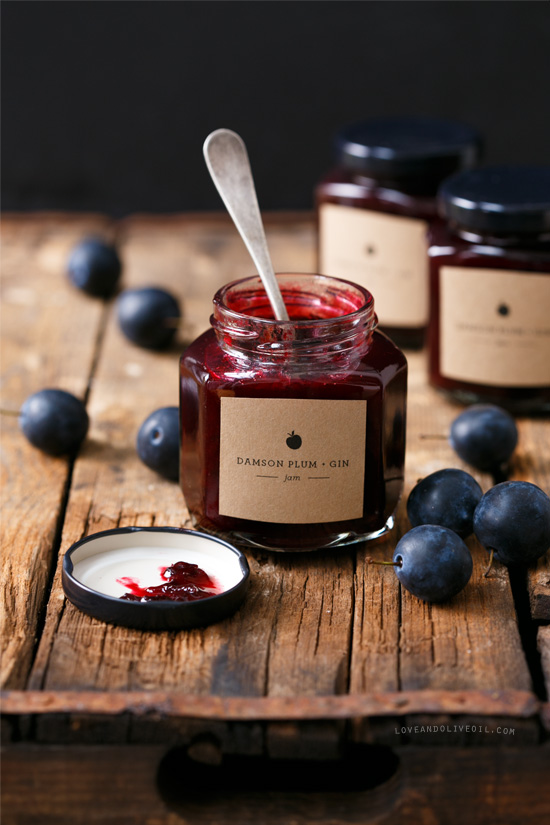 Finding the elusive Damson plum in the wild (aka the farmers' market) is like hitting the culinary jackpot. I somehow stumbled across the diminutive fruit two years ago, where I made a batch of what is still one of my favorite jams. It was a complete fluke that I saw the fruit that first time, and sheer luck that I stopped and took a closer look, rather than dismissing them as abnormally large grapes (I can't stand grapes).
Alas, last year I struck out, not quite remembering when I had found them the year before so I didn't know whether to start looking in July or September. My plum-lessness could have also been due to the unusual heat that assaulted us last summer, perhaps preventing the plums from coming to fruition at all (or fruit-ion, if you will). Either way, I was bummed. Plum bummed.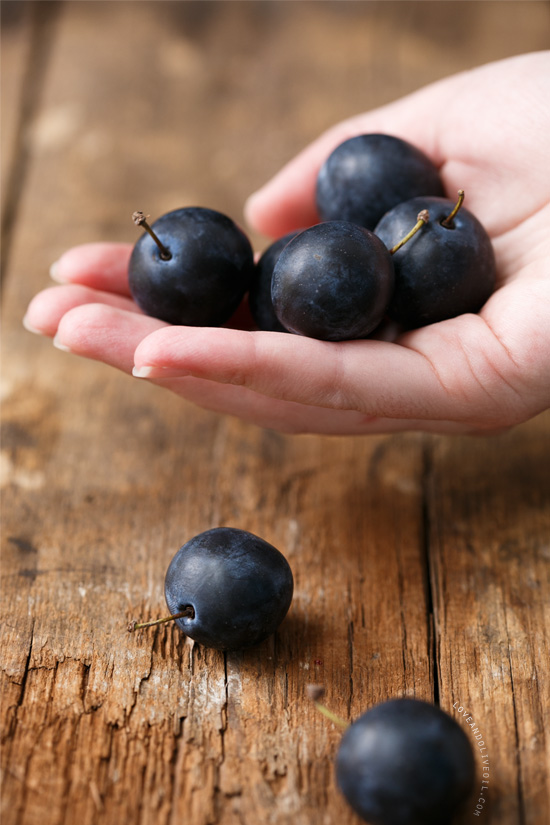 This year, I struck gold indigo. During a quick trip to the market for a tomato or two, I could barely contain my glee when I spotted a vendor filling a basket with dark purple gems. In fact, they kind of look like mutant blueberries, with the same mottled skin and clear flesh. Giant blueberries with pits.
As I observed two years ago, the plums themselves aren't anything special. The skins are tart and tannic, and the flesh, while clear and sweet is not nearly as flavorful as the more common plum varieties. They're really not worth eating on their own.
In my mind, they are destined for one thing and one thing only: jam. Glorious jam.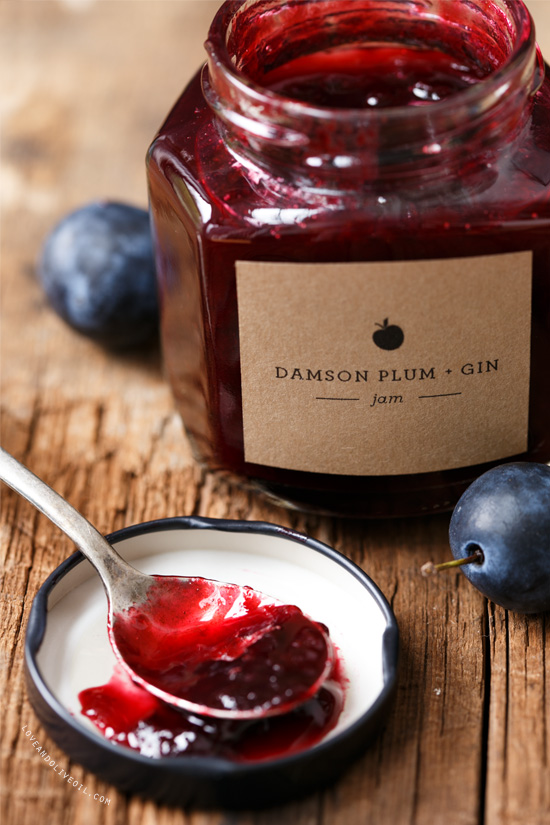 This year, however, while I used the same base recipe as before, I decide to add a generous swig of gin. I know one of the other uses for these plums is an infused gin, so I figured that gin and plums are a proven combination. While the gin flavor is subtle, it does add a slight herbal fragrance and spicy finish that the jam wouldn't have otherwise.
I hope you all don't think I have a drinking problem, despite the boozy nature of my posts recently. Rather, I have a baking problem: the bottles of bourbon and gin and wine and Taylor's precious beer are more apt to end up in baked goods or jam than my glass, which 90% of the time is filled with ice water or gingerale. Go figure.
Be sure to click through for the recipe and BONUS printable labels!
Damson Plum & Gin Jam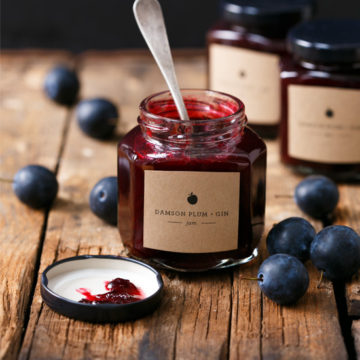 Ingredients:
3 pounds damson plums, pitted
3 cups granulated sugar
1/2 cup lemon juice
1/4 cup gin
Directions:
Place pitted plums in the bowl of a food processor; pulse briefly until coarsely chopped (do not purée). You can also chop the plums by hand if you prefer a coarser texture.
In a large nonreactive bowl, gently toss the plums with the sugar. Cover and let stand at room temperature for at least 4 hours or in the refrigerator overnight.
Prepare canner and wash/sterilize 6 half-pint (or equivalent) canning jars. Keep jars in hot (not boiling) water until ready to use. Place 2 or 3 small plates in the freezer.
Transfer the plums to a large nonreactive saucepan and add lemon juice and gin. Bring to a boil over medium-high heat, then reduce heat to medium and cook, uncovered, for 10 minutes, stirring frequently. Spoon 1 teaspoon of jam onto a chilled plate to test if the jam is ready (the jam is ready if it wrinkles when nudged gently with a finger). If it isn't yet ready, continue to cook for 1 to 2 minutes, then test again on a clean plate.
Ladle hot jam into jars, leaving 1/4-inch of headspace. Remove any air bubbles and adjust headspace, if necessary. Wipe the rims clean and top with lid; screw on ring until finger tight. Process in a boiling water bath for 10 minutes. Remove from water and let cool completely, 12 to 24 hours. Check seals. Any unsealed jars should be refrigerated and used within 1 month.
Did you make this recipe?
Let us know what you think!
Leave a Comment below or share a photo and tag me on Instagram with the hashtag #loveandoliveoil.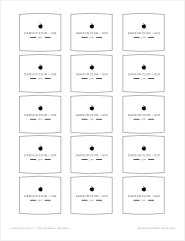 Bonus! Because there's nothing more depressing than a naked jar. These pretty, rustic labels will make your jam as sweet on the outside as it is on the inside.
I'm offering these jam labels to you, free for personal use. Simply download the printable file, then print onto full-sheet sticker paper (I used a brown kraft label paper from onlinelabels.com, but you could use white or any color, really). Cut out the labels and apply directly to the the finished jars. These labels were designed to fit these 6 oz oval hex jars, but should fit most standard mason jars as well.
Disclaimer: Copyright Love & Olive Oil. For personal use only. If you post about or share these labels, please credit appropriately and do not link directly to the downloadable file but rather to this post. Please do not distribute these downloadable files. Thank you much!