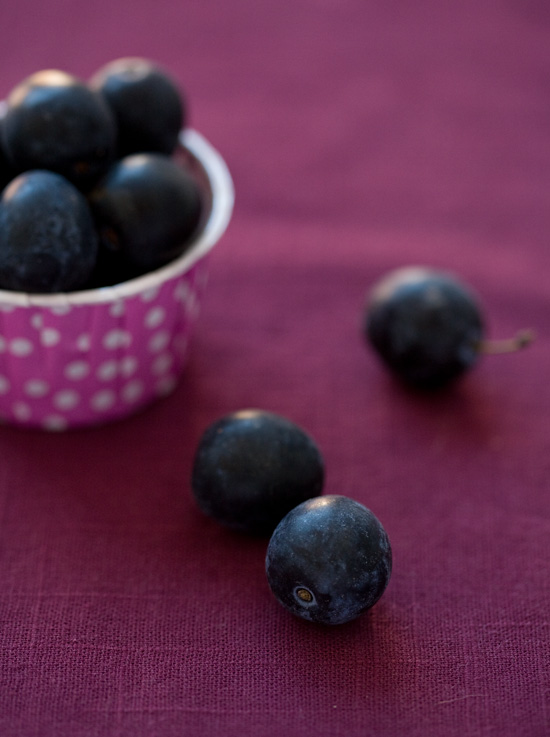 Why hello, there, adorable little plums! I almost mistook you for grapes. I'm sure glad I didn't, because you are as delicious as you are precious. Yes you are!
New to me, I'd never heard of a Damson plum before. But luckily I didn't pass them by when I saw the basket at the farmers market, but rather stopped and took a closer look. And then bought some. With no particular plans in mind.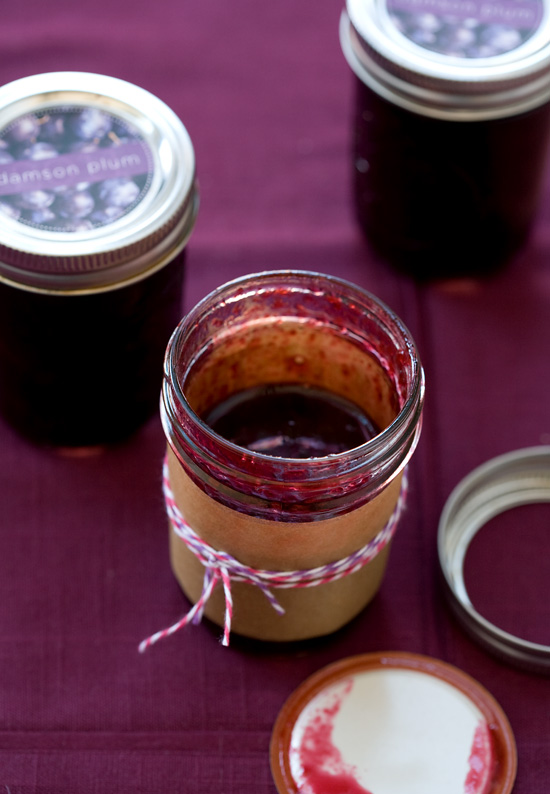 It's no surprise they ended up as jam. What was a surprise was how rich and flavorful the jam was. The plums themselves were nothing extraordinary. Slightly tart, not very flavorful, nothing like a regular plum which can be incredibly succulent and juicy. But the resulting jam is filled with a rich fruityness that, if I hadn't actually made the stuff, I'd never guess it was made from these lackluster little plums.
I see this gorgeously rich purple jam spread onto toast for a mid-morning snack; mixed with some exotic spices and used as a sweet and savory marinade; warmed and drizzled over vanilla bean ice cream.
You know what? This unexpected jam might just be my favorite one yet. All because of a surprise market find and an on-a-whim purchase. Fate? Perhaps. Delicious? Most definitely.
Damson Plum Jam
Ingredients:
3 pounds damson plums, pitted and quartered (can also substitute other plums or pluots)
3 cups granulated sugar
1/2 cup lemon juice
Directions:
In a large nonreactive bowl, gently toss together the plums and sugar. Cover and let stand at room temperature for at least 4 hours or in the refrigerator overnight (but if you're pressed for time, 30 or 40 minutes will do you just fine!).
Prepare canner and wash/sterilize 6 half-pint mason jars. Keep jars in hot (not boiling) water until ready to use. Place 2 or 3 small plates in the freezer.
Transfer the plums to a large nonreactive saucepan and add lemon juice. Bring to a boil over medium-high heat, then reduce heat to medium and cook, uncovered, for 10 minutes, stirring frequently. Spoon 1 teaspoon of jam onto a chilled plate to test if the jam is ready (the jam is ready if it wrinkles when nudged gently with a finger). If it isn't yet ready, continue to cook for 1 to 2 minutes, then test again on a clean plate.
Ladle hot jam into jars, leaving 1/4-inch of headspace. Remove any air bubbles and adjust headspace, if necessary. Wipe the rims clean and top with lid; screw on ring until finger tight. Process in a boiling water bath for 10 minutes. Remove from water and let cool completely, 12 to 24 hours. Check seals. Any unsealed jars should be refrigerated and used within 1 month.
Did you make this recipe?
Let us know what you think!
Leave a Comment below or share a photo and tag me on Instagram with the hashtag #loveandoliveoil.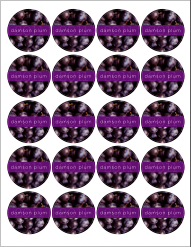 Bonus! I always design them (naked jars have no place in my home), so I may as well share them. These labels compliment this rich purple jam perfectly. Simply print and stick and voila! Pretty pretty package.
To use: View and download the label PDF by clicking the thumbnail to the right. Print out the labels onto full-sheet sticker paper. Cut out and adhere to your jar lids. They are perfectly sized for standard narrow-mouth canning jars. Need label paper? Try here or here.
Disclaimer: Copyright Love & Olive Oil. For personal use only. If you post about or share these labels, please credit appropriately and do not link directly to the downloadable file but rather to this post. Please do not distribute these downloadable files. Thank you much!