This hearty corn chowder features flavorful Italian sausage, sweet corn, and tender potatoes in a thick and creamy base, topped with some sweet and salty toasted pepitas for the perfect finishing crunch.
It might not look like much, but don't let its humble appearance fool you: this hearty chowder is ridiculously flavorful and perfectly satisfying on a crisp fall night.
We're due for our first freeze tonight, and while I'm lamenting the loss of my outdoor herbs, I am decidedly excited about the fact that it's officially soup season.
Taylor threw this recipe together on a whim last week, using up some sad peppers and half a bag of frozen corn, and both of us were shocked at how delicious it turned out. Between this and his ultimate turkey stew, I think it's safe to say he's the soup expert in our house. I, on the other hand, will stay in my lane and stick to cookies, thank you very much.
It might not look like much, but don't let its humble appearance fool you: this hearty chowder is ridiculously flavorful and ultra-satisfying. The main flavor comes from the Italian pork sausage, 1/2 a pound really goes a long way when it comes to flavor. Paired with sweet corn kernels, tender Yukon gold potatoes, and a splash of white wine, it comes together as a beautifully thick and creamy base, but still with plenty of chunky bits.
Top it with some chopped fresh cilantro and a handful of sweet and salty pepitas (my favorite part!) for a bit of crunch that makes this soup extra special.
A good soup recipe is 52% flavor and 48% texture. Especially something called a chowder, the texture needs to be thick and creamy with ample chunks of all the good stuff suspended throughout. No thin, watery chowder here!
Also: 12.5% extra credit will be awarded for crunchy toppings (which contribute much to the texture score as well).
In this case, the topping is a crunch of salty sweet toasted pepitas (which are similar to pumpkin seeds but without the tough outer shell). Make them ahead of time, and make extra as you'll undoubtedly find yourself snacking on them as you prepare the rest of the recipe).
To achieve the perfect chowder texture, we used a similar trick as our pasta e fagioli recipe and blended a bit of the soup base while leaving the rest loose and chunky.
The result is a soup that's undeniably creamy, without a speck of cream in sight (that said, I think a dollop of sour cream on top is *chef's kiss*). I also think that a bit of crumbled cotija cheese, feta or goat cheese would be equally delectable.
If you prefer a thinner soup, simply add a splash of water or chicken broth at the end. If you reheat this soup you may need an extra splash of liquid, as soups like this tend to be even thicker the next day (that said, this corn chowder makes for fabulous leftovers.)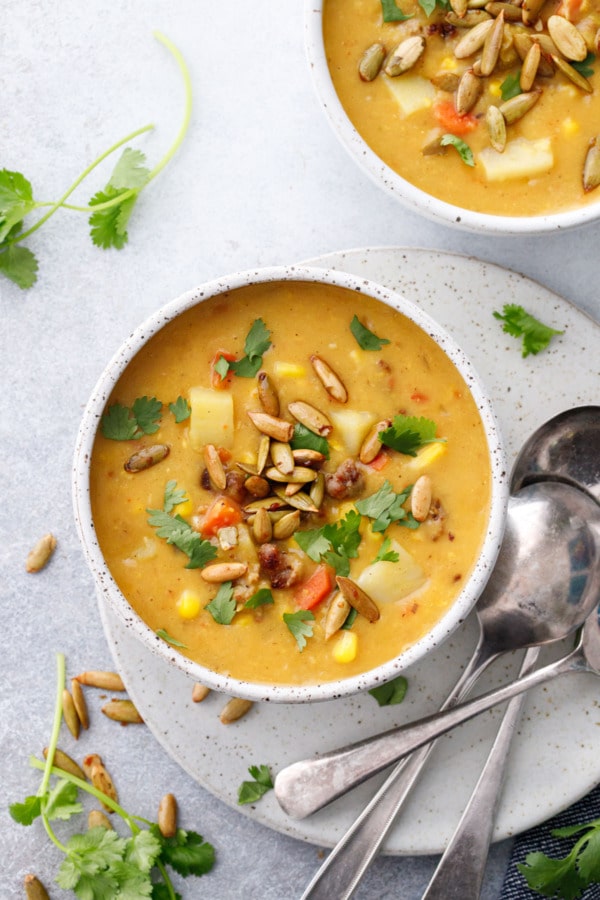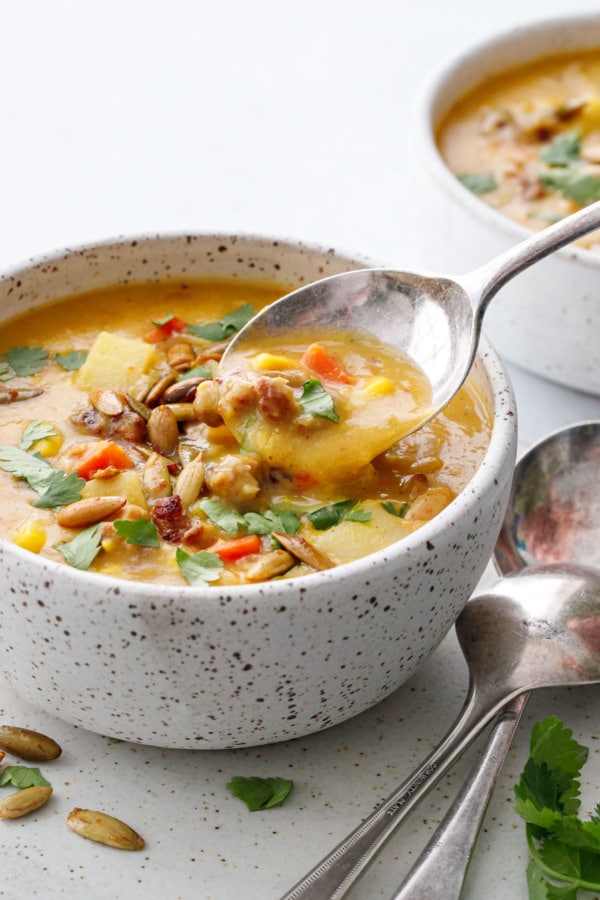 Swaps & Substitutions
Unlike baking recipes where any slight deviation can cause disastrous results, a savory soup recipe like this one is infinitely adaptable.
Cilantro: I see you, haters. Don't despair, garnish with thinly sliced green onions or some microgreens instead.
Potato: Sweet potato perhaps? Or even cauliflower if that floats your boat.
Sausage: Plain ground pork works fine (add a bit of extra spice and seasoning to suit your tastes). Use bulk chorizo for a more Tex-mex flavor. Bacon or pancetta even (though probably less of it, 4oz I think). Feel free to swap in a vegan sausage or soy chorizo here too (use veg broth and you have yourself a vegan dinner delight!).
Pepitas: All pepitas are pumpkin seeds but not all pumpkin seeds are pepitas. The main difference is pepitas come from specific varieties of thin-skinned squashes, and lack the thick outer shell. Regular pumpkin seeds will work, or you can swap in some hulled sunflower seeds or maybe even toasted almonds, pine nuts or pistachios. But you definitely need some crunch on there somehow, so don't skip this part entirely.
Peppers: we used red and green bell peppers, but I think poblano peppers would be lovely. Or, in a pinch, a 4oz can of green chiles works too.
Sherry vinegar: The chowder needs just a tiny bit of acid to brighten the flavors at the end. Sherry vinegar is our personal fav for soups like this one, but you could use apple cider vinegar, or even a squeeze of lemon or lime juice too. Start small, 1/2 teaspoon or so to start, then taste and add more as needed.
Sausage & Corn Chowder
This hearty corn chowder features flavorful Italian sausage, sweet corn, and tender potatoes in a thick and creamy base, topped with some sweet and salty pepitas for the perfect finishing crunch.
Ingredients
For Toasted Pepitas:
1

cup

/

64

g

raw pepitas

2

teaspoons

olive oil

1

teaspoon

maple syrup

¼

teaspoon

fine sea salt
For Chowder:
2

tablespoons

olive oil

8

oz

/

226

g

raw Italian sausage

,

ideally bulk sausage, but if using links, remove casings first

¼

cup

/

60

ml

white wine

1

medium onion

,

chopped

1

medium carrot

,

coarsely chopped

1

red or green bell pepper or poblano pepper

,

diced

2

garlic cloves

,

finely minced

2

cups

fresh or frozen corn kernels

12

oz

/

340

g

yukon gold potatoes

,

peeled and cut into 1/2-inch pieces

2

cups

/

480

ml

chicken stock

2

cups

/

480

ml

filtered water

,

plus more as needed

1

dried bay leaf

salt and freshly ground black pepper

,

to taste

½

teaspoon

sherry vinegar

,

more or less to taste

chopped fresh cilantro

,

for topping
Instructions
To make pepitas, preheat oven to 350 degrees F. Toss pepitas with olive oil and maple syrup until evenly coated. Dump onto a parchment-lined baking sheet and spread into an even layer; sprinkle with salt. Bake for 10 minutes, then stir and bake for another 5 to 10 minutes or until seeds are lightly browned and you can hear them crackling. Set aside and let cool. Pepitas can be made ahead of time and, once fully cooled, stored in an airtight container at room temperature.

Heat olive oil in a large saucepan or Dutch oven over medium heat. Add sausage and cook, breaking meat up into small pieces, until cooked through and browned, about 10 minutes. Use a slotted spoon to transfer sausage to a paper towel-lined plate and set aside.

Return saucepan to medium heat. Add white wine and deglaze, scraping up any browned bits on the bottom of the pot.

If your sausage was on the dry side, add a splash of olive oil or butter if necessary. Add onion, carrot, and pepper and sauté until softened and starting to brown in spots, about 8 to 10 minutes. Season generously with salt and pepper. Add garlic and cook until fragrant, another minute more.

Add corn kernels, potato, chicken broth, water, and bay leaf. Bring to a boil, then reduce heat and simmer, uncovered, for about 20 minutes or until potatoes are fork tender. Discard bay leaf.

Carefully ladle about 2 cups of soup into a blender (be very careful blending hot liquids!), and blend on high until smooth and creamy. Return to saucepan along with sausage and stir to evenly incorporate and re-warm sausage. If it's too thick for your liking, add a splash of water or chicken broth as needed. Stir in sherry vinegar. Taste, and add additional vinegar, salt and pepper to taste.

 Spoon into serving bowls and top with chopped cilantro and toasted pepitas.
All images and text ©
for Love & Olive Oil.
Did you make this recipe?
Let us know what you think! Leave a Review below or share a photo and tag me on Instagram with the hashtag #loveandoliveoil.