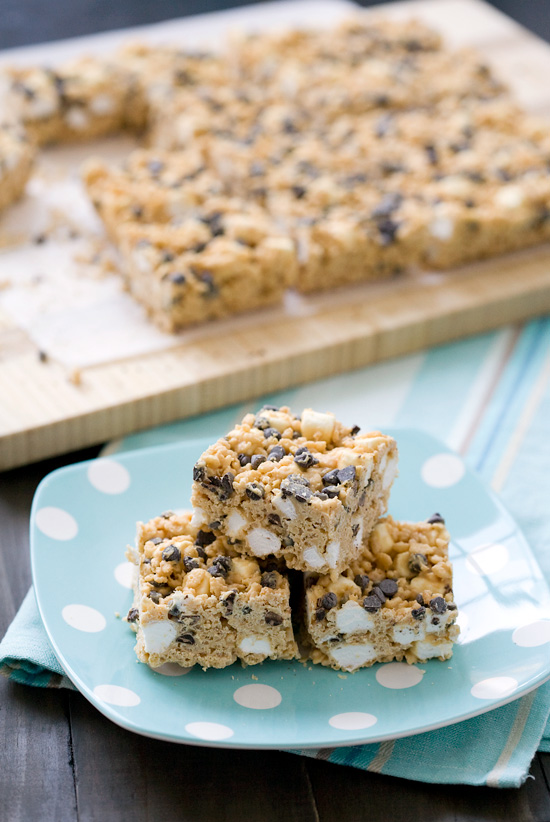 I had a special place when I was a kid, called the Rocky Mountain Chocolate Factory. When I had been extra good, or my parents were in an unusually good mood, we'd go into town and I'd get a treat.
Now, I wasn't one to just choose a treat willy nilly. I'd weigh my options, factoring in deliciousness (of course), but also the size and price. The measly little truffles, as good as they may be, weren't worth it. I was only getting one treat and I wanted to make it a good one. I wanted more bang for my parents' buck.
More often than not, I'd end up with an Avalanche Bar. A fist-sized square of crunchy, peanut buttery goodness. And I'd enjoy every last bite.
Yes, the Rocky Mountain Chocolate Factory was my special place. And seeing as we lived in the Rocky Mountains, I thought it was a local joint. I was excited when one popped up in the Denver airport (Mom! Dad! But I need a snack for the flight!), but when I spotted one in Florida (of all places), my special place wasn't so special anymore. Florida is about as far from the Rocky Mountains as you can get, why on earth do THEY have a chocolate factory? Apparently 7-year-olds don't quite understand the concept of franchising.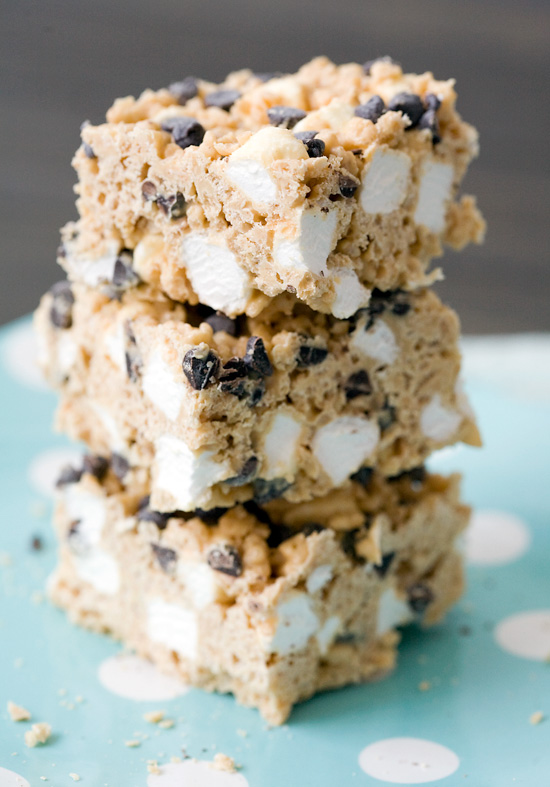 I don't think I've stepped foot in a Rocky Mountain Chocolate Factory in 15 years. The one in my hometown has long been replaced by some fancy-schmancy jewelry store, and the airport versions just don't have the same appeal. But that's not saying I haven't thought of my beloved avalanche bar plenty of times during those years. To be honest, I'm not sure why I didn't seek out a recipe for them sooner. But the fates collided when a recipe popped up on my radar just a few weeks ago. The Internets have a way of knowing just what you're craving (or, rather, revealing things you didn't know you were craving).
Call it a fancy rice crispy treat if you must, (and don't get me wrong because these truly were delicious), but the Avalanche bar I remember was a bit less crispy and a bit more smooth and fudgy. At least, that's what I think I remember. Perhaps I need to seek out the nearest Rocky Mountain Chocolate Factory and engage in some good old fashioned research.
Yes, that sounds like a good plan to me.
Rocky Mountain Avalanche Bars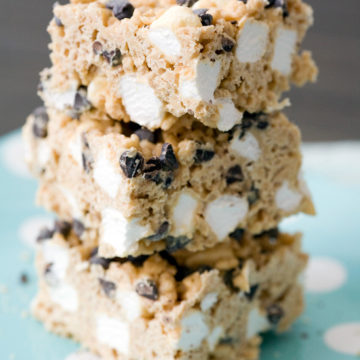 Ingredients:
12 oz (2 cups) white chocolate chips or chopped white chocolate
1/4 cup creamy peanut butter
3 cups crisp rice cereal
1 1/2 cups mini marshmallows
1/3 cup mini semisweet chocolate chips
Directions:
Lightly grease an 8-by-8-inch square baking pan. Alternatively, line with lightly greased parchment paper. This recipe can easily be doubled to fit a 13-by-9-inch baking pan.
In microwave-safe bowl, melt the white chocolate chips in the microwave on medium powder for 30 seconds. Stir and heat for an additional 1 to 2 minutes, stirring every 30 seconds, until the chocolate is melted.
Add the peanut butter to the melted chocolate and stir until smooth.
Place the rice cereal in a large bowl. Pour over melted chocolate mixture and gently toss until completely coated. Continue to stir until the mixture is no longer warm to the touch, about 10 minutes.
When the cereal mixture has cooled, fold in the marshmallows and 1/3 cup of the mini chips.
Spread into prepared pan, compressing lightly with the back of your spoon. Don't press too hard or you'll crush the cereal. Sprinkle with remaining chocolate chips and press lightly to adhere. Refrigerate until set, at least 30 minutes, then cut into 2-inch squares and serve. Bars will keep, covered in the refrigerator, for up to 5 days.
Did you make this recipe?
Let us know what you think!
Leave a Comment below or share a photo and tag me on Instagram with the hashtag #loveandoliveoil.