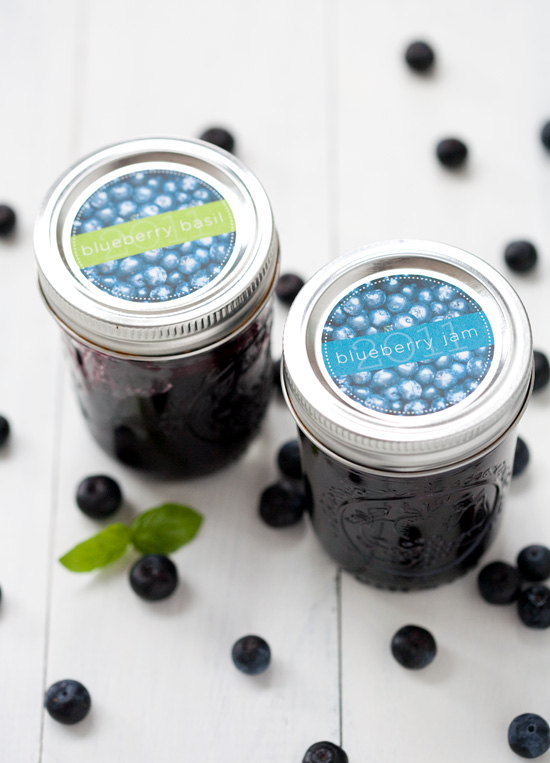 Is there such as thing as canning withdrawal? Because I think I have it. Bad.
I missed strawberry season. Whoosh. It completely passed me by. And I was bummed. I didn't start canning until after strawberry season last year, and it was one of the things I was most looking forward to this spring. Unfortunately, I was busy doing other things, things that didn't involve fruit or canning. And I just didn't have the time.
But when I finally had a weekend, a free weekend, I hoped I hadn't missed blueberry season too. So began the hunt for a local berry farm that still had berries. I probably called a dozen places. Only two had berries available for picking. So off we went.
Less than four hours later, a gallon of the beautiful, late summer blueberries became eight jars of gorgeous, deeply violet jam.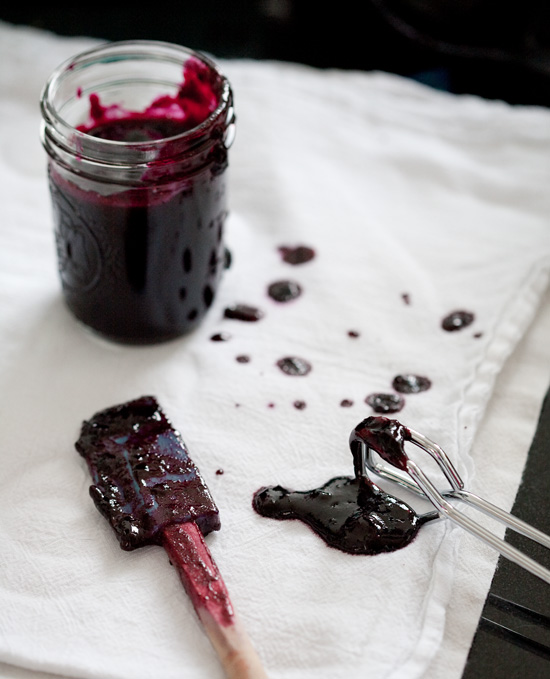 Why yes, I did ruin that tea towel, thanks for asking.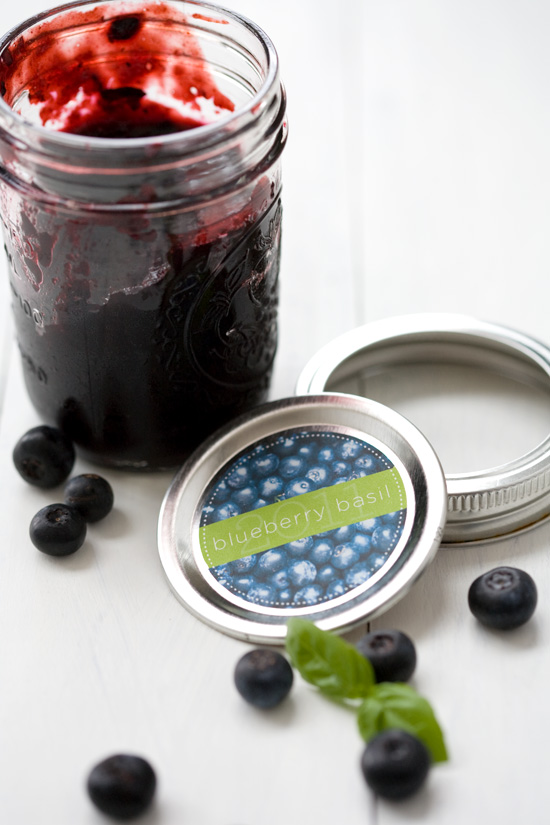 I made half a batch of good old, plain blueberry jam per Taylor's request ("Don't put anything weird in it.") But the second batch, I had visions of blueberries and herbs dancing in my head. Basil, to be precise, but you could use thyme or lavender or lemon verbena. I think blueberries lend themselves very well to herbal infusions.
Blueberry Basil Preserves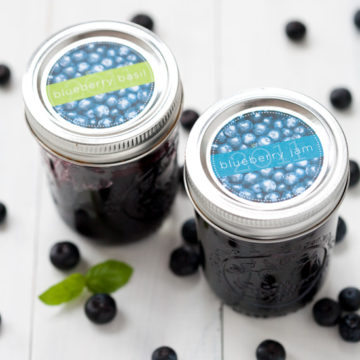 Ingredients:
10 cups whole blueberries (about 3 1/2 pounds)
4 1/2 cups granulated sugar, divided
1 package no/low sugar powdered pectin
1/2 cup fresh basil leaves, coarsely torn
1 tablespoon lemon juice
1/2 cup filtered water
Directions:
Prepare canner and wash/sterilize 8 half-pint mason jars. Keep jars in hot (not boiling) water until ready to use.
In a small bowl, whisk together 1/4 cup of sugar and pectin. In a separate bowl, measure out remaining 4 1/4 cups of sugar and set aside.
Wash blueberries and discard stems. Place in a blender or food processor. Cover and pulse to evenly chop. Do not liquefy. Transfer all but 1/4 cup of blueberries into an 8-quart saucepan.
Add basil, lemon juice, and water to remaining berries in food processor. Pulse until well blended and no large chunks of berries or basil remain. Add to blueberries in saucepan.
Stir pectin mixture into blueberries, and cook over medium-high heat until mixture reaches a full roiling boil that cannot be stirred down. Quickly stir in remaining sugar. Return to a boil, and boil for exactly 1 minute, stirring constantly. Remove from heat. Skim off any foam.
Ladle hot jam into jars, leaving 1/8-inch of headspace. Wipe jar rims and threads. Screw on lids and rings. Process in a boiling water bath for 10 minutes. Remove from water and let cool completely, 12 to 24 hours. Check seals. Any unsealed jars should be refrigerated and used within 3 weeks.
Did you make this recipe?
Let us know what you think!
Leave a Comment below or share a photo and tag me on Instagram with the hashtag #loveandoliveoil.
Bonus! Due to popular demand, I've got some free printable canning labels just for you! View and download by clicking the thumbnails below. You have three choices, the berry fabulous blueberry labels I designed for this special batch of jam (blueberry basil and plain blueberry jam varieties), as well as my label design from last year. Both a blank version and a version filled in with some of the more popular canned goods (apricot, strawberry, dill pickles, blackberry, and blueberry).
To use: simply print out the labels onto full-sheet sticker paper. Cut out and adhere to your jar lids. They are perfectly sized for standard narrow-mouth canning jars. Need label paper? Try here or here.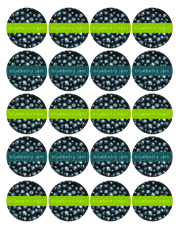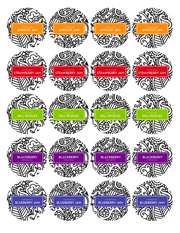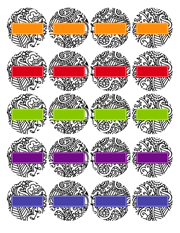 Disclaimer: Copyright Love & Olive Oil. For personal use only. If you post about or share these labels, please credit appropriately and do not link directly to the downloadable file but rather to this post. Please do not distribute these downloadable files. Thank you much!