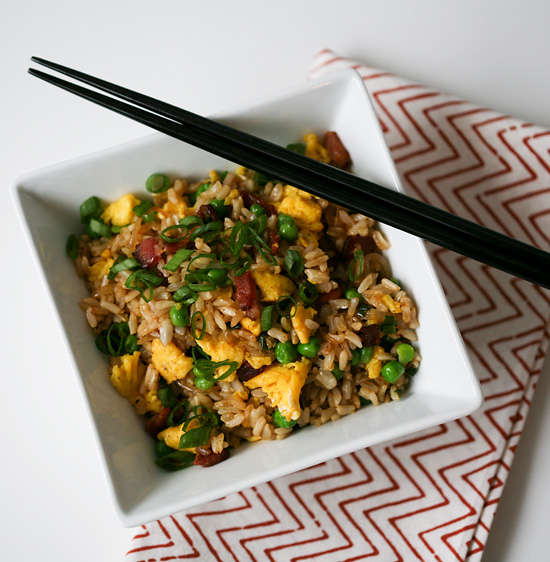 My name is Taylor and I am Love & Olive Oil's man-food correspondent. Lindsay is currently on assignment (knee deep in cupcake batter) and I will be filling in for a couple of recipes. I am also the resident dishwasher, co-cook, and voice of reason, all of which pretty much make me the best husband ever.
On to the fried rice. I absolutely love all Asian inspired food. While I planned for this recipe, I usually think of fried rice as that dish you make when trying to use up leftover rice, vegetables, and meat. In an effort to simulate this "leftoverness", I actually made the rice a day ahead of time and refrigerated it overnight to let it cool and dry out a bit, which I think is key to good fried rice. If the rice is too warm and moist, there is potential for it to turn mushy. One more note about the rice. Don't be usin' that cheater rice that comes in little plastic pouches. Rice is really easy to make, and there is something downright wrong about boiling and microwaving plastic.
The bacon I used is a thick sliced smokey bacon, and while probably not authentic, added a nice touch to the dish. You know what I love most about this fried rice? With the bacon and egg, I could easily eat this for breakfast, lunch, and dinner, or a snack in between.
taylor's bacon fried rice
Ingredients:
2 cups brown jasmine rice
6 slices bacon, diced
4 eggs, beaten
1/2 onion, thinly sliced
4 scallions, thinly sliced
3 cloves garlic, minced
1 cup frozen peas
2 tablespoons vegetable oil
3 tablespoons soy sauce, or to taste
Directions:
In a saucepan, combine 1 1/2 cups of water and rice. Bring to a boil, then cover and reduce heat to low. Simmer for 20 to 30 minutes or until tender. Fluff with a fork. Rice is best when made a day a head of time and allowed to cool completely and dry out slightly.
Cook bacon over medium high heat in large skillet until browned and fat is rendered. Drain all but two tablespoons of fat from pan and add onion, scallion, and garlic to bacon. Cook until softened, stirring occasionally. Don't let the garlic brown. Add frozen peas, stir for another 2 minutes until defrosted. Transfer mixture into a bowl, reserving any leftover fat in skillet.
Lower heat to medium, add eggs to skillet and scramble. When eggs are done, remove eggs and place in a bowl. Wipe out any residue from skillet and add the 2 tablespoons of vegetable oil. Turn heat back up to medium high. When oil is hot but not smoking, add cooked rice in an even layer in the pan. Let rice sit, stirring only periodically, to allow it get brown and somewhat crispy. Stir in bacon/onion mixture, egg, and soy sauce. Remove skillet from heat and transfer to serving bowls. Garnish with sliced scallions and serve immediately.
Did you make this recipe?
Let us know what you think!
Leave a Comment below or share a photo and tag me on Instagram with the hashtag #loveandoliveoil.