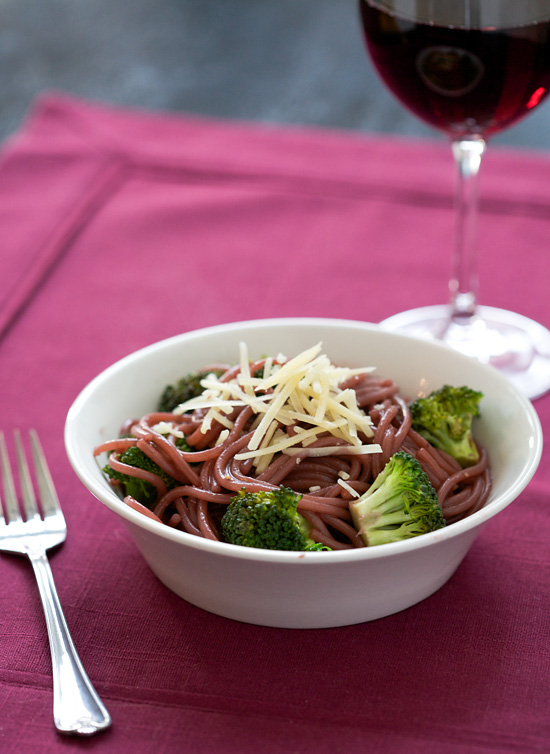 It makes sense, you cook pasta in water, why can't you cook it in other liquids? We've done risotto-style pasta before, and the pasta absorbs so much flavor from the broth, it seems silly to use plain water when there are so many flavor possibilities.
Like wine. Dark, robust red wine. By finishing off the pasta in a bottle of red wine, the pasta absorbs it completely and wholly, and gives the final pasta dish a distinct wine flavor you can actually taste. So long as you can get over the earthworm-like appearance of the final product (wouldn't this make a fabulous April fool's day or Halloween meal?).
While we thoroughly enjoyed this pasta dish and could appreciate its uniqueness, I don't think it'll be something we make often. Earthworms aside, I have a hard time pouring an entire bottle of wine into a vat of spaghetti. The pasta would benefit more from $10 worth of nice beef or seafood. We're very stingy with our spaghetti investments. After all, one of the beautiful things about pasta is its price. Dirt cheap. Earthworm pasta is, ironically, not. Dirt. Worms. Get it? Oy.
Red-Wine Spaghetti with Broccoli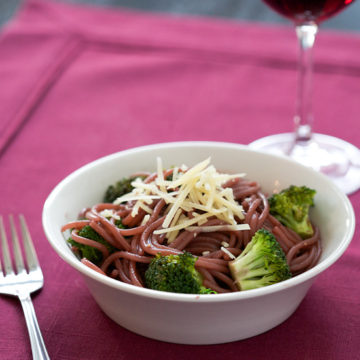 Ingredients:
1 3/4 lb broccoli, thick stems discarded
1 lb spaghetti
1 (750-ml) bottle red wine (preferably Zinfandel)
1 teaspoon sugar
4 garlic cloves, finely chopped (2 tablespoons)
1/2 teaspoon dried hot red pepper flakes
1/3 cup extra-virgin olive oil
3/4 teaspoon salt
1/2 teaspoon black pepper
1 oz finely grated Parmigiano-Reggiano (1/2 cup)
Directions:
Cut broccoli into 1-inch-wide florets (with 1/2 inch of stem). Blanch in a 6- to 8-quart pot of boiling salted water , uncovered, 2 minutes. Transfer with a slotted spoon to a large colander to drain, reserving broccoli-cooking liquid in pot, then transfer broccoli to a bowl.
Return cooking liquid to a boil and cook spaghetti, stirring occasionally, 5 minutes (pasta will not be fully cooked). Drain in colander and return empty pot to stovetop. Add wine and sugar to pot and boil vigorously 2 minutes. Add spaghetti and shake pot to prevent pasta from sticking. Gently stir with tongs until coated and boil over high heat, stirring occasionally, until most of liquid is absorbed, about 6 minutes (pasta will be al dente).
Immediately after adding spaghetti to wine mixture, cook garlic and red pepper flakes in oil in a deep 12-inch heavy skillet over moderately low heat, shaking skillet occasionally, until garlic is pale golden, about 5 minutes. Add broccoli, salt, and pepper and cook, stirring, 1 minute.
Increase heat to high and pour spaghetti mixture into skillet, tossing with tongs to combine (skillet will be very full). Cook, stirring, until all of wine is absorbed, about 2 minutes. Remove from heat and stir in cheese. Serve immediately.
Did you make this recipe?
Let us know what you think!
Leave a Comment below or share a photo and tag me on Instagram with the hashtag #loveandoliveoil.