Our cupcakes may be vegan, but we're not vegan in any sense of the word. We're not even vegetarians. We love our bacon as much as the next person.
But we're not big meat eaters either.
For us, meat is an accent. A once or twice a week thing.
While it's primarily budgetary (eating meat every night of the week isn't cheap), we usually feel that meat just isn't necessary. Some of our best and most memorable meals have been vegetarian ones.
What we have discovered, and is very apparent with this dish, is that if there is meat, it doesn't need to be front and center. A hunk of steak, for example; which is why we rarely eat such things.
This delicious and unique pasta dish uses only 8 oz of ground lamb. Probably $3 worth, even at pricey Whole Foods. But mixed in to a robust pasta with butternut squash, cilantro, and nutty cheese, that $3 worth of meat does more flavor-wise than a $20 hunk of lamb could ever do. Spread the love around, I say.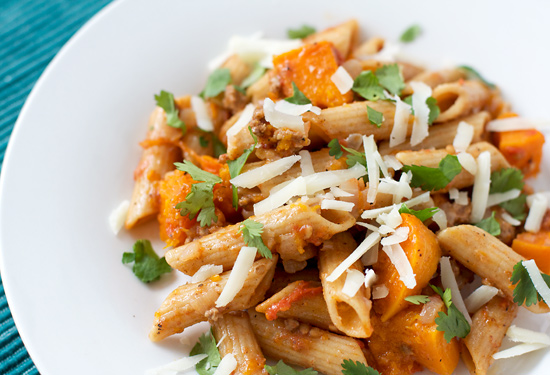 I shouldn't tout this as a budget friendly dish, however, since the special fancy schmancy cheese (also found at Whole Foods), was $9 for a small 6oz. block. Which made Taylor cringe because he could have bought a 6-pack of really good beer for that price. Sorry dear, not this week. Kasseri cheese, as we discovered, is like a mild version of an aged pecorino – it's very nutty in flavor and melts beautifully atop the hot pasta. If you can find it, great, it makes a delightful accent to this dish. But if you can't, parmesan or pecorino would work just fine.
I should also note that we're the type who usually substitute bleached, processed pasta when a recipe calls for whole wheat or multi-grain. (Yes, I admit it. We're also the type of people who add the naughty things back to lightened recipes, shame on us). But in this case we stuck with the recipe. The sauce, more of a stew than a traditional pasta sauce, is hearty and heavy enough to support the nutty flavor and thicker texture of whole grain pasta. Would I use the stuff with a delicate butter sauce? Never. But in this case, the use of whole grain is entirely justified. Give it a chance. You won't be disappointed.
Multi-Grain Pasta with Lamb, Butternut Squash, and Kasseri Cheese
Ingredients:
1 butternut squash, peeled and cut into 1/2 inch cubes (4 to 5 cups)
2 1/2 tablespoons olive oil, divided
8 ounces ground lamb
2 1/2 cups chopped onions
3 large garlic cloves, minced
2 teaspoons ground cumin
1/4 teaspoon ground cinnamon
1/8 teaspoon cayenne pepper
1 cup canned crushed tomatoes with added puree (from 28-ounce can)
2 cups low-salt chicken broth
8 ounces multi-grain penne pasta
1/2 cup chopped fresh cilantro, divided
1/2 cup grated kasseri cheese, divided (substitute a mild parmesan or pecorino if you cannot find kasseri)
Directions:
Preheat oven to 450°. Toss squash with 11/2 tablespoons oil in large bowl. Sprinkle generously with salt and pepper. Transfer squash to large rimmed baking sheet. Roast until tender and brown around edges, using metal spatula to turn occasionally, 30 to 35 minutes. Remove from oven and set aside.
Heat 1 tablespoon oil in large nonstick skillet over medium-high heat. Add lamb and onions; sauté until lamb browns and onions soften, 7 to 8 minutes. Add garlic and next 3 ingredients; stir 1 minute. Stir in tomatoes, then broth and bring to boil, scraping up any browned bits. Reduce heat; simmer until mixture thickens, about 5 minutes. Stir in squash. Season with salt and pepper.
Cook pasta in large pot of boiling salted water until just tender but still firm to bite, stirring occasionally. Drain, reserving 1 cup cooking liquid. Return pasta to pot. Add lamb mixture, half of cilantro, and half of cheese; toss. Add reserved cooking liquid by 1/3 cupfuls to moisten. Season with salt and pepper. Transfer pasta to bowl. Sprinkle with remaining cilantro and cheese.
Did you make this recipe?
Let us know what you think!
Leave a Comment below or share a photo and tag me on Instagram with the hashtag #loveandoliveoil.