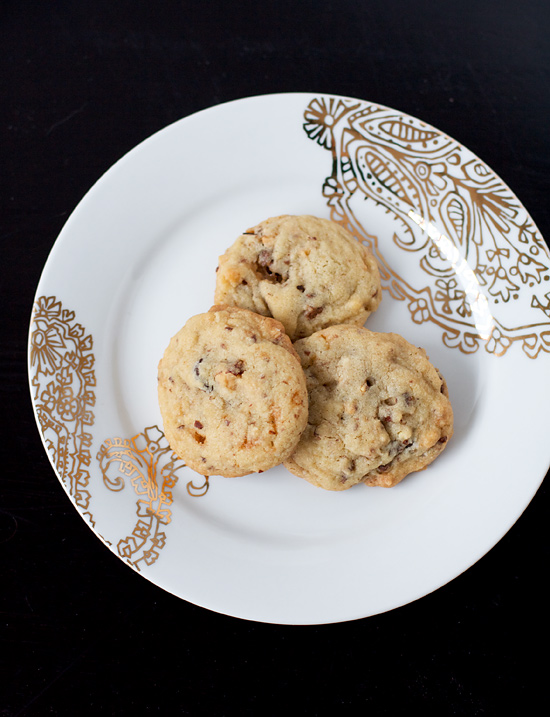 My dad loves English toffee. It's my fallback gift for him when nothing else seems quite right. And seeing that he's tough to shop for in the first place, he gets his fair share of toffee. Birthdays… toffee. Father's Day… toffee. Christmas… oh here dad, I thought you'd like some more toffee! Hey, at least it's not a tie!
So when he was couch-ridden for two weeks after a knee operation, I decided it'd be nice to sent him a box of treats. At least his boredom would be sweet. Seeing that his love for chocolate chip cookies nearly matches his love for toffee, it seemed perfectly logical to combine the two.
Rather than using the standard pre-packaged toffee bits, I picked up a box of English toffee from Trader Joe's. You know, the good stuff, with almonds and milk chocolate and an irresistible buttery crunch. Chopped up and mixed in to a basic chocolate chip cookie dough, the bits of toffee melted in the oven, leaving caverns of caramelized goodness inside. It was truly a beautiful thing.
I admit, I wasn't entirely selfless. I kept some for myself. After all, I could only fit so many in the shipping box. :) I have to say, I quite enjoyed them! These may be a serious contender for next year's holiday cookies.
Toffee Chocolate Chip Cookies
Ingredients:
2 1/4 cups all-purpose flour
1 teaspoon baking soda
1/2 teaspoon salt
1 cup (2 sticks) unsalted butter, room temperature
1/2 cup sugar
1/2 cup firmly packed light brown sugar
1 large egg, at room temperature
1 1/2 teaspoons vanilla extract
3/4 cup semisweet chocolate chips
1 1/2 cups coarsely chopped English toffee
Directions:
Preheat oven to 350 degrees F.
In a large bowl, combine the flour, baking soda, and salt and whisk to combine. Set aside.
In another large bowl, cream the butter and the sugars until smooth, about 3 minutes. Add the egg and mix well. Add the vanilla extract. Add the flour mixture and beat thoroughly. Stir in the toffee and chocolate chips.
Drop by rounded teaspoonfuls onto ungreased cookie sheets, leaving several inches between for expansion. Bake for 10-12 minutes or until lightly browned.
Cool the cookies on the sheets for 1 minute, then transfer to a rack to cool completely.
Did you make this recipe?
Let us know what you think!
Leave a Comment below or share a photo and tag me on Instagram with the hashtag #loveandoliveoil.