I fully intended to make these for Valentine's day.
I also fully intended to try, for the first time ever, to make my own caramel for this recipe. I swear, I only bought the jar of Trader Joe's fleur de sel caramel sauce as a plan b, a backup of sorts in case things went horribly wrong. Which, with my cooked sugar track record, I fully expected them to.
Despite all my good intentions, it just didn't happen. The Valentine's part or the made-from-scratch caramel part.
Yes, I fully admit it. I cheated. I did not make my own caramel. I didn't even attempt to. That jar of pre-made caramel sauce kept taunting me; daring me to even try and make something as good; I just couldn't take it any more. I had to use it. I just had to.
But I hope my caramelized infidelity doesn't make you think any less of me… or these truffles.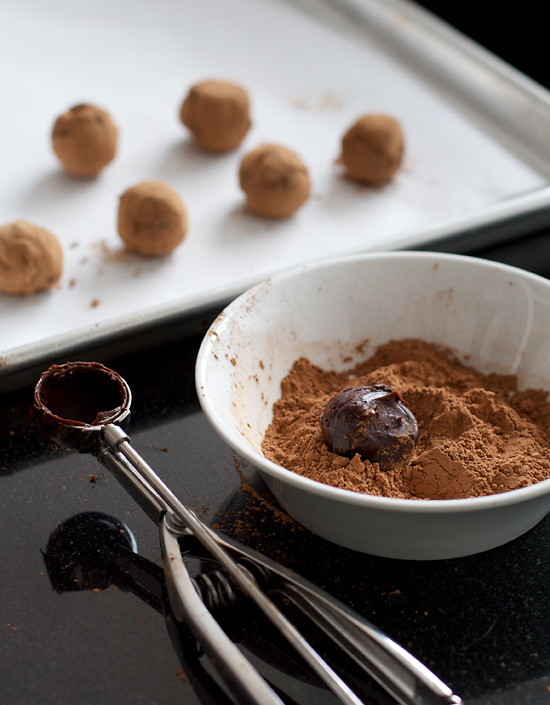 Because that would be a travesty, as these truffles are mind blowingly delicious. Jaw droppingly decadent. Holy heavenly rich. The dark chocolate, ganache-like filling laced with notes of creamy caramel. Coated in a snappy layer of more dark chocolate, and topped off with a sprinkle of fleur de sel, each bite is the perfect symphony of sweet and salty.
Yep, this one's going in the favorites category for sure.
Now, I'm not saying they are easy. Even with the premade caramel sauce, it was a multi-day ordeal. My filling, when it first came out of the refrigerator, was hard as a rock. I had to re-melt it, add more cream, and then chill it again before I could even begin to shape it.
And then it was time to temper the chocolate. Which I've never done before. While I didn't get it exactly right (the chocolate still needed a good chilling to firm up), I was pretty darn close. Anyone have any fail-safe tips for achieving the perfect temper… without losing your temper? Maybe when I master that I'll finally put on my big girl panties and actually try making caramel. Maybe.
Caramel-Dark Chocolate Truffles with Fleur de Sel
Ingredients:
8 ounces bittersweet or semisweet chocolate, finely chopped
1/3 cup sugar
2 tablespoons water
2/3 cup whipping cream
1/4 teaspoon fleur de sel
(you can also substitute 1 cup of pre-made fleur de sel caramel sauce, plus additional cream if necessary to achieve proper consistency)
1/2 cup unsweetened cocoa powder
12 ounces bittersweet or semisweet chocolate, finely chopped
Additional fleur de sel
Directions:
Place 8 ounces chocolate in metal bowl over saucepan of barely simmering water (do not allow bottom of bowl to touch water); stir until chocolate is smooth. Remove chocolate from over water.
Combine sugar and 2 tablespoons water in small saucepan. Stir over medium heat until sugar dissolves, occasionally brushing sides of pan with wet pastry brush. Increase heat; boil until syrup is deep amber color, brushing down sides and swirling pan occasionally, about 4 minutes. Add cream (mixture will bubble). Stir over very low heat until caramel is smooth. Mix caramel and 1/4 teaspoon fleur de sel into melted chocolate. Chill until truffle filling is firm, at least 3 hours.
Place cocoa in bowl. Using 1 tablespoon truffle filling for each truffle, roll into balls, then roll in cocoa. Arrange on baking sheet. Cover; chill overnight.
Line 13x9x2-inch baking sheet with foil. Place remaining 12 ounces chocolate in medium metal bowl over saucepan of barely simmering water (do not allow bottom of bowl to touch water); stir until chocolate is melted and smooth and thermometer inserted into chocolate registers 115°F. Remove bowl from over water. Working quickly, submerge 1 truffle in melted chocolate. Using fork, lift out truffle and tap fork against side of bowl to allow excess coating to drip off. Transfer truffle to prepared sheet. Repeat with remaining truffles. Sprinkle truffles lightly with additional fleur de sel. Let stand until coating sets, at least 1 hour. (Can be made 1 week ahead. Cover and chill. Bring to room temperature before serving.)
Did you make this recipe?
Let us know what you think!
Leave a Comment below or share a photo and tag me on Instagram with the hashtag #loveandoliveoil.