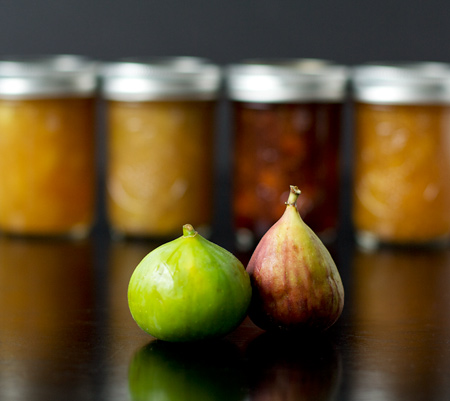 There is something comfortably familiar about fig jam. It's hard for me to place, because I don't remember eating any fig jam when I was a kid; in fact, my only exposure to figs was the unpleasant fig newtons my dad used to eat. Yet something about it tastes like I've been eating it my whole life. The only thing I could come up with was it tastes remotely like a Serviceberry, an obscure sort of berry that grew in our backyard. But we didn't exactly go around gobbling up the sweet blue berries, in fact most of the time we just ignored them.
I just spent the entire weekend making jam. Three days, 15 dozen figs, two trips to the grocery store (I'm not going to have enough jars for all this!), and a boat load of sugar later… I've added 36 more jars to our stash. I was determined not to waste a single fig. I wanted to highlight the subtleties in the different varieties (emphasis on subtleties, they are very similar and it is hard to taste much of a difference between them). So I made five batches of jam, one with each variety. Call it single origin jam if you will.
The first was just plain jam. No spices, no flavorings; just pure fig. The green Calimyrna figs to be precise (though, they could very well be the Sierra, which I may have confused in the process). I then decided that my second batch, the smaller seeded Kadota variety, needed a dash of honey in place of some of the sugar. And a dash would have been a lovely accent to the fig. Unfortunately, I think the 1/2 cup of dark wildflower honey I carelessly added was a bit much. The honey all but overpowered the delicate flavor of the figs. Oops. It's not bad or inedible, it just tastes like honey rather than fig. Oh well, I guess 3 out of 4 ain't bad.
The third batch may just be my favorite. For this richly colored jam, I infused the sweet Brown Turkey figs with a rich and fruity balsamic vinegar. And learning from my mistake with the honey, I added just a little vinegar at a time until it was just right. Heavenly.
Last batch. I was really very tired at this point (jam making requires an incredible amount of stamina), but I was ready to kick it up a notch. Bring on the booze. Grand Marnier, to be precise. Another winner.
(And I realize that's only 4 – the Black Mission figs were preserved whole in a sweet orange syrup. Will post this recipe, and the lovely fig jelly I made from the leftover syrup, shortly).
I'm ready for a break from all this jam. Unless I somehow come upon another stash of free fruit (which I would never turn down), I don't plan on making any more jam in the near future. Whether this actually happens or not, we will just have to wait and see. I keep this up and I may have to seek out the local Canners Anonymous group. It's that bad (or good, depending on how you look at it).
Want to win your own fig sampler? A super prize pack of nearly 15 dozen fresh California figs could be yours! Enter now for your chance to win!
Fig Jam
Ingredients:
4 cups roughly chopped fresh figs (stems, thick skins, and blemishes removed)
1/4 cup lemon juice
1/2 cup water
1 package low sugar pectin
4 cups sugar
Directions:
Prepare canner and wash/sterilize 6 half-pint mason jars. Keep jars in hot (not boiling) water until ready to use.
In a large, heavy saucepan, combine figs, lemon juice, and water. Sprinkle in pectin and stir until combined. Bring to a boil over medium-high heat. When the mixture has reached a full roiling boil, add the sugar all at once (it helps to have it pre-measured into a bowl).
Return mixture to a hard boil that cannot be stirred down, and boil for 1 full minute. Remove from heat and skim off foam.
Ladle hot jam into jars and top with lids and rings. Process in a boiling water bath for 10 minutes. Remove from water and let cool completely, 12-24 hours. Check seals. Any unsealed jars should be refrigerated and used immediately.
Variations:
– Honey Fig Jam: Add 2-4 tablespoons of honey to the mixture with the sugar. If you are using a mild/light honey, add more as needed. A darker honey has a stronger flavor and will need much less. Taste as you go and don't make the same mistake I did.
– Balsamic Fig Jam: Add 1/4 cup balsamic vinegar to fig mixture prior to cooking.
– Grand Marnier Spiked Fig Jam: Replace all or part of water with fresh orange juice. Stir in 2 tablespoons Grand Marnier liquor to fig jam after removing from heat.
Did you make this recipe?
Let us know what you think!
Leave a Comment below or share a photo and tag me on Instagram with the hashtag #loveandoliveoil.