I've decided that I really need friends with fruit trees. The kind of friends that have so much delicious, ripe fruit bursting from their trees that to them, I am doing them a huge favor by taking some.
Lucky for me, I found a friend in the California Fig Advisory Board. They have lots of fig trees in their backyard (the whole state, really! Lucky ducks!) and were kind enough to send me some.
I take that back. They didn't just send me some figs, they sent me a ton of figs. Two massive boxes, five flats worth, each a different variety. I'm not kidding here. I think Taylor's eyes were bugging out of his head when he saw the sheer quantity of figs spread out on our counter. Some of the figs didn't make the trip so well, but in my mind, squished figs make the best jam.
Yes, I said jam. More jam.
At this point I think I need to get rid of some shoes or something to make room for it all. We've got jam jars filling up every square inch of extra space in our cabinets, both in the living room and kitchen… and I have a feeling we're going to need to make room in the bedroom pretty soon.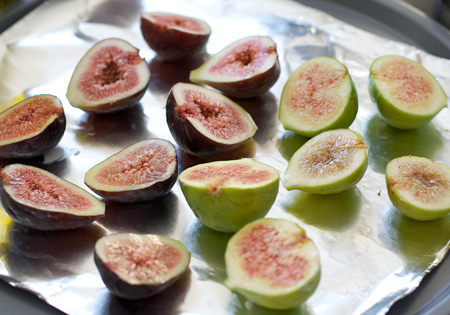 But jam isn't all I'm doing with these special fruits. Aside from eating them whole, we've been doing our best to enjoy as much fresh figgy goodness as possible before these delicate fruits disappear. I've even frozen a batch of them to try to preserve them in their freshest state. We've been having fun comparing each different variety, the green ones slightly floral, the darker kinds sweeter and more robust.
Our favorite use so far has been this simple starter. Figs, goat cheese, balsamic vinegar, and prosciutto. All wrapped up in a neat little package. This dish would make a fabulous (and impressive) appetizer, or, as we did, part of a larger tapas-style meal.
Goat Cheese and Prosciutto Wrapped Figs
Easily adaptable for any quantity. Plan on 3-4 figs per person for a starter.
Ingredients:
Fresh figs, halved
Goat cheese
Balsamic Vinegar
Proscuitto
Directions:
Preheat oven to 375 degrees F.
Arrange fig halves on a foil or parchment lined baking sheet. Top each half with a teaspoon or so of goat cheese. Press into fig. Drizzle lightly with balsamic vinegar (about 1/2 teaspoon per fig).
Cut prosciutto lengthwise into 1-inch wide strips. Carefully wrap each fig in one strip.
Bake for 7-10 minutes or until heated through. You may choose to bake them longer if you like for crisper prosciutto.
Did you make this recipe?
Let us know what you think!
Leave a Comment below or share a photo and tag me on Instagram with the hashtag #loveandoliveoil.