As you are reading this Taylor and I are off gallivanting in the Italian countryside, eating our way through the country. So please forgive me if I don't respond to your comments/emails right away, since we are indeed computer-less (and smartphone-less, email-less, and twitter-less – oh the horror!) But we'll be back soon with a full report of our trip! In the meantime, enjoy!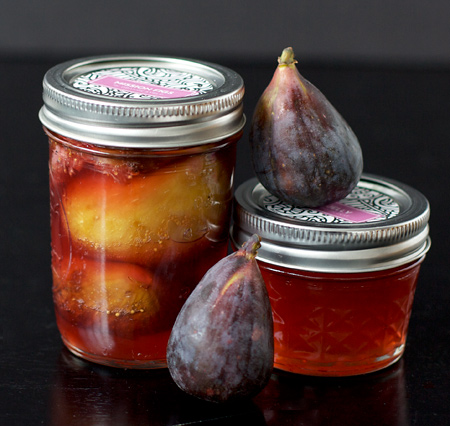 …and you thought you were done hearing about figs. Ha! Five batches of jam, one pizza, three dinners, a dozen cupcakes, and plenty of snacks later… we still have a gallon-sized bag of figs in the freezer, but all the fresh ones have been used and accounted for.
While I used the same basic recipe for 4 of the jam batches, I decided to mix it up a bit for the last one, instead of mushing them up, preserving them (somewhat) whole in a zesty orange sugar syrup. These preserved figs are excellent quartered and served with cheese on toast, or chopped up and used in cupcakes or other baked goodies. I'm also envisioning some tasty fig-cranberry sauce this thanksgiving, and these preserved figs would be perfect.
The mission figs I used gave the syrup a beautiful crimson hue. You could use green figs as well, your syrup would just be light colored.
I did have a bit of difficultly putting the cooked figs into the jars. They are supposed to remain whole, but without a bit of squishing I could have only fit one or two into each half-pint jar. I manged to force 4-5 figs into each jar. Not sure if that was the intention of the recipe, since I ended up with so much leftover syrup (the jars barely had any airspace left after all that squishing, and I didn't need much syrup at all to top them off).
Not one to waste anything that might have even the faintest figgy flavor, I brought the syrup to a boil again, and poured in half a pouch of leftover pectin I had in the fridge. Ladle into jars, and voila! Fig jelly.
Fig Preserves in Syrup
Ingredients:
3 lb fresh figs such as Mission, Adriatic, or Brown turkey (dark figs will produce an almost purple syrup, green figs yield a pale syrup)
4 cups sugar
1 1/4 cups fresh orange juice
3/4 cup fresh lemon juice
grated zest of 1 orange
Directions:
Have ready hot, sterilized jars and their lids.
Trim the fig stems, leaving a little of the stem attached to each fig. In a large nonreactive saucepan, combine the sugar and orange and lemon juices. Bring to a boil over medium-high heat, stirring to dissolve the sugar. Add the gis, reduce the heat to medium, and cook, stirring gently, for 5 minutes. Using a slotted spoon, transfer the figs to a bowl. Add the orange zest to the syrup and cook, uncovered, until reduced by one-third, 2-3 minutes. Return the figs to the pan and cook for 1 minute to heat through.
Using the slotted spoon, divide the hot figs evenly among the jars. Ladle the syrup over the figs, leaving 1/4 inch of headspace. Remove any air bubbles and adjust the headspace, if necessary. Wipe the rims clean and seal tightly with the lids.
Process the jars for 10 minutes in a boiling-water bath. Remove from water and allow to cool, undisturbed, for 24 hours. The sealed jars can be stored in a cool, dark place for up to 1 year. If a seal has failed, store the jar in the refrigerator for up to 1 month.
If you have leftover syrup, you can use it to make jelly. Simply follow the instructions on your packet of liquid pectin (you have to use pectin that can be added AFTER the sugar is already in the juice). I had about 2 cups of syrup leftover, and used 1/2 a package of liquid Certo pectin to make four 4oz jars of perfectly set jelly.
Did you make this recipe?
Let us know what you think!
Leave a Comment below or share a photo and tag me on Instagram with the hashtag #loveandoliveoil.