A taste of summer: this vibrant basil pesto sauce has extra creaminess and flavor from the addition of soft cultured dairy.
Here's a contender for your new favorite pesto recipe: with a perfect proportion of bright green basil, pine nuts, oil, and a mix of 3 kinds of cheese, it's a perfect sauce paring for my homemade sourdough pasta, which, with its underlying hint of sour and tang, provides a perfect compliment to the bright and creamy pesto.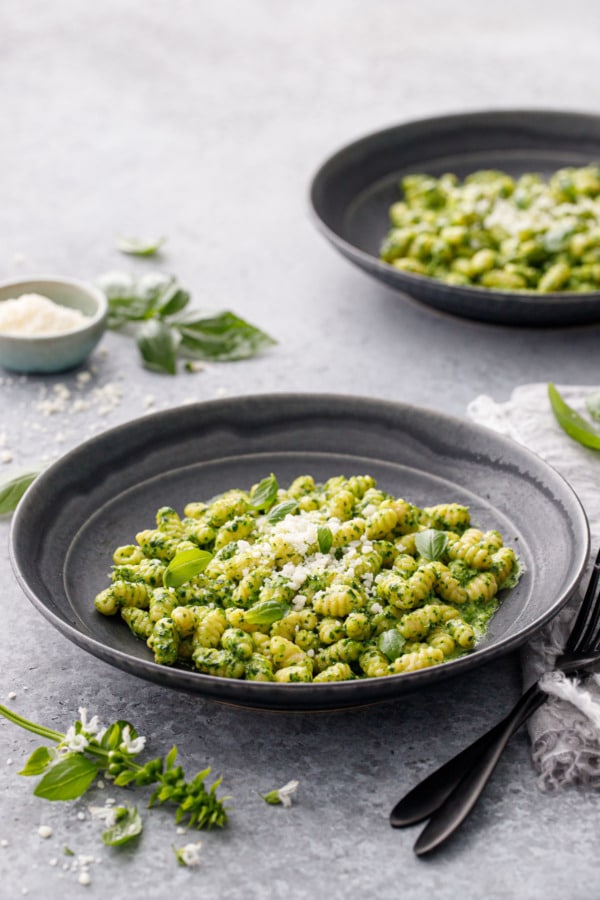 Basil just tastes like summer.
Whether sliced into ribbons and sprinkled over a slice of juicy tomato, or blanched and blended into the perfect pesto, basil is undeniably one of summer's best flavors.
By August, our patio basil plant is overflowing its pot, with lush, green leaves the size of my hand and the petite white flowers that I can hardly pinch back fast enough.
Which is why this is the perfect time of year for gloriously big batches of pesto.
In fact, when my basil starts to bolt I'll often hack it down to the roots, using the entire plant in a triple batch of pesto that I'll freeze for later, and replant a fresh young basil plant that will last easily last me through to the fall. This year I may even try to keep a fresh basil plant going through the winter in my kitchen window (it's on the shady side of the house so I've never had much luck before, but I'm determined to persevere).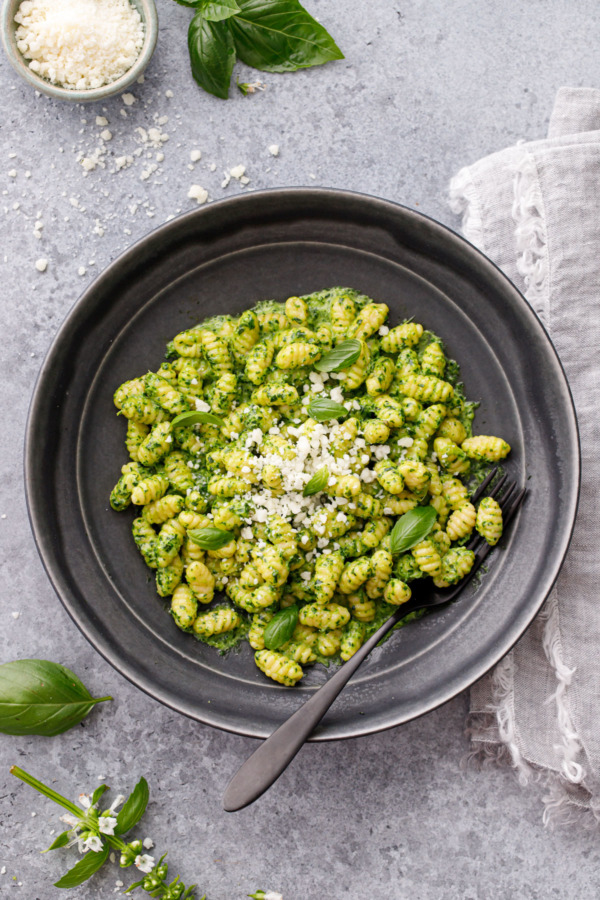 This pesto sauce is slightly different from your typical pesto, in that it adds a little bit of Prescinsêua cheese, a soft cultured cheese from the Ligurian region of Italy. I haven't been able to find it locally, but luckily Greek yogurt or ricotta, or a mix of the two, works just as well. I love the added creaminess it gives the sauce, and the barest hint of tang from the culture pairs beautifully with the subtle notes of sourdough in the pasta.
The recipe comes from the Pasta Grannies cookbook, one of my new favorites. It's the next best thing to actually having an Italian grandmother.
In the book, this basil sauce is served with fresh steamed green beans and homemade trofie pasta (and if you want to make sourdough trofie, by all means go for it!) I opted for gnochetti sardi since I find it much easier to make.
I've scaled down the pesto sauce just a bit, and added the extra step of blanching the basil (because that older, end-of-summer basil can often have a harsh bite to it that isn't ideal).


Rather than tossing the pesto with the cooked pasta in the big pot (that's a total pain to clean up later), I spoon a bit of pesto sauce into each serving bowl, and put the freshly drained pasta right on top. The residual water on the pasta will help loosen the pesto, making for a smooth, even coating.
Italians are very intentional with their pasta shapes, choosing a shape that best serves the sauce. These gnochetti sardi, similar to the original trofie called for in this recipe, do a great job at holding on to the bits of pesto in the grooves and swirls of the pasta shape. Whereas something like fettuccine, with a smoother texture, would have a harder time sticking and you'd end up with less sauce per bite.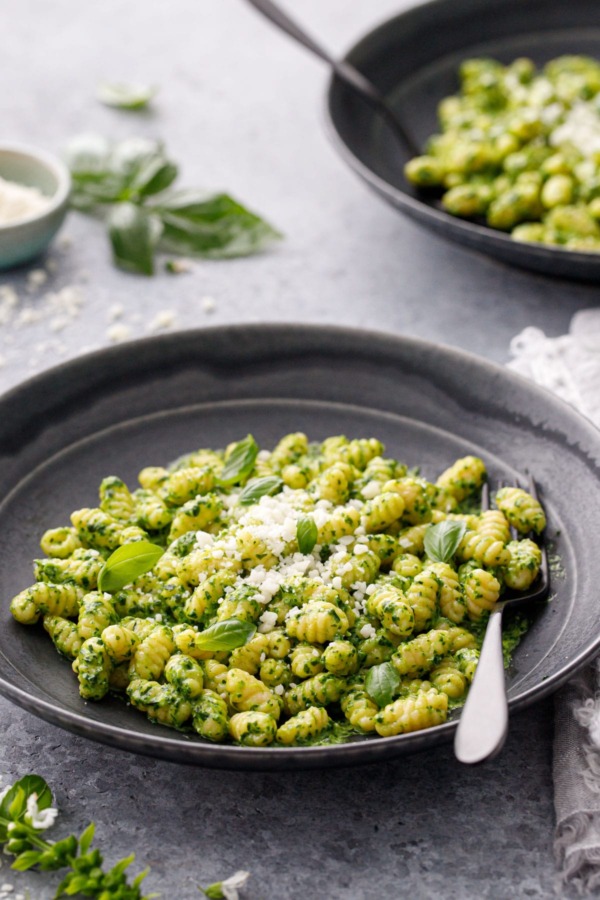 Blanch your Basil
Blanching basil gives the pesto a brighter green color and a cleaner flavor, and makes the pesto less prone to oxidizing (meaning it won't turn brown the second it touches the air).
Unless you have a bumper crop of young basil, I highly recommend taking the extra minute and blanching your basil first. You can even use the same pot of boiling water you'll be using for your pasta! After about 20 seconds, fish out the basil using a slotted spoon or mesh skimmer and place it in a bath of ice water to stop the cooking process. Once it's cool enough to handle, grab the blanched basil, squeeze out any excess water, and then place it in the blender or food processor to make your pesto.
I personally found the blender to work the best for this recipe, although the pesto can get a bit thick (in which case just add a splash of pasta water and it should ease it along). But you can also use a food processor here too.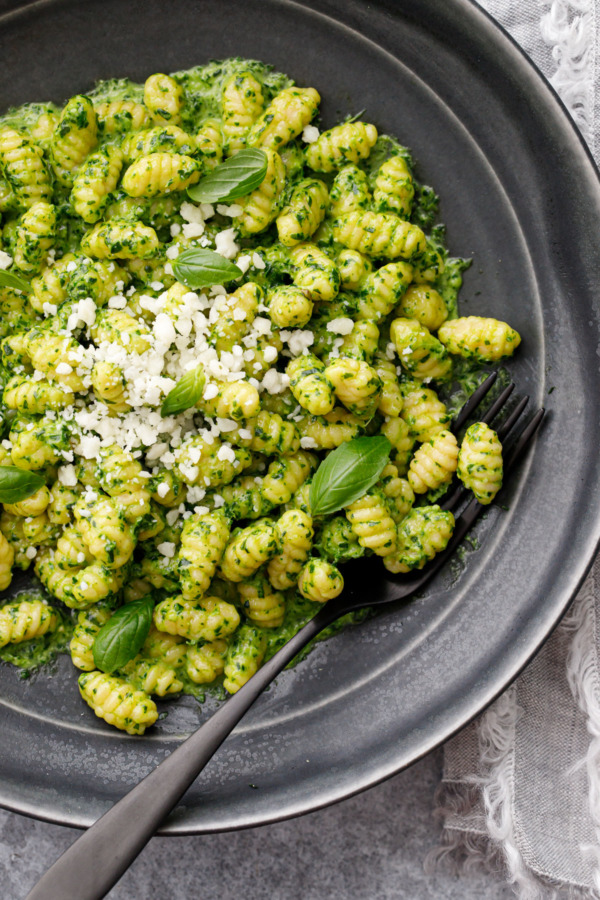 The pesto sauce recipe makes enough for about 4 servings of pasta. You can use the homemade sourdough pasta recipe I posted earlier this week (in the shape of your choice), or swap in your favorite fresh or dried pasta instead.
If you have leftover pesto, it keeps well in an airtight container for 2 to 3 days (the top may discolor just a little bit but not nearly as much as if the basil weren't blanched).
Pesto is also easily frozen, so if you find yourself swimming in basil, feel free to double or even triple this recipe. Whatever you don't use right away, just spoon into a zip-top bag and seal. Label, and freeze the bag flat to make for neat storage. Then you'll have a stash of summery pesto to help brighten even the dreariest winter day.
Sourdough Gnocchetti Sardi with Basil Pesto Sauce
Your new favorite pesto recipe is here: with a perfect proportion of bright green basil, pine nuts, oil, cheese, and a bit of extra creaminess and flavor from the addition of soft cultured dairy.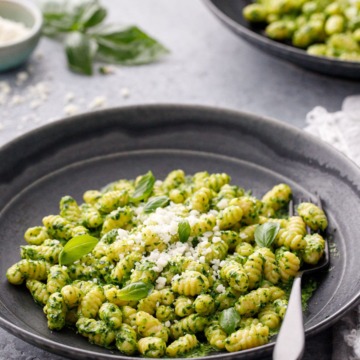 Ingredients:
75g fresh basil leaves
40g grated parmesan
20g grated pecorino, plus more for topping
2 tablespoons pine nuts
1 plump garlic clove
2 tablespoons Greek yogurt (can also use ricotta cheese)
1/4 cup (60mL) good extra virgin olive oil
salt and freshly ground black pepper, to taste
1 batch homemade sourdough pasta (which makes 3 servings/300 grams), or 3-4 servings, about 12oz dried pasta of your choice, cooked as instructed
Directions:
Bring a large pot of salted water to a boil. Prepare an ice bath by filling a bowl with cold water and ice.
Blanch basil in boiling water for 20 seconds, then quickly transfer to an ice bath to stop the cooking. This extra step of blanching the basil will result in a brighter green color, a cleaner flavor, and help prevent the pesto from oxidizing. Once cool enough to handle, squeeze out the excess water.
If using whole blocks of cheese, cut into pieces and place them right in the blender or food processor, then pulse until finely grated. If you are grating extra cheese for topping, do this first, then spoon out the extra cheese and set aside.
Add pine nuts, garlic and yogurt to blender along with blanched and drained basil. Pulse until coarsely chopped, then add olive oil and blend until smooth. If pesto is too thick, add a splash or two of pasta water to help thin it out. Taste, then season with salt and pepper as desired (the cheeses are salty enough you may not need to add extra).
Smear a generous spoonful of pesto in the bottom of each serving bowl. Using a large slotted spoon or mesh skimmer, remove pasta from water and place directly into bowls on top of pesto (it's ok if they are not drained dry, the extra bit of water will help the loosen the pesto and coat the pasta easier). Toss to coat. Top with a bit of grated cheese, if desired, and serve warm.
Any leftover pesto can be refrigerated in an airtight container for 2 to 3 days, or frozen in a zip top bag (squeeze out as much of the air as you can) for up to 6 months.
Did you make this recipe?
Let us know what you think!
Leave a Comment below or share a photo and tag me on Instagram with the hashtag #loveandoliveoil.