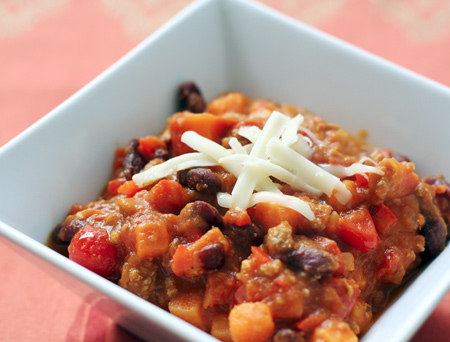 It's fall. And while I am sad that the fresh heirloom tomato sandwiches of summer are gone, the rich and hearty fall foods are a nice change of pace. It is always interesting to me how much of our food is seasonal, and not just recipes that reflect the ingredients in season at the time, but also that reflect the overall 'feeling' in the air. Fall comes around, temperatures drop, and all of a sudden all you want is a hearty bowl of warm, satisfying chili. I would have been nuts to crave such a thing in July. And yes, I'll probably be sick of the stuff by March (when all I can think about is when will the fresh produce come back); but for now, this is all I need to feel warm from the inside out.
This chili was especially satisfying, because it was just as delicious as any version made with less desirable foodstuffs. With ground turkey instead of beef, and packed with plenty of colorful vegetables (they say orange things are good, right? then this chili must be really good for you!) The pumpkin puree adds just a hint of sweetness, while our addition of a sweet potato (hey, we have this lonely sweet potato sitting around, why not throw it in?) gave it another level of texture and flavor.
While the original recipe didn't call for any liquid (other than the juice of the tomatoes) we felt it was too thick, and added a cup of chicken broth for a more stew-like consistency (or, do as Erin suggests and try adding a bottle of beer, sure Taylor would have loved that variation!). It's your call and your preference as to how thick you'd like the final product to be. Thick or thin, we'll definitely be making this one again very soon.
Pumpkin Turkey Chili
Ingredients:
1 tablespoon vegetable oil
1 cup chopped onion
1/2 red bell pepper, chopped
1 medium sweet potato, cut into 1/2 inch cubes
1 cup cherry tomatoes, halved
1 large clove garlic, minced
1 pound ground turkey
1 (14.5 ounce) can diced tomatoes
1 (14.5 ounce) can red kidney beans
2 cups (1 14.5 ounce can) pumpkin puree
1 cup chicken or vegetable broth
1 1/2 tablespoons chili powder
1/2 tablespoon cumin
3/4 teaspoon salt
1/2 teaspoon freshly ground black pepper
Cayenne pepper to taste (at least 3 good shakes)
1/4 cup fresh cilantro, chopped (optional)
1/2 cup shredded Fontina or cheddar cheese (optional)
Directions:
Heat oil in a large skillet or Dutch oven over medium-high heat.
Saute the onion, bell pepper, sweet potato, and garlic until tender, about 10 minutes. Make room in the center of the skillet, add turkey, and brown, about 10 minutes. Add cherry tomatoes and stir until just softened, 2-3 minutes. Stir in canned tomatoes, beans, pumpkin, and broth. Season with chili powder, cumin, pepper, salt, and cayenne.
Reduce heat and simmer at least 20 minutes. You can add more broth if necessary for a thinner, more stew-like consistency. Stir in fresh cilantro and serve topped with cheese and/or sour cream.
Did you make this recipe?
Let us know what you think!
Leave a Comment below or share a photo and tag me on Instagram with the hashtag #loveandoliveoil.