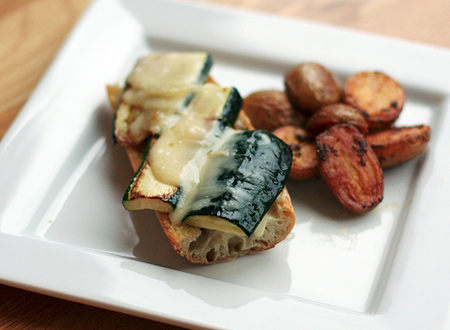 Making the most of the local zucchini while it's still around. Eating these sandwiches reminds me of just how much I love summer, and the bounty available to us at the farmers market.
It was also a good opportunity to use our first successfully-baked baguette, which, unlike our last attempt, turned out beautifully. This time? No glass dish or boiling water. Just a specialized baguette pan (thanks sis!) and an easy peasy recipe from Artisan Bread in Five Minutes A Day. Yum. While this recipe initially called for serving the squash on an English Muffin, we couldn't pass up slicing into our freshly baked bread.
Squash aside, do you know what I love most about summer? The light. And the fact that it stays light until well past dinner time. Sad to think that it's slowly leaving me to eat (and photograph) once again in the dusk.
The best part of this recipe (besides the cheese – which I indulge in every once in a great while – and boy was it good!) is the smoky paprika pesto. If you can find it, smoked paprika has a slightly spicy and sensually smoky flavor that can't be replicated with any other spice. It gives the pesto a depth and a richness, and paired with the bright flavor of the fresh basil, just works. So even if you don't make these sandwiches, the pesto itself could be put to good use in a myriad of other delicious dishes.
If you're like us and don't have the luxury of a grill (thanks Tennessee condo laws!), this dish is perfectly delicious when pan-seared. Use a cast iron or grill pan if you have it, it'll be closer to grilled than anything else. We served these open-faced, quickly broiled to melt the cheese, and paired with some crispy pan sauteed potatoes with Taylor's special spice mix (your closest bet are these babies here: Smoked Paprika Fingerling Potatoes). Hot and smoky and crisp and delicious.
Gruyère-and-Zucchini Sandwiches with Smoky Pesto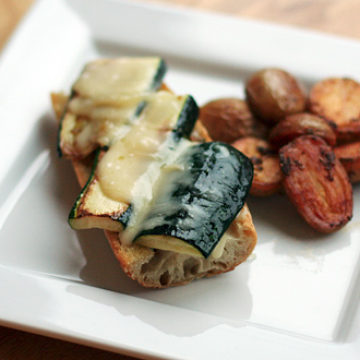 Ingredients:
1 packed cup basil leaves
1 large garlic clove, coarsely chopped
1/2 teaspoon hot smoked paprika
3 tablespoons extra-virgin olive oil, plus more for brushing
Salt, to taste
One 8-ounce zucchini, cut into 4 lengthwise slices
4 English muffins, preferably Bays, split
4 ounces Gruyère or Appenzeller cheese, cut into 8 thin slices
Directions:
In a mini food processor, combine the basil, garlic and paprika and process until finely chopped. With the machine on, gradually pour in the 3 tablespoons of olive oil until blended. Season the pesto with salt.
Light a grill. Brush the zucchini slices with olive oil and season with salt. Grill over high heat until nicely charred and just tender, about 2 minutes per side. Cut each zucchini slice in half crosswise.
Grill the English muffins, cut side down, over low heat, until just soft, about 30 seconds. Turn and grill until the muffins start to brown, about 1 minute. Spread the cut sides of the muffins with the pesto. Layer 1 slice of cheese, 2 zucchini pieces and 1 more slice of cheese on the bottom halves of each muffin. Close the sandwiches and brush the tops and bottoms with olive oil. Grill the sandwiches over low heat, turning, until they're crisp on the outside and the cheese is melted, about 4 minutes total. Cut the sandwiches in half and serve right away.
Did you make this recipe?
Let us know what you think!
Leave a Comment below or share a photo and tag me on Instagram with the hashtag #loveandoliveoil.