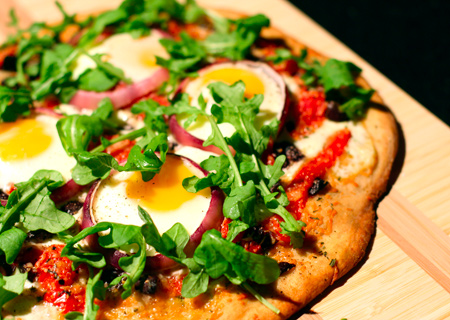 I miss pizza. Poor Taylor (who can still eat pizza) misses pizza more than I do. So when I come across a pizza recipe that isn't slathered in mozzarella, I jump on it. Like this recipe, found in the January issue of Bon Appetit. Only cheese on this baby is Parmesan, which is aged enough that it doesn't harm my delicate stomach. Perfect.
Granted, it looks a bit out there. Eggs? On a pizza? Odd. But surprisingly good. And creative too – I mean, whoever though of strategically placing thick rings of red onion on the pizza to contain the eggs? Genius. Just be sure you have something underneath your pizza (like a rimmed baking sheet) to catch any egg that decides to escape.
The crust was a bit tough. Not sure if that was my fault or the recipe's, but I have a pizza crust recipe that I think is much better. Next time we make this, and there WILL BE a next time, we'll use that crust recipe instead.
Pizza with Eggs, Roasted Red Peppers, Olives and Arugula
Makes 2-4 servings. Recipe from Bon Appetit.
Ingredients:
Dough:
2 tablespoons warm water (115°F)
1/2 teaspoon active dry yeast
1 1/3 cups all purpose flour
1/3 cup whole wheat flour
1/2 cup cool water (65°F to 70°F)
1 teaspoon coarse kosher salt
Olive oil
Cornmeal (for sprinkling)
Topping:
Olive oil
3/4 cup drained roasted red peppers from jar, cut into 1/3-inch strips
1/3 cup Kalamata olives, pitted, quartered
1 cup Parmesan cheese shavings
1 1/2 teaspoons chopped fresh rosemary
4 large red onion rings (each 3 1/2 to 4 inches in diameter and 1/2 inch thick)
4 large eggs
2 cups (lightly packed) arugula
Directions:
For dough: Pour 2 tablespoons warm water into large bowl of stand mixer fitted with dough hook; sprinkle yeast over. Let stand until yeast dissolves, about 15 minutes (mixture will not be foamy). Add both flours, 1/2 cup cool water, and 1 teaspoon coarse salt; mix on medium-low speed 4 minutes. Let rest 5 minutes, then mix on medium speed until dough is smooth, elastic, and slightly sticky, about 3 minutes.
Lightly oil medium bowl. Gather dough into ball and transfer to prepared bowl; turn to coat with oil. Cover bowl with plastic wrap and let rest at room temperature 30 minutes. Chill dough overnight. DO AHEAD: Can be made 2 days ahead. Keep chilled.
Transfer bowl to warm draft-free area and let dough rise, covered, until very slightly puffy, at least 2 hours.
For topping: Place pizza stone or rimless baking sheet in oven; preheat to 500°F. Sprinkle pizza paddle or another baking sheet generously with cornmeal. Roll out dough on lightly floured surface to 12-inch round; transfer to paddle. Brush dough with oil; scatter peppers, then olives over. Sprinkle with Parmesan and rosemary. Arrange onion rings atop pizza, spacing apart. Slide pizza onto stone or baking sheet in oven; bake until lightly browned but not crisp, about 7 minutes. Remove pizza from oven and gently crack 1 egg into each onion ring. Return pizza to oven and continue to bake until eggs are softly set and crust is golden, about 6 minutes. Sprinkle pizza with salt and pepper. Scatter arugula over.
Did you make this recipe?
Let us know what you think!
Leave a Comment below or share a photo and tag me on Instagram with the hashtag #loveandoliveoil.