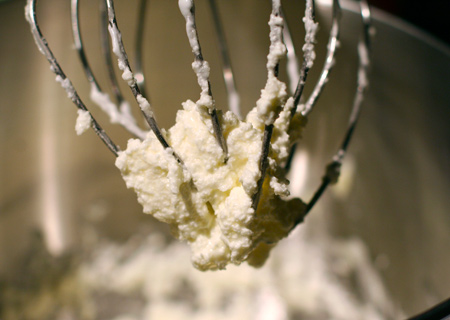 Hi, my name is Lindsay, and I have a fear of cooked sugar.
This time, the results were disastrous.
Take 1: Cooking the sugar syrup, as per the instructions for this White Chocolate Mousseline Buttercream. Darn pan seizes up on me, goes rock hard before I can even get it out the pan. I'm sure I had a stray sugar crystal in there somewhere, but geez! Does it have to be so hard?
Take 2: Trying Alton Brown's trick, and added a bit of corn syrup to the sugar mixture to keep it from crystallizing. However, our candy thermometer was too slow and the sugar syrup was too shallow in the pan to get an accurate read on it. I let it boil for a little while, but to stir? Not to stir? I stirred it. And probably took it off too early. But after my first attempt, I didn't want to chance it doing that again.
Take 2 seemed to be going well. My egg whites whipped up beautifully with the sugar syrup, and most of butter went in without a hitch. But then, all of a sudden, well, you see what happened. It was a downhill slope from there, the more I mixed it to try to fix it the worse it got. I whipped that stuff for a good 5 minutes after it curdled, to no avail. Hopeless. Into the trash it went.
Take 3: Screw cooked sugar. These cupcakes need frosting, and frosting they will get. But there will be no cooking of anything involved. In goes the butter and tofutti cream cheese. In goes the powdered sugar. White chocolate. Vanilla. Voila. Buttercream.
So, somebody please tell me what went wrong? Was it the corn syrup? Did I take the syrup off the heat too soon? Did I not let the egg/sugar mixture cool completely? Am I just a dunce? While the American Buttercream is easy, these cupcakes I made last night would taste so much better without the sickeningly sweet frosting, I'm just not sure that perfect frosting is worth this amount of trouble.