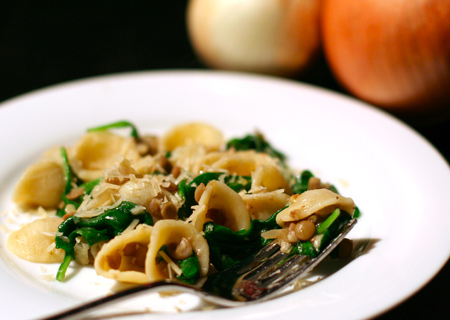 Lentils are way under-appreciated. Especially for vegetarian cooking, they offer a delicious source of protein, texture, and rich earthy flavors. Granted, they might take a little while to cook, but they are always well worth it. We've done plenty of lentil soups and stews, salads and even sandwiches, but this is the first pasta I've seen that utilizes these nutritious legume. Apparently, lentils have the 3rd highest levels of protein in a plant, right behind soybeans and hemp.
As far as varieties of lentils, our supermarket only carries one, the precise variety of which I am unsure. They are little khaki colored brownish things, so I'm assuming they are the common brown lentil (I'm a genius, I know). We've also found the red variety at an International Foods store, though I don't recommend substituting the red ones in this dish: the reds cook much quicker and you might end up with a pot of mush. Have some red lentils lying around? Try this easy and delicious red lentil soup. I have yet to find actual French Green Lentils (though I admit I haven't looked all that hard), but the brown ones worked just fine in this recipe (just be cautious not to overcook them – they can get mushy, fast!)
This dish was surprisingly hearty, yet still fresh and delicious. Definitely something we'll be making again.
Orecchiette with Lentils, Onions, and Spinach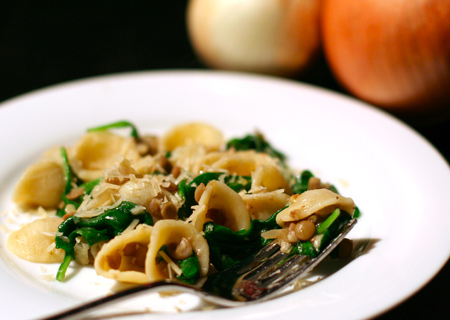 Ingredients:
1/3 cup olive oil
3 large onions (2 pounds total), thinly sliced (7 cups)
2 garlic cloves, chopped
1/4 teaspoon salt
1/8 teaspoon black pepper
1 Turkish or 1/2 California bay leaf
1 cup French green lentils
1 pound orecchiette, fusilli, or penne
2 (5-ounce) bags baby spinach
1 1/2 ounces finely grated Parmigiano-Reggiano (3/4 cup plus 2 tablespoons)
Directions:
Heat oil in a 12-inch heavy skillet over moderate heat until hot but not smoking, then stir in onions, garlic, salt, pepper, and bay leaf. Reduce heat to moderately low and cook, covered, stirring occasionally, until onions are very tender and golden, 20 to 25 minutes. Discard bay leaf.
While onions cook, cover lentils with water by 1 inch in a 1 1/2- to 2-quart saucepan and boil over moderate heat, covered, until lentils are just tender and most of water is absorbed, 15 to 20 minutes. Season with salt and pepper and let stand, covered, until ready to use.
Cook pasta in a 6- to 8-quart pot of boiling salted water until al dente. Reserve 1 cup cooking water, then drain pasta in a colander and return pasta to pot.
Add onions, lentils, and spinach to pasta, then toss with just enough reserved cooking water to wilt spinach and moisten pasta. Add cheese and salt and pepper to taste, tossing to combine.
Did you make this recipe?
Let us know what you think!
Leave a Comment below or share a photo and tag me on Instagram with the hashtag #loveandoliveoil.