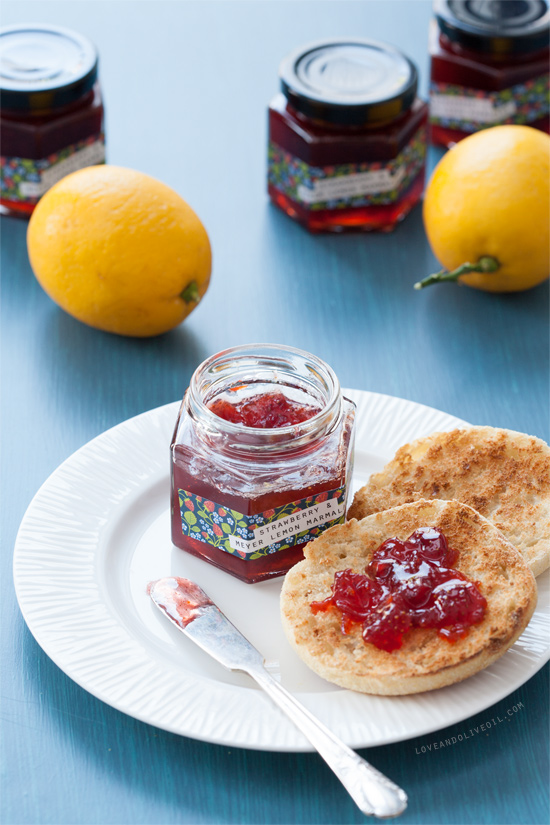 An unexpected surprise a few weeks ago from some very dear friends left me with a box of gorgeous homegrown Meyer lemons.
And as you very well know, when life gives you lemons, especially Meyer lemons, you sure as heck don't waste them, even if you do happen to be hopping on a plane to Disney World the very next morning.
It's a rare occurrence when you find yourself in the possession of Meyer lemons and strawberries at the same time. It's like a planetary alignment of fruit. And seeing as how much I enjoyed the combination of citrus and strawberries last year, I applied that same strategy to these beauties.
Ever since last year, I've decided that I prefer a more delicate texture in my marmalade; the large chewy slivers that marmalade commonly contains are a bit too sinewey for my taste. So rather than halving and thinly slicing the entire fruit, I used this OXO zester to completely strip the lemons naked. This particular zester produces perfect ribbons of zest, thicker than the feathery fine stuff that a microplane zester produces, but finer than my meager knife-skills can achieve and with less pith overall.
Soaking the zest overnight helps tenderize the peels. The cheesecloth pouch contains the lemon seeds and bits of pith to draw out more pectin so that the jam sets up nice and jiggly (there is no additional pectin other than what comes naturally from the lemons).
I think this one is even better than the blood orange version, partly because of the improved texture. Chunks of berries and tender ribbons of lemon intermingle in a jam that is tart, sweet, and delightful. It's perfect spread onto a toasted English muffin, slathered on a buttermilk biscuit, or heated and drizzled over vanilla ice cream or a slice of cheesecake.
I won't make any lady marmalade jokes (despite the fact that some contestant on some game show is belting it out at this very moment on the TV downstairs… coincidence?) but just know that this is the kind of marmalade that people write songs about. With tangerine trees. And all that jazz.
Strawberry & Meyer Lemon Marmalade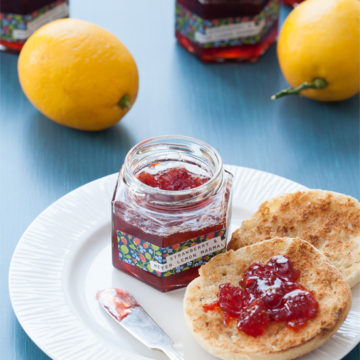 Ingredients:
2 pounds meyer lemons (about 5-6 large, juicy lemons)
3 cups granulated sugar
2 cups chopped fresh strawberries (about 1 pound)
Directions:
Coarsely zest lemons, getting as much of the peel off as possible. Alternatively, peel of sections of the lemon skin with a vegetable peeler, then thinly slice into strips using a sharp knife. Juice zested lemons; you should have about 1 cup juice. Zest/juice more lemons if needed to make 1 cup of juice.
Secure any seeds and some of the pith pieces in a length of cheesecloth; tie it tightly into a bundle.
Place zest and juice in a medium bowl along with 2 cups water (filtered, if necessary). Submerge the cheesecloth bundle in the liquid; cover and refrigerate for at least 3 hours or up to 2 days. Place strawberries in a glass or plastic bowl and add 1 1/2 cups sugar. Stir to coat; cover and refrigerate for the same length of time as the lemon zest.
When you are ready to can, prepare canner and wash/sterilize your half-pint mason (or equivalent) jars. Keep jars in hot (not boiling) water until ready to use. Warm lids in hot (not boiling) water to sterilize and soften seal.
Remove the cheesecloth bundle; squeeze out any remaining juices and discard what's left. Pour the soaked fruit and all liquid into a large, non-reactive saucepan along with strawberries and remaining 1 1/2 cups sugar.
Bring to a simmer over medium-high heat and cook, stirring regularly, until marmalade is reduced by more than half and reaches 220 degrees F, about 30 to 40 minutes. You can test the gel of the marmalade by placing a spoonful on a chilled plate. Return to the freezer for 1 to 2 minutes, then check for doneness. If you want a firmer gel, cook for a few minutes longer.
When marmalade has reached the desired consistency, remove from heat and skim off foam. Ladle hot sauce into jars, leaving 1/4-inch of headspace. Wipe jar rims and threads. Screw on lids and rings. Process in a boiling water bath for 10 minutes. Remove from water and let cool completely, 12 to 24 hours. Check seals. Any unsealed jars should be refrigerated and used within 3 weeks.
Did you make this recipe?
Let us know what you think!
Leave a Comment below or share a photo and tag me on Instagram with the hashtag #loveandoliveoil.