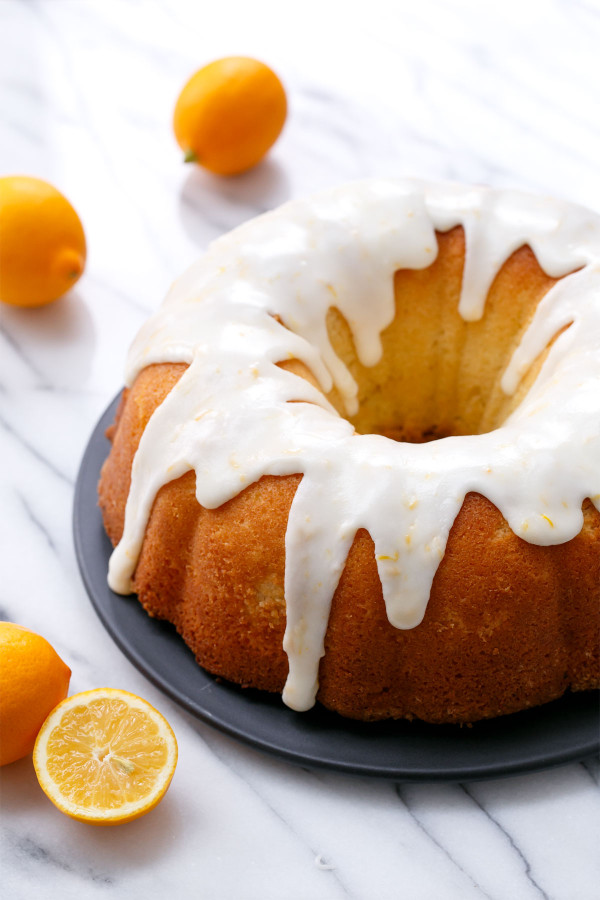 When you hear the word bundt, what's the first thing that comes to mind?
If it's that scene in My Big Fat Greek Wedding, you are not alone.
It's one of those movie scenes that is so iconic, so memorable, that I don't think there's been a bundt cake baked in the 14 years since that hasn't brought to mind this movie in one way or another.
I don't know if there actually are any bundt cakes featured in the sequel (can I say, after 14 years it's about time), though my little heart can hope, but either way I figured there'd be no better way to celebrate than with a bundt cake. A big fat Greek yogurt bundt cake.
It took every ounce of will power I had, but I resisted the urge to put a flower arrangement in the bundt hole.
Bundt hole.
(giggle)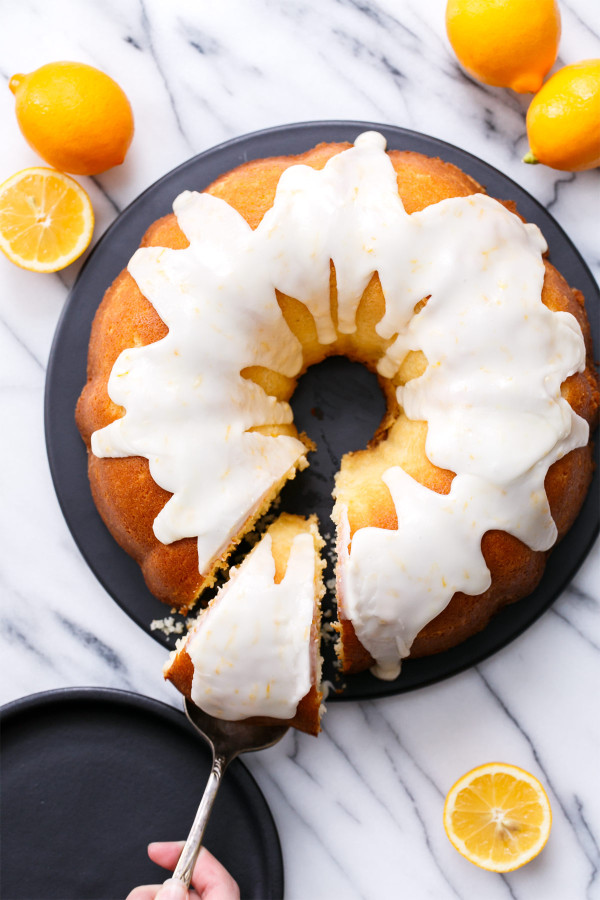 The cake itself falls somewhere between a pound cake and a yellow cake, light and tender with a hint of lemon flavor and drizzled with a sweet lemon glaze.
Oh, and and it's made with Greek yogurt too (duh). Other than the obvious connection to the new movie, the tangy yogurt both balances out the sugar as well as adding to the moisture and tender texture of the cake, much in the same way that buttermilk would in a basic yellow cake.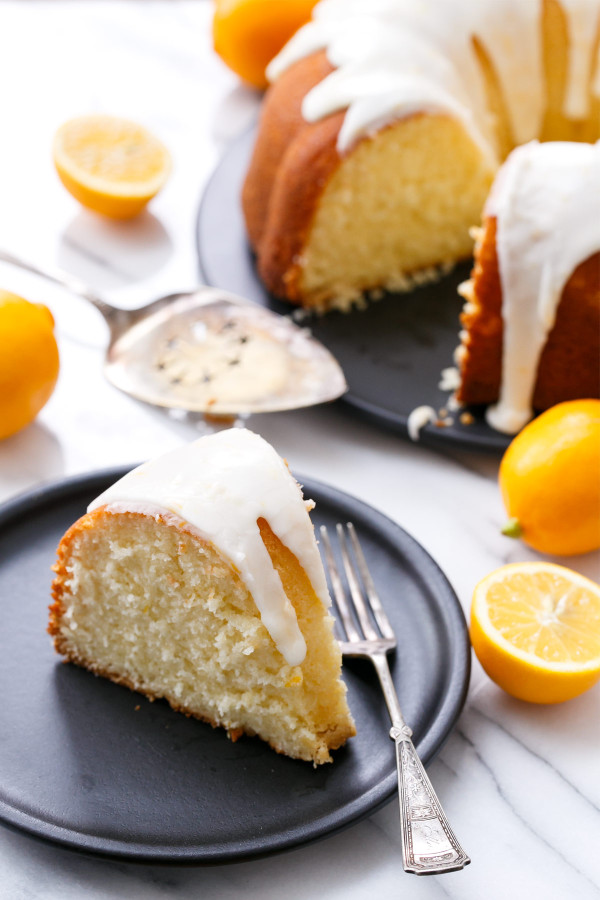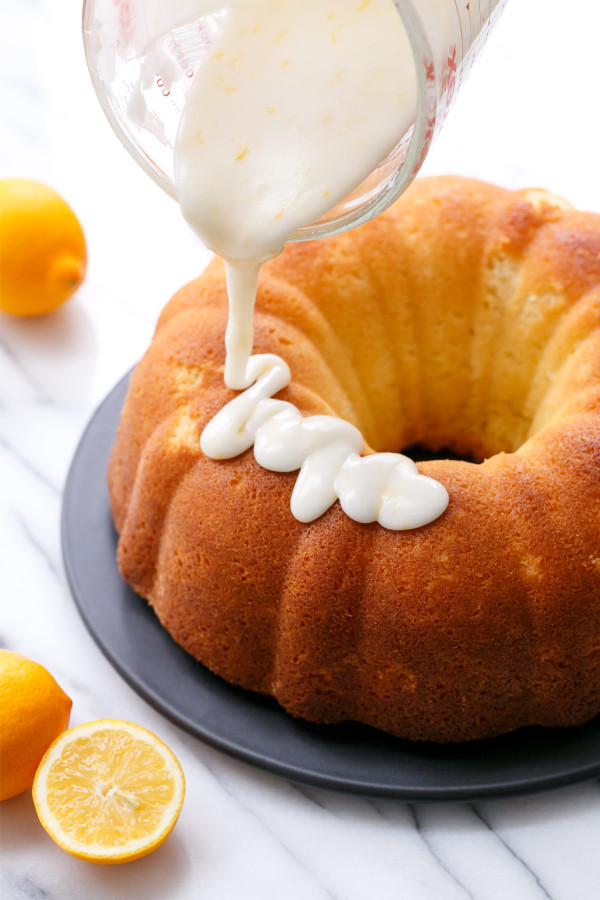 I had a little more trouble getting this cake out of the bundt pan than I have with chocolate bundt cakes in the past, maybe because it's made with butter instead of oil. In the end, I found that a light coating of baking spray with flour worked the best (though too much spray will make the cake do weird things). Your next best bet is to grease the pan with shortening, not butter, then dust with flour. For some reason the shortening releases the cake more cleanly than butter, I'm guessing due to the water content of the butter.
Finally, don't let your cake cool completely. I made this mistake the first time and lost half my top crust. Instead, let the cake cool about 15 minutes (set a timer), then invert it onto a plate and let it cool for another 10-15. It should pretty much release itself, cleanly and easily.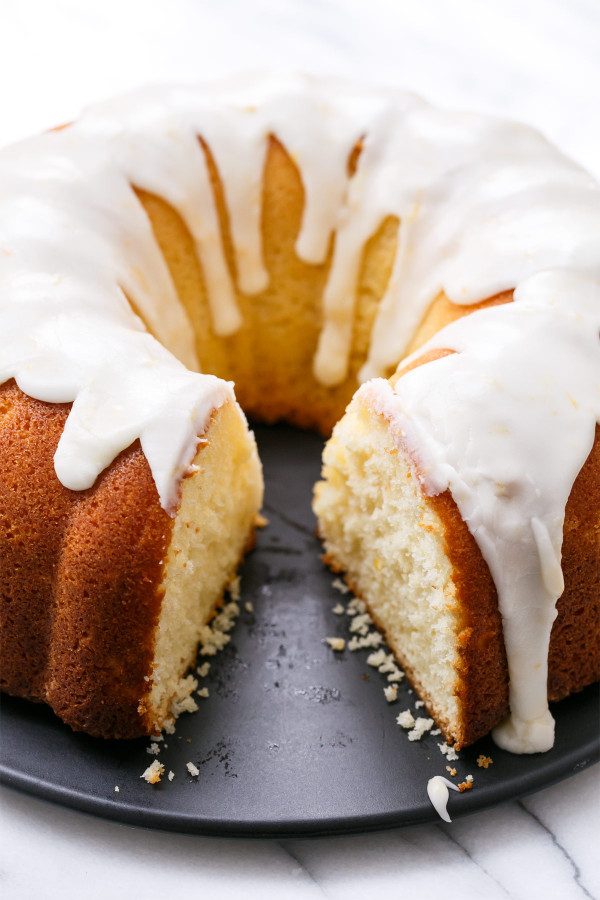 Now I just have to figure out how to smuggle this cake into the theater. I think I'm going to need a bigger purse…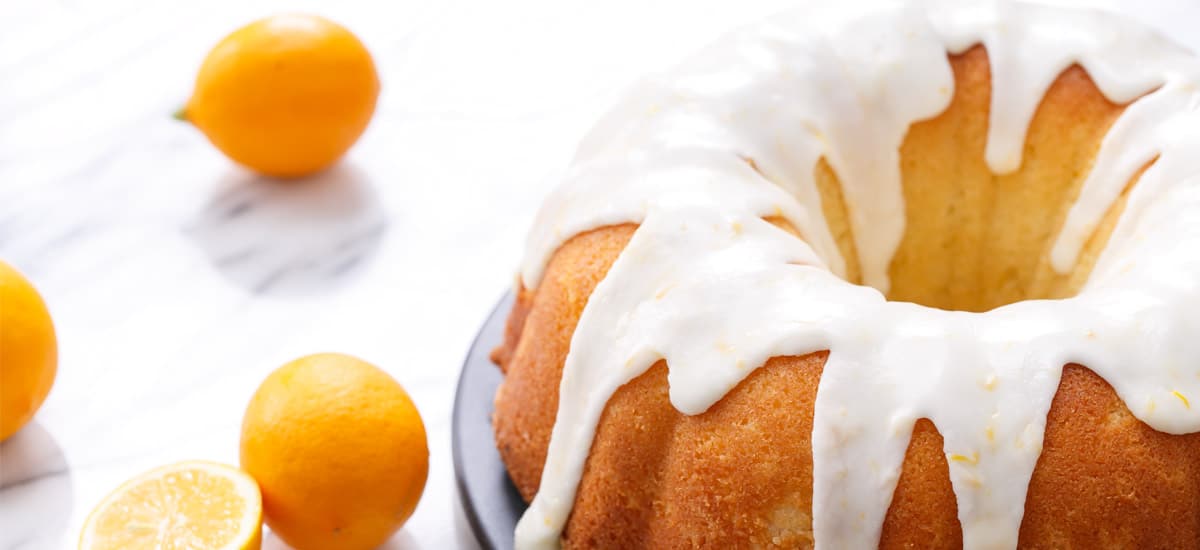 Greek Yogurt & Meyer Lemon Bundt Cake
This moist and tender bundt cake falls somewhere in between a pound cake and a yellow cake, with a hint of Meyer lemon and a sweet lemon glaze.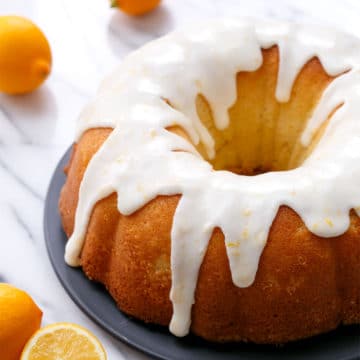 Ingredients:
For Cake:
1 1/2 cups (6 1/4 ounces) all-purpose flour
1 1/2 cups (6 ounces) cake flour*
2 teaspoons baking powder
3/4 teaspoon kosher salt
1 cup unsalted butter, softened
2 1/2 cups granulated sugar
3 large eggs, room temperature**
3/4 cup whole milk Greek yogurt
1/3 cup whole milk
1/4 cup Meyer lemon juice (from 2-3 lemons)
1 teaspoon Meyer lemon zest (from 1 lemon)
1 teaspoon vanilla extract
For Glaze:
1 1/2 cups powdered sugar
2 tablespoons Meyer lemon juice
1 teaspoon Meyer lemon zest
1/2 tablespoon unsalted butter
pinch fine sea salt (omit if using salted butter)
Directions:
Preheat oven to 350 degrees F. Grease (shortening works better than butter in this case) and flour a standard 12-cup capacity bundt pan or spray with baking spray.
In a bowl, sift together flour, cake flour, baking powder, and salt and set aside.
In a large mixing bowl or the bowl of a stand mixer fitted with the paddle attachment, beat butter and sugar on medium-high speed until light and fluffy, 2 to 3 minutes. Add eggs, one at a time, mixing well after each addition. Scrape down the sides of the bowl.
In a separate small bowl, whisk together Greek yogurt, milk, lemon juice, lemon zest, and vanilla until smooth and incorporated.
Add 1/3 of dry ingredients to mixing bowl and mix on low speed until almost incorporated. Add half of yogurt mixture and mix to combine. Repeat with another 1/3 of dry ingredients, remaining yogurt mixture, and ending with remaining dry ingredients, scraping down the sides of the bowl as needed, until just incorporated (do not overmix).
Pour batter into prepared baking pan and bake for 60 to 70 minutes or until a toothpick inserted in the thickest part of the cake comes out clean.
Remove from oven and let cool on a wire rack for 15 minutes, then invert onto a plate or serving platter and let cool upside-down for another 10 minutes. The cake should release itself, and you should be able to pull the pan off cleanly at this point. Let cool to room temperature before glazing.
To make glaze, in a microwave-safe bowl or 4-cup capacity glass measuring cup, whisk together powdered sugar and lemon juice. Add lemon zest butter, and salt and microwave for 15 to 20 seconds until butter is just melted. Stir until smooth. If you prefer a thinner glaze use it immediately, otherwise let it cool for 10 to 15 minutes or until slightly thickened. Drizzle over top of cooled bundt cake, then slice and serve. Cake is best served the day it is made, but will keep in an airtight container for up to 3 days.
**You can use 3 cups cake flour or 3 cups all-purpose flour if you like, however I found that the blend of the two produced the best texture.
*It is VERY important that all your ingredients be at room temperature, or the batter will not come together smoothly. I recommend taking everything out of the fridge at least 1 hour before you start baking. If you're in a rush, you can soften your butter in the microwave (just don't overdo it) and put your eggs in a bowl of warm water for 15-20 minutes to let them come up to temperature.
Did you make this recipe?
Let us know what you think!
Leave a Comment below or share a photo and tag me on Instagram with the hashtag #loveandoliveoil.
Disclosure: This post was created in partnership with Universal Pictures. As always, all opinions written are purely our own. We're incredibly grateful for opportunities like these that allow us to continue sharing delicious recipes with you, so thank you for supporting us and the brands we love.