A colorful twist on a classic cacio e pepe (cheese and pepper pasta) with homemade arugula spaghetti and toasted pine nuts on top.
The pasta gets its stunning color from fresh baby arugula, blanched and pureed and mixed right into the dough. I mean, there's an entire bag of arugula in one 4-serving batch, so it's basically a salad, right?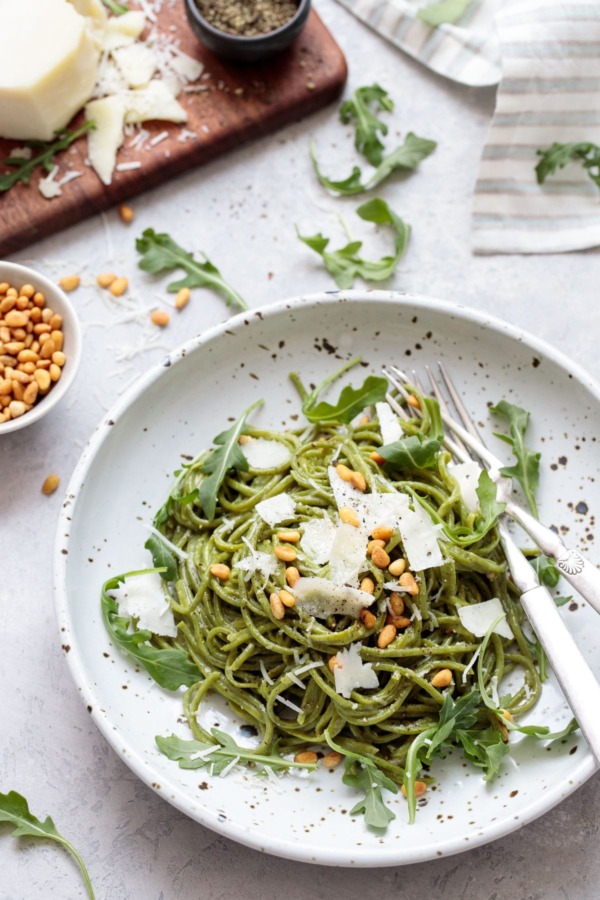 Cacio e pepe is a classic Italian recipe, simply prepared with little more than cheese and pepper. It's the pasta recipe we turn to when we don't have anything else to cook (or simply don't feel like cooking it).
The trick is in the starchy water, which you reserve from the pasta pot and add to the saucepan with the butter, pepper, pasta and cheese. The starch in the water emulsifies with the cheese into a perfectly creamy sauce.
Now, let me just say it doesn't always work. Sometimes the cheese likes to clump rather than melt (but the result is still plenty tasty). We've found that adding the pasta to the saucepan first, then sprinkling the cheese over top, helps it to melt more evenly. Add a splash or two more of pasta water and keep stirring over low heat until the cheese is melted and the sauce appears cloudy throughout.
Another tip? Grate your cheese very finely. Use the fine side of your cheese grater or even a microplane if you have one. This helps the cheese melt quickly and evenly.
The gorgeous homemade spaghetti noodles are naturally colored with fresh arugula. One 4-serving batch contains an entire bag of fresh baby arugula (how's that for getting your daily dose of leafy greens?)
The final pasta, however, doesn't carry the sharp bitter taste of arugula, just the gorgeous verdant color. You can also use fresh baby spinach here too, it'd work just as well.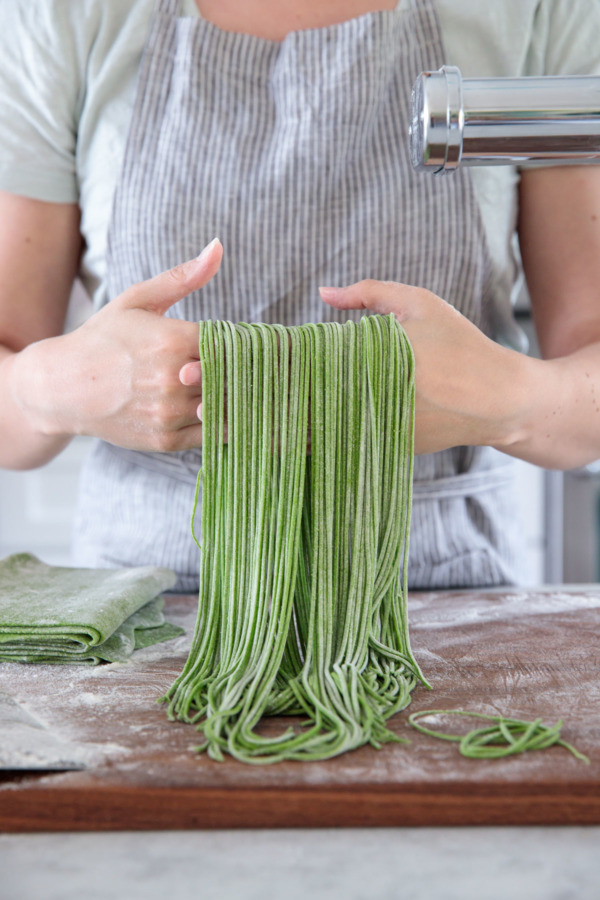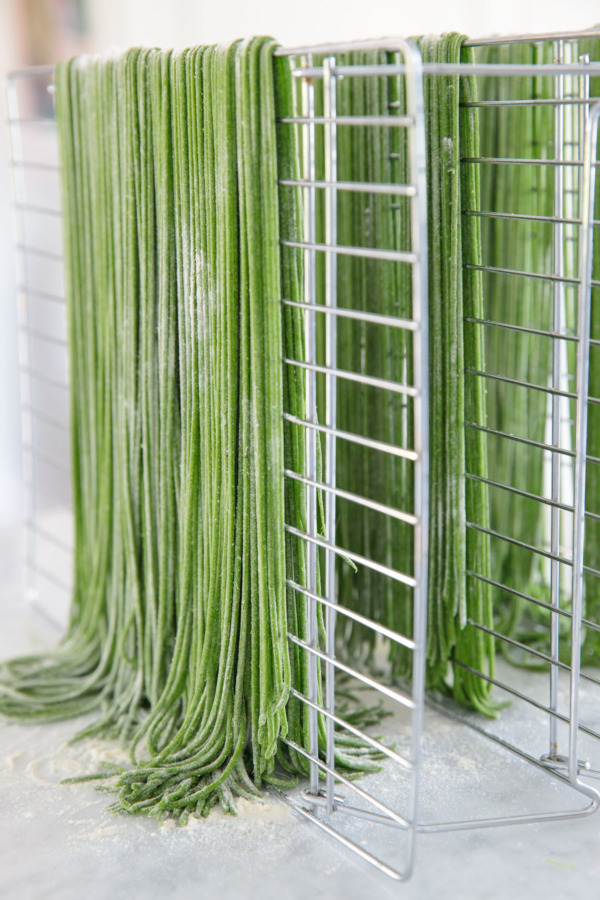 We had to improvise a pasta drying rack, propping up some wire cooling racks on their side and draping the pasta over those. It worked well enough, although I actually went and ordered a real pasta drying rack shortly after we made this so we're ready for next time.
Drying the noodles helps them to harden slightly so that when cooked, they'll be perfectly al dente. Fresh pasta cooked immediately after making will be much softer and without that tell-tale bite that distinguishes a bowl of perfectly cooked pasta.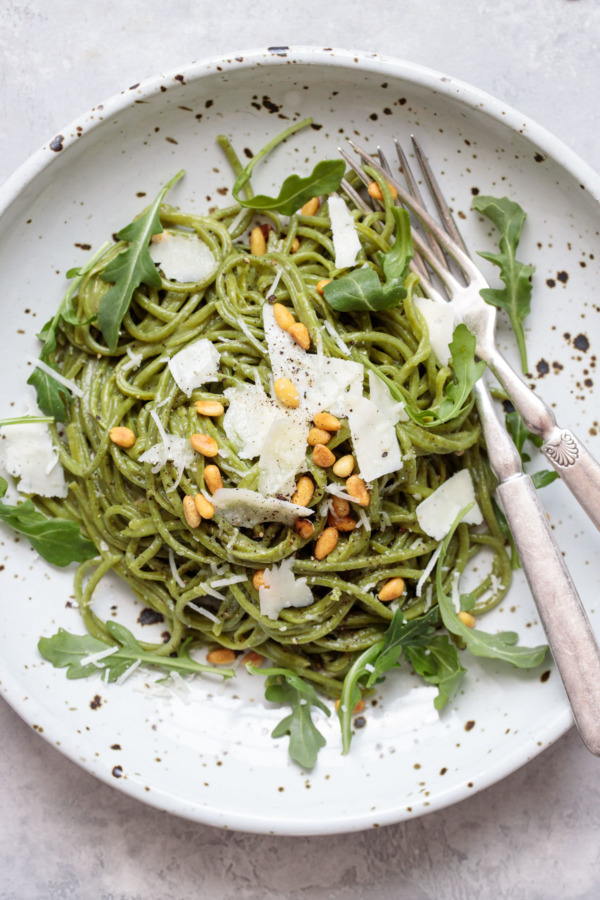 This recipe can easily be separated into its individual parts: the arugula pasta dough can be made into any shape and cooked into any pasta recipe you choose. (Can you imagine a pesto pasta made using the green noodles? It'd be super green pasta!)
Or, if you're just hankering for something simple for dinner, use a box of dried pasta (I like spaghetti or bucatini) and whip up a batch of classic cacio e pepe in minutes. The cook time for the pasta will be a bit longer (refer to the package instructions and cook it 1-2 minutes less that it says), but the rest of the recipe can be prepared as described below starting with step 11.
Cacio e Pepe with Homemade Arugula Pasta
A twist on a classic cacio e pepe recipe (cheese and pepper pasta) with homemade arugula pasta dough for a bright pop of color and toasted pine nuts on top.
Ingredients:
For arugula pasta dough:
6 ounces fresh baby arugula
2 large eggs
2 1/2 cups (12 ounces) 00 flour
1/2 teaspoon salt
1 tablespoon olive oil
For cacio e pepe:
1/4 cup (1/2 stick) unsalted butter
1/2 cup (1 ounce) very finely grated pecorino cheese, plus some shaved pecorino for topping
1/2 teaspoon freshly ground black pepper
lightly toasted pine nuts and a few leaves of fresh arugula, for topping
Directions:
To make homemade arugula pasta, bring a large pot of water to a boil. Prepare a bowl with cold ice water. Blanch argula in boiling water for 30 to 40 seconds until bright green, then strain and transfer to ice bath to stop the cooking. Once cool, gather arugula together in a ball with your hands and squeeze out as much residual water as possible.
Place in a blender along with the eggs and mix on slowly increasing speed until uniformly colored. A blender really works best here, though you could use a food processor if absolutely necessary (you'll just see more bits of arugula in your dough vs having it be a uniform green color).
Place flour and salt in the bowl of a stand mixer fitted with the paddle attachment and make a well in the center. Pour in egg mixture and oil. Turn mixer to low speed until combined. Remove paddle and attach dough hook; knead on low speed for 3 to 4 minutes or until dough sticks together when squeezed (it still might look a little bit crumbly). If your dough seems particularly dry, add a teaspoon or two of water until dough just comes together. Alternatively, if it's still sticky, knead in some more flour until it's nice and smooth.
Press dough into a ball and flatten slightly into a disc; wrap tightly in plastic wrap and allow to rest at cool room temperature for an hour, or in the fridge for longer (let return to room temperature for 30 minutes prior to rolling).
Attach the flat roller to your mixer (or follow manufacturer's instructions for other pasta rollers). Adjustment roller thickness to 1 (the thickest setting).
Cut the dough ball into quarters. Using your hand, press and flatten one piece of dough to about 3/8-inch thick. Turn on the mixer to low speed and feed dough through rollers.
Dust of excess flour and then fold the rolled dough into thirds, keeping the width of the piece approximately 4-5 inches. Lightly dust with more flour as needed, then feed the dough through again. Repeat this rolling and folding process once or twice more until the dough is smooth (you are basically kneading the dough and establishing the shape/width of the dough).
Once smooth, stop folding, and start increasing the roller settings one notch at a time until the desired thinness is achieved. For spaghetti noodles, I recommend going up to 4 or 5.
Lightly flour rolled strip of dough and set aside while you roll out the remaining dough.
Remove roller attachment and attach desired cutting attachments (I used the spaghetti cutter). On medium-low speed, feed each rolled piece of dough through the cutter. Dust noodles liberally with a mix of flour and semolina flour, then arrange on a pasta drying rack for at least 1 hour or overnight. (Fresh pasta can also be gathered into loose bundles and frozen for up to 1 month.)
To prepare cacio e pepe, bring a large pot of salted water to a boil. Add pasta and cook for 4 to 5 minutes or until almost al dente (it'll take more like 3 minutes if you skipped the drying step and your noodles are fresh). Reserve 1 cup of pasta cooking water before draining the noodles.
Meanwhile, in a large saucepan, melt butter over medium heat. Add pepper and cook for a minute more until frothy but not yet brown (ideally you would time it so that your pasta was done at precisely this moment).
Add 1/2 cup of reserved pasta water and bring to a simmer.
And pasta to saucepan, then sprinkle pecorino cheese over top. And stir with a pair of tongs, turning until cheese is fully melted and forms a creamy sauce that coats the pasta (this should take 1 to 2 minutes). Add more pasta water as needed, a splash at a time.
Transfer to serving bowls and serve immediately, topped with more pecorino cheese, toasted pine nuts, and fresh arugula as desired.
Did you make this recipe?
Let us know what you think!
Leave a Comment below or share a photo and tag me on Instagram with the hashtag #loveandoliveoil.